It's been a minute since I've filled you up with some Little Bohemia love, so I thought it might be a good time to give everyone an update…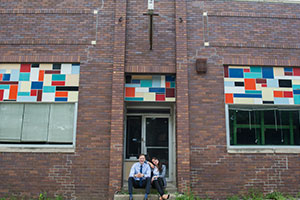 Since we began this project, some incredible things have happened. As with any major renovation project, there has been some good, some bad and some very ugly. Regardless, we couldn't be more thrilled with the progress. "Czech" out what we've been up to this past year, including some insider info on who's doing what and where. ; )
Let's begin with the Original 3! (If you aren't familiar with these guys, see my previous blogs here or here!)

Construction:
Construction officially began last August and needless to say, it's been a process…



We secured some amazing local businesses for our first three spaces: Archetype Coffee, Boho Rice and Omaha Creative Institute. We are overjoyed and know they will be successful in more ways than one. Teaser: more announcements coming soon!
The Boho Café:
Last March we were fortunate enough to purchase the Bohemian Café portfolio. And the projects continue…



Grain & Mortar and Vincent Outfitting Co. are officially residents of Little Bohemia! Sorry to disappoint, but we cannot announce the others quite yet, but I can tell you that we have secured a barber shop, a salon AND a bar for these spaces.
The Community:
My favorite: the community, the heart and soul of our development. We've made some progress beginning with Public Art in the alleyways:

Artist: Hugo Zamorano | Artist: Nolan Tredway

Bohemian Legacy: 
The Bohemian Café legacy is extremely important to us. It adds character, a sense of place and pays tribute to a neighborhood anchor of more than 100 years. As promised, we will be using signage, tile and more throughout the development – so pay attention!
Estimated completion: Never. Kidding! (kind-of ; ))
Tenants have been and will be moving in throughout 2018. We are hoping the last of them (Bohemian Café tenants), will be in and open by fall, 2018. (We are working on 100-year-old buildings so don't hold me to it, I could be completely off base…
Looking at these photos reminds me that there has been an incredible journey wrapped up in these buildings. I have learned an amazing amount, I met some of the most incredible people: our future and current Tenants, business owners, neighbors, artists, community leaders, all with one common goal: to make Little Bohemia a better place to be. I am honored, thrilled and beyond excited to be part of it!