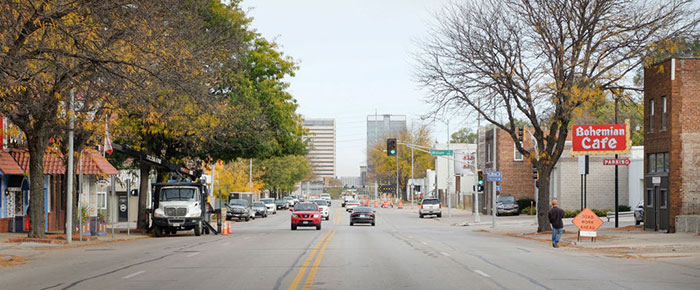 Image by Kent Sievers via OWH
When our marketing intern, Maggie Koenig, recently asked me "What's in South Downtown?" I was totally appalled.
Then I remembered… I may have said the same thing about Bennington to REALTOR Crystal Archer… who lives in Bennington. So, to convert Maggie into another die hard lover of South Downtown, I gave her a tour of my favorite Omaha neighborhood (Crystal, don't get any ideas:) ). Now I will preface – Maggie is adorable and I was excited to watch "this girl" from a small town in Western Nebraska see the eclectic mix that is Little Italy and Little Bohemia. Here we go…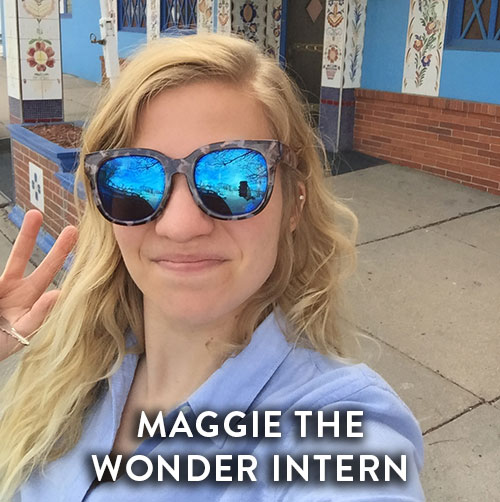 Maggie: I normally just work behind the scenes on Life + Style, so this week I was super excited to tour an area of Omaha I had never experienced! Also, may I just say I get an unrealistic amount of perks interning at P.J. Morgan Real Estate. This week was literally a documentation of a ton of those perks. Glad I asked "the question" in the first place!
Not being an Omaha native, I had never ventured much farther east than Ted & Wally's (which probably means I was always too distracted by ice cream to go any further). Lucky for me, Colleen, who might be the most pro-South Downtown person I have ever met, turned into my own personal tour guide!
Colleen: I picked a couple of places that would give a sampling of the area – at the time I didn't know Maggie was gluten intolerant. Whoops… that's tough in this neighborhood.
Sons of Italy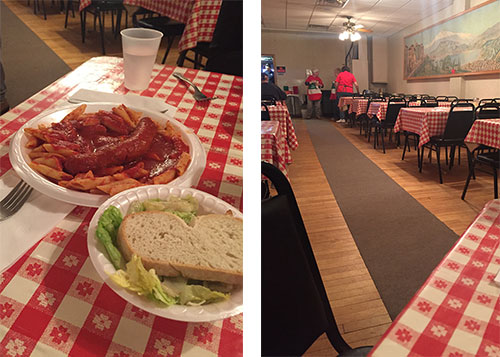 Maggie: Nestled in the heart of Little Italy, just north of 10th and William Streets, this South Downtown mainstay is locally run by volunteers. The restaurant has a whole lotta heart and even more pasta. When Colleen told me that this stop was only open on Thursdays around lunch or Friday nights, I was a bit confused. Thinking of the typical restaurant model, that really didn't make sense… until we got there. To take you through the process – you pay cash at the door, get a ticket and proceed to a window to collect your order (kinda' like a church soup supper). The people are kind, quirky and take their jobs seriously. But not too seriously – I did see someone go back for seconds of dessert… okay, maybe that was me!
Colleen: Sons of Italy is a must. Period. Even if you can't eat. The people are fantastic, the food is good and the environment is like none other. You'll see neighbors, co-workers and the occasional politician during election season. P.S. They also do take-out from a little window out front.
Donut Stop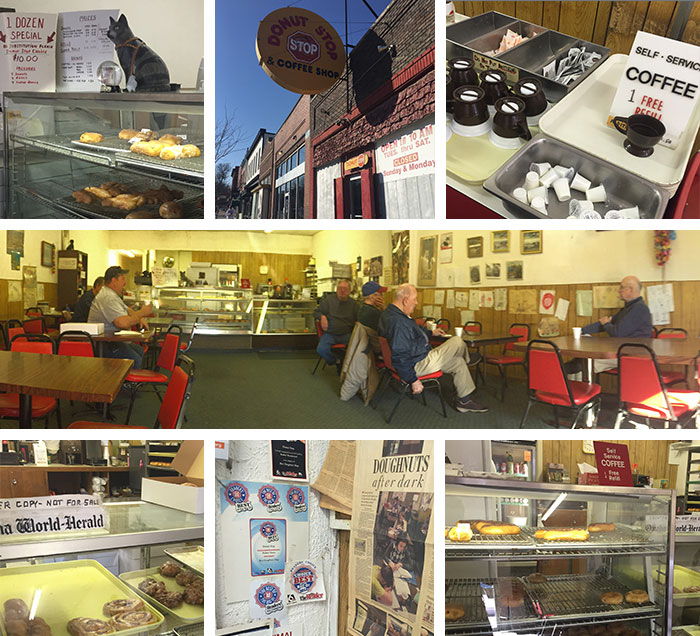 Maggie: This place is neither a new, trendy donut shop nor a nationwide chain. The Donut Stop has been alive and kicking since 1983! The "regulars" read the paper, drink coffee and talk about current "events". Whoever said teenage girls are the worst gossips has never met the 65+ male coffee-drinking crowd.
Colleen: It makes me literally cringe that there are those in Omaha who don't know about the Donut Stop. It's an institution. They're open until 3 a.m. on the weekends!!! Next time you're heading home from downtown on a Friday or Saturday night, do yourself a favor and skip the lines at the food trucks. Stop here for a donut and a cup of coffee – it's so much more fun and totally unexpected.
Wallflower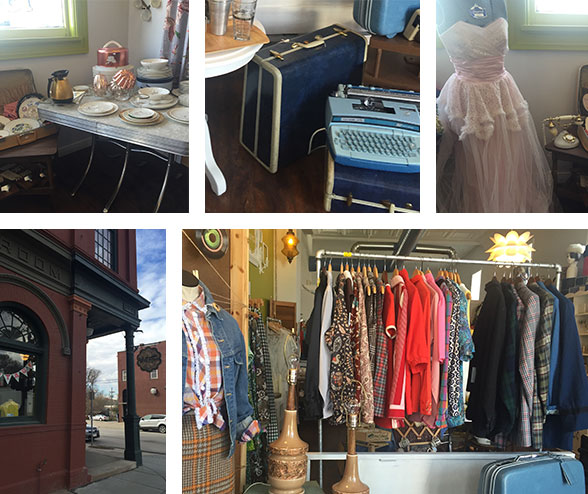 Colleen: I love this store. Such cool pieces – from clothing to housewares to shoes and strange decorative pieces that you swore your grandma had.
Maggie: Personally, I found most pieces here could be easily incorporated into your more modern existing wardrobe, and, let's be honest, who doesn't love to have a piece that very few people have?! Colleen said she once got a dress from here for her Halloween costume as the Bride of Frankenstein, which tells you that this place really has it all.
Colleen: To be clear – it was a wedding dress…
The Bohemian Café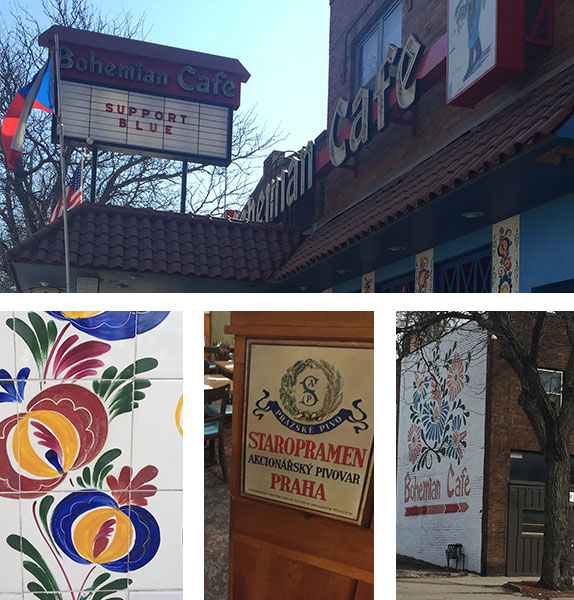 Colleen: I don't need to say anything here, do I? Except, well, Maggie thought we left the country.
Maggie: The Czech outfits adorned by the waitresses and the historic decorations are all just minor quirks that this must-see Omaha restaurant has under its belt! Colleen bought kolaches for our office, and I was so impressed that we didn't even have to tell people where they were from – people know that if you're going to get kolaches, you get them from the Bohemian Café.
Hoarder's Paradise

Colleen: If you've read my previous posts, you know this antique and collectible store is owned by one of the "women I'd take to war with me," Mary Thompson. It has everything I love about antique stores… items shoved in every nook and cranny, a random person just hanging out in the corner, VHS tapes…
Maggie: Colleen bought costume pieces for her daughter and I got lost in a jewelry collection. The flashier the better, I always say!
Colleen: Special thanks to all the businesses and everyone who chatted with us along the way. I can very surely say Little Italy and Little Bohemia are worth your downtime. And thank you to the adorable Maggie!
Maggie: Shout out to Colleen for taking my yuppie self around a neighborhood I will surely not forget, and plan to visit again soon!
Do you have a South Downtown story? Share it with us in the comments below!
Maggie "The Wonder Intern" Koenig will be graduating from UNO in May where she studies Real Estate and Management.