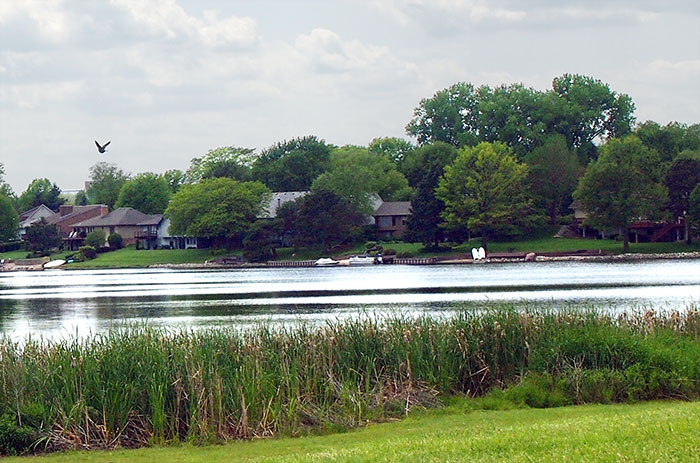 Lake living. It's a dream, right? And here in the Omaha area, the land of corn and beef, and smack dab in the center of the United States, the thought of lake living is dreamier than the entire cast of Grey's Anatomy put together.
It doesn't have to only be a dream, though! There are some amazing lake communities right here in the Omaha area that are perfect for a variety of people. Whether you're looking for a scenic place to retire, a place to raise your family or just want to be closer to nature, chances are you could fall in love with any one of them.
I asked lake resident and fellow Realtor Susan Clark to help me narrow down a few favorites. Cheers to evenings spent watching lake sunsets!
Hannah's Picks

Lake Candlewood
This urban lake community is located from 120th – 132nd Streets, just a few blocks north of West Dodge Road. The houses in this neighborhood offer convenient lake living, on or off the water, and its location provides quick and easy commute times to anywhere in the Omaha area. Residents can take a quick walk to the lake to fish with the family or just throw a line from their backyard! The homeowners and homeowner's association (managed by P.J. Morgan Real Estate) take great pride in their lake, with frequent patrols and property maintenance. There are only 400 homes here, so available properties are usually snatched up in days, if not hours.
Mallard Landing
Looking to build your dream lake home? Mallard Landing might be your answer. Located further west, from 264th – 270th and Maple Streets in Wahoo, Neb., Mallard Landing still has vacant lots available on and off the water for newly built homes. That's me in the picture below, standing in front of one of the beautiful homes I recently sold in the neighborhood (yay)! This home is not located directly on the water, but it still reaps the rewards of the dreamy views that go along with life on the lake, plus its own boat slip! A much smaller community at about 90 lots, Mallard Landing offers a tightly knit community of lake lovers. This no-wake lake is also an excellent fishing location.
Susan's Picks

Bluewater
Bluewater is my favorite lake for those of you who want to build. The site is a former sand and gravel operation that is being developed into a lake community. With over seven miles of beach and 250 acres of water, Bluewater is hard to beat. The average lake depth is 40 feet, which makes this lake perfect for water skiing, fishing or lounging on a boat. And it's only about 15 minutes from Village Pointe and all of Omaha's other offerings! Lots here range in price, so visit their website to learn more.
If you love house shopping, Bluewater is the 2016 site of Omaha's Street of Dreams, running July 30 – August 14. You won't want to miss the amazing homes featured on some of the best lakefront lots around!
Woodcliff Lakes
Looking for a lakefront retreat or a full-time lake house? Woodcliff Lakes offers both options! Woodcliff Lakes is a private community located two miles south of Fremont, Neb. You can choose between the smaller lake, known as the "fishing" lake, or the larger lake, known as the "ski" lake. Between the two, they total about 145 acres and there are about 440 homes total. Here, you can go home for the weekend and never leave! Between the Woodcliff Marina grocery store, kitchen and bar, you can find almost anything you need. Other options include Pop's Pizza, which is delish, or, my personal favorite, The Woodcliff Restaurant. The Woodcliff Restaurant offers indoor and outdoor seating, depending on the weather. The menu never disappoints and the beer selection is plentiful!
Are you ready to take the plunge into lake living? Turn the dream into reality and get in touch with us today! We'd love to help you on your journey!