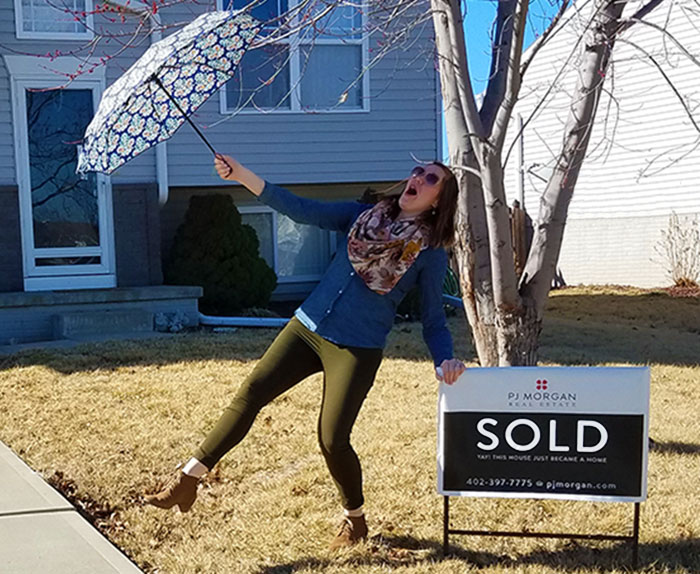 Did you know that #It'sSpringInRealEstate? It's the time of year when the market heats up and houses start flying off the shelves, especially this year!
In the world of real estate, agents are often tasked with completing huge projects in short periods of time, such as, "Hey Hannah, can you sell my house? I'm moving to Peru in two weeks." And it's not just agents who feel the pressure of the time crunch – sellers do, too.
That's why I wanted to share my top five tips on getting your house ready to sell. Checking off these few items can help ensure that your listing will be raining offers (hence my umbrella?!)
1. De-Clutter
This can mean a variety of things to different people, but the key is to remove as much "stuff" from the house as possible, while it's on the market. Go through each room, and remove anything you don't immediately need (store it off-site, if possible). This helps with keeping the house clean for any spontaneous showings, and allows potential buyers to visualize their own "stuff" in the space.
2. De-Personalize
Yes, you have a beautiful family. Just like I have some beautiful dogs. But trust me, by removing your family's personal effects, you are, again, creating a space that buyers can see themselves living in. It's also a good idea to lock up valuable items (like cash) and remove personal items (like prescription medications) from your medicine cabinet.
3. Keep It Clean and Smelling Great
It seems simple enough, but if you are living in your home while trying to sell it, it can be difficult to stay on top of the constant cleaning needed to keep your house spotless. Consider hiring a cleaning service to do a weekly run-through, so you have one less thing to worry about.
4. Staging
Take to heart any recommendations given to you by your REALTOR®. Moving key pieces of furniture may set up your space in a way that would be more appealing to new owners. To go above and beyond, you can even hire a service to stage your home for you, to ensure the maximum effect.
5. Curb Appeal
To make the best first impression, you actually need to step outside your home and see it from the view of a prospective buyer doing a drive-by, lookie loo. Fill in anywhere mulch has run bare. Wash your windows and touch up the paint on the trim for a crisp appearance. For added color, place some potted plants on your porch. Then, when your house flies off the market, you can move the pots to your new home!
Above all, seek the help of a Realtor who can give you expert guidance throughout the process (or one of our Trusted Vendors to help you get those more specific jobs done)!
Have any tips you swear by (or wish others did)? Leave them in the comments below and happy spring in real estate everybody!