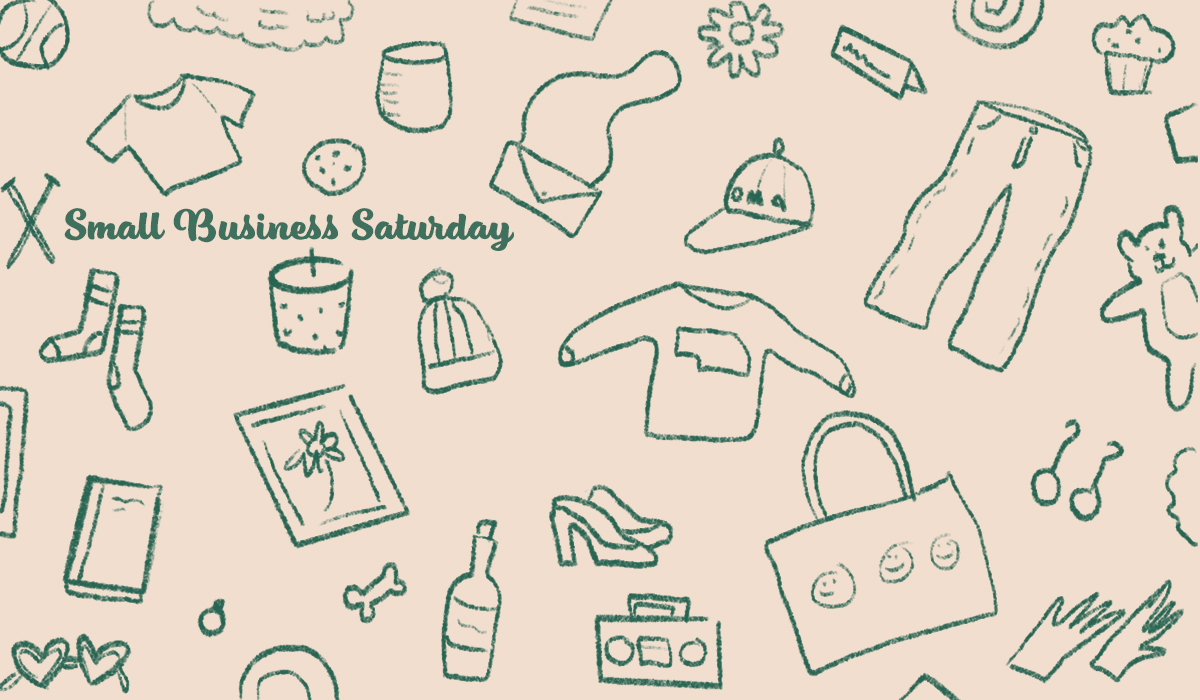 We get inundated this time of year with advertisements from all the big retailers, Amazon ads on all of our social media and brightly sweatered, happy dancing hoards on every commercial. However, if we look past all that tinsel and noise, we can do more good with our holiday shopping dollars when we support small businesses. Nestled in between Black Friday and Cyber Monday is Small Business Saturday. This is a day to get out and support small businesses and makers, especially those in our own communities. Small businesses create two out of every three new jobs, and shopping local also keeps tax dollar in the neighborhood. So now that I've thoroughly convinced you to get out support small businesses on Saturday, below I've provided a guide to some fantastic Omaha shops:
Hello Holiday
5008 Underwood Ave, Omaha, NE 68132
https://helloholiday.com/
The storefront, opened in 2014, serves as the home base for Hello Holiday operations as well as a hub for community events, workshops, and pop-ups. They are open 11-7 Monday through Saturday and 12-5 on Sundays. They sell women's clothing in sizes XS-3X, shoes, accessories, cards and great gift items. On Small Business Saturday they are also celebrating the anniversary of their store opening. They will have free gift wrap, mini-pancakes, over 100 new arrivals, and big discounts! Trust me, the ladies on your list want gift cards to Hello Holiday!
---
Vincent Outfitting Co
1414 S 13th St, Omaha, NE 68108
https://vincentoutfitting.com/
The men in your life want to have cool clothes as well, so make sure to visit the newest menswear boutique in Little Bohemia. Vincent Outfitting Co specializes in raw denim and carries a number of brands not found in other area retailers. They have vintage items and accessories as well. They are open Tuesday-Saturday from 11-6, and Sundays from 11-5.
---
RSVP
8720 Countryside Plaza, Omaha, NE 68114
http://www.rsvpnotes.com/
Countryside Village is doing Small Business Saturday bingo this year. When you make a purchase at a participating store you get a sticker, and if you get a BINGO you win a gift card to the store of your choice! One such store is RSVP. Known for their wonderful cards and stationary, they also have a number of fantastic gift options for everyone on your list. The embroidered mini wireless speaker (pictured) makes a great gift. According to the owner, Nancy Kavich, there are many items in the store that can be customized. Some items can even be customized in the store while you wait. Nancy will have snacks and drinks on Small Business Saturday and offers gift wrapping as well.
---
Made in Omaha
8722 Pacific St, Omaha, NE 68114
https://www.madeinomaha.com/
Another great stop in Countryside Village is the brand new Made In Omaha store. The team at Hutch recently opened this store dedicated to selling only locally made items. It is a great stop if you want to support a lot of local talent. They have a variety of art prints, t-shirts and hoodies, ceramic art, jewelry, candles and more. They have a Black Friday special with $10 off orders of $50 or more, and on Small Business Saturday they are partnering with Brickway Brewery and Distillery and will be sampling It's All About Bees Honey BBQ Sauce on pork sliders and Brickway beer.
---
The Loft at Remlo Studios
8729 Countryside Plaza
https://remlostudios.com/
The last stop at Countryside Village is The Loft at Remlo Studios. Remlo Studios provides a curated selection of European and Canadian designers in a luxury showroom atmosphere. It is the perfect place to shop if you are looking to discover unique, luxury labels. They frequently have trunk shows, and they offer styling services. According to the owner, Autumn Foland, one of their most popular services includes delivery of hand-selected items based on your style and size delivered to your place of work. You can buy what you like, and they pick up the remaining pieces the following week. It is perfect for the busy customer who can't find time to shop. However, shopping in the beautifully styled showroom has the added bonus of petting Milo, the adorable shop pup. They are open Tuesday-Saturday 10-5, and Sunday 12-3. For Small Business Saturday they will be offering 20% off of your entire purchase!
---
Rosie Jane
5018 Leavenworth Street, Omaha, Nebraska
http://rosiejaneomaha.com
After you visit Countryside Village you can hit two great shops on 50th and Leavenworth. Rosie Jane is a kids' clothing and gift boutique with fantastic options for the "littles" on your shopping list. They have a unique selection of toys, games, books, and clothing in a bright and welcoming space.
---
Spruce
5022 Leavenworth St, Omaha, NE 68106
http://spruce-omaha.com/
Right next door to Rosie Jane (and under the same ownership) is Spruce Interiors and Gift. Spruce handles the adults on your shopping list. They have candles, men's grooming items, Swell water bottles and wine cups, home décor items, and hilarious desk signs.
---
These are just a few of the hundreds of fantastic small businesses in Omaha. So, while shopping online and 2-day shipping is the easy route to take during this busy holiday season, I want to encourage you to take the time to spend your shopping dollars at the local small business that make our community truly great!
And hey, if your gift to yourself in the coming year is a new house, we can help with that too!