As we embark upon a new year, I frequently find myself looking back and reflecting upon the previous year.
What did I accomplish? What didn't I accomplish? What did I want to achieve? How can I better myself professionally and/or personally? I find that looking back helps me plan ahead for the new year. It allows me to set goals, accomplishments and dreams!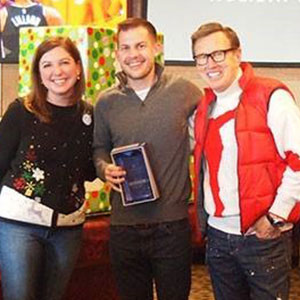 Looking Back at Me
Professionally, I sold 43 homes in 2017! This was a HUGE accomplishment for me. I have so much gratitude toward my family, friends and colleagues. I would not have been able to do it without their unwavering support and help. For my efforts, I was awarded the Top Producer Award for the most residential units sold at PJ Morgan Real Estate. Even though it isn't necessary, it truly is an honor to be recognized (especially during an Ugly Christmas Sweater party – I did not participate).
Looking Back at The Market
As we look back on the real estate market during 2017, we see that the number of homes sold was roughly the same as 2016, despite the continued inventory challenges. Additionally, both new construction and existing home median sale prices continue to rise. It is an interesting real estate market, to say the least. It keeps us on our toes and challenges us real estate agents to work hard and do our VERY best.
Looking Ahead to 2018
Looking ahead to 2018, I foresee a very similar market to what we experienced in 2017 and 2016. We'll continue to see low inventory and rising prices – particularly in the under $350,000 range. One other new factor we may experience is rising interest rates. If you are considering buying or selling this year, there's really not a better time than now. When inventory is low, you can be assured your house will sell and interest rates are still near all-time lows – meaning you can afford more house than when rates increase.
I am certainly looking forward to 2018.  Like any year, it will present ups, downs, excitement and challenges. As for the housing market, bring it on! I am here. Need help prepping your house for the market? See another one of my blog posts – Ready, Set, Sell!, or give me a call anytime!
Got big plans in 2018? Let's hear 'em! Let me be part of them. Don't forget, we are #withyouforlife!