Spanning two years, Ryan Ellis and I have had an ongoing conversation about public art. We've both long admired neighborhoods throughout the world that incorporate it in creative ways.
Public art creates a sense of place… an enhanced connection to its surroundings, and we have wanted that for Omaha, but really didn't know where we would ever implement it. Then came South 13th Street…
Little Bohemia residents have been using public art for decades in the traditional sense – murals, advertising displays, etc. But how do WE do it? And where exactly?

As Ryan and I began studying 13th Street traffic patterns and the possibility of slowing the traffic down (not as cool as public art, but nevertheless very important 🙂 ) we were combing through aerials of Little Bohemia. We both quickly gravitated toward the same thing – the alleyways.
He and I completely nerded out and became totally obsessed. We began exploring them, talking about them and attempting to figure out how we could make them a distinct and memorable part of Little Bohemia. 🙂 Below rendering courtesy of Pen Architects.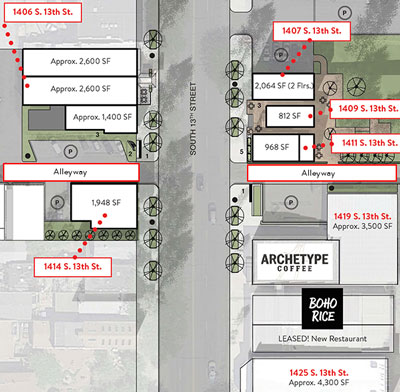 And then something so perfect happened – the stars aligned, because with the Bohemian Café purchase, we now owned property on both sides of two alleyways. I remember looking at Ryan while we were standing in one of the alleyways earlier this year and beaming from ear to ear, realizing that we could really make public art happen in this neighborhood.
We knew we wanted the alleyways to be safe, walk-able connections throughout Little Bohemia and we knew there were two major focus points:
Adding public art to create interesting spaces
 Adding lots of light (no one likes a dark alley)
How do we get from idea to implementation, though? It's something we struggle with quite a bit, mostly because there isn't a manual attached to our wild ideas. 😉
Ryan and I started exploring the definition of public art – fervently searching for examples, sending each other Instagram posts and web links all hours of the day and night. The examples we found challenged my view of public art. After all, what did I really know about it?
I considered where my mind immediately went when I thought about public art – my default was to think about murals or sculptures. While Ryan and I think they are absolutely rad in every way and are very important in the public art realm, we didn't want to limit ourselves or the neighborhood. We wanted an element of thoughtfulness and a unique way to engage the surrounding community.
We met with everyone we could think of who was involved in or interested in public art (it's a habit – when we explore, we pick up the phone 🙂 ). We are so grateful for what we learned from the people who took the time to gracefully educate us. Now when I think about public art, this is what comes to mind… emotional, meaningful, interactive, thought-provoking, discussion-worthy, community focused, political, engaging…. (the list is endless).
From all of our meetings, we figured out our perfect approach: partnering with the Omaha Creative Institute to offer a $10,000 public art grant. A call for artists to create art that will draw attention to the alleyways of Little Bohemia. When the grant was announced last month, we received an overwhelmingly positive response from local artists, the art community and, most importantly, the neighborhood.
We are in the beginning stages of the process, but are so very excited about what is to come; hopefully something unconventional, a little weird and, most importantly, something the neighborhood is proud of. At the end of the day, Ryan and I only ever hoped to be good stewards to a community that has so lovingly embraced us. Goodness, I hope we get this right. 🙂
The selection process for artists is almost wrapped up, so be sure to follow us on Instagram at @littlebohemiaomaha for updates as we move forward on this awesome journey!
And please, just for me, take a moment and type "public art" in the Pinterest search bar and wait for it… super cool, right?!