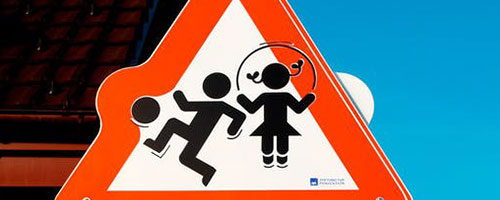 As the mother of a three-year-old and nine-month-old, I seem to wear a lot of hats and juggle several balls. Currently, I am a REALTOR®, Trusted Vendor lead, corporate communications advocate, wife, friend, daughter, sister, slow pitch softball player, blogger and the list goes on… Needless to say, my arms get tired. One item of business that I have checked off my list is baby proofing our house.
While not everyone can see these balls that I'm juggling, they are there. The last thing that I want to worry about is the safety of my children within our home! So, what do we do to keep our babes safe? Outside of bubble wrap and a good corral, we babyproof!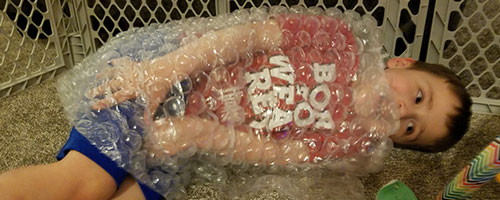 The Kitchen:
The first thing I hear each morning is, "Mom! Can I come into your room?" My eyes blink open. I lie there, perfectly still, praying my son will go back to his bedroom and fall asleep. Obviously, that never works. Once I agree to let him enter our bedroom and climb into bed with us, it's never a simple snuggle. Along with him comes three blankets, several stuffed animals and a few books. My core body temperature runs hot, so after a few minutes of this, I need air and we are off to the kitchen for breakfast. While Larsen devours two bowls of Cinnamon Toast Crunch and Camila, my daughter, stuffs Puffs in her mouth while speeding around in her walker, I feel like this is the best time to start in on my "womanly" duties and tackle the dishes. Naturally, my daughter goes right for the silverware holder in the dishwasher. Silverware all over the floor = no dishes this morning. The dishwasher door is shut and locked.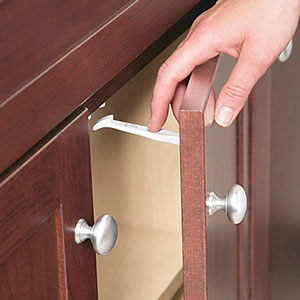 There are other spots in the kitchen I need to keep both a three-year-old and a nine-month-old away from; the cleaning supplies under the sink as well as the snack cupboard. Let's be honest, I should probably put a combo lock on the snack cupboard to keep my husband and I out of it as well! We haven't tried that yet, but we might!
A Gated Community:
After breakfast it's down the stairs to play (they play and I get caught up on my "stories." I can't imagine who will leave Grey's Anatomy next).  Once Camila is walking, (I fear that will be sooner than later) we will put up two gates. To get down the stairs, we have to open up one. The other will block off a larger entry way from the living room to the stairs. If you have been out of the baby-making business for a while, there are MANY baby gate options available. The choices are endless so you truly have to find what works best for you and your home. We use a nice and sturdy one for the top of the stairs that actually screws into the walls. It has such an intricate lock on it, sometimes even I struggle to get it open. I know the babes are going to be safe.

Kenneling:
Once Camila started crawling, we decided it was in our best interest to "kennel" her, so we have her cordoned off with a plastic indoor/outdoor play yard. This is especially helpful when you need to go to the bathroom, throw in a load of laundry or run to the store – just throw some toys and a handful of Cheerios in there and I know she's well taken care of and safe (just kidding about going to the store).
Kenneling also keeps her away from those pesky wall outlets. Whether you choose to replace the entire faceplate or use plug covers, there are a variety of products to keep those little fingers out of the sockets. Another advantage to the play yard is her safety from furniture – no sharp corners within her vicinity. Don't fear, if you don't have a play yard, there are a variety of safety items that you can use to ensure that the only egg on your kid's head is leftovers from breakfast.

The Big Stuff:
Don't forget about those heavy pieces of furniture! There are anchors or tethers that attach dressers, armoires, credenzas and televisions to the wall. If you are unsure of your skills in this department, there are plenty of professionals that are available for hire.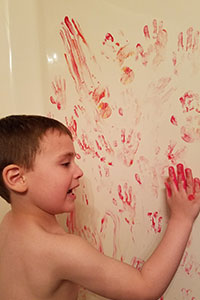 The Bathroom:
The bathroom is another space where you should make safety a priority. Use a hook and eye lock high on the outside of the door or use a childproof cover on the doorknob (you should actually put covers on all door knobs). To avoid toilet swimming or a stuffed animal swirly, install a toilet seat lock. Be sure to unplug all electronics and put away all medications. As for the bathtub there are faucet covers are a great option for safety.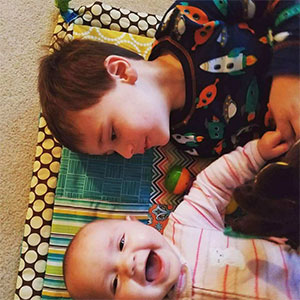 Regardless of how you babyproof your home or what products you use to keep your babes safe, they are on the move and growing up fast. Enjoy the time you have with them. When you've outgrown that house and you are looking for another, give me a call. From one parent to another, I would love to help!