In a matter of days, life as we knew it has been turned upside down. Our normal is now a new normal. Thinking back to the experience of 9/11, we had to abandon our old ways of doing things and change processes in ways we would have never imagined. Think about how you used to board an airplane. ID, boarding passes, TSA, became brand new to us, but now they are the new normal.
In September 2006, I earned my real estate license. The idea that the real estate market was going to crash was not a concern for me or any of the other soon-to-be agents studying for their license. I quickly learned new terms like foreclosure, auction, and short sale, and how to navigate them for my clients among our shared new normal.
Now here am I again adjusting and doing a slight pivot, almost daily, as we are faced with so many unknowns. It is during these times of uncertainty that our team at PJMRE manages to grow stronger than ever before and we rely on our core values to guide us.
Stay True to Ourselves
Welcome and Lead Change
Be Optimistic in the Hard Times and Humble in the Best
Think Like a Business, Act Like a Family
Cultivate Lifelong Relationships
Enrich the Community We Love and Live In
Stay True to Ourselves
We at PJMRE are a really fun group, if I do say so myself. We never take ourselves too seriously. We encourage everyone to show up daily as the best version of themselves, and in turn use each other's strengths to make our group the best it can be. In the old normal, we collaborated often at social hours, lunch and learns and desk chats. Now we have lunch together via Zoom and enjoy themed virtual happy hours. Most recently we had Hat-ty Hour (wear your favorite hat) and PJ Party! (As in wear your favorite pajamas.)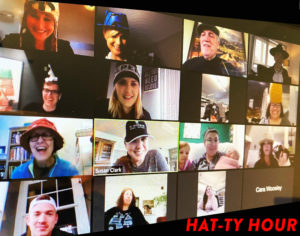 Welcome and Lead Change
Working from home has been an adjustment for some on our team. Luckily several of our sales agents already worked from home so we had the tools in place to accommodate the rest of the team. As I mentioned above we are a social group, so one thing we added right away was Workplace by Facebook. Now we have video calls, instant messaging and live streams right at our finger tips! Oddly enough, I feel more connected to the team now than before!
Be Optimistic in the Hard Times and Humble in the Best
Optimism is a mindset that our team chooses daily. We choose to show up for each other, for our clients, and for our community. We may not all be physically together right now, but we are continuing to find small ways to feel like we are.
Think Like a Business, Act Like a Family
For me – this is always the first core value that comes to mind. We are thinking like a business that will come out of all this even better because we are a family that builds each other up and bands together to be there for each other, including all our clients and customers. Our company is strong because our team is strong. We look at our clients as our extended family and with every change our end goal is to provide our extended family an even better experience.
Cultivate Lifelong Relationships
We have a vast network of business partners we work with daily. Partners we trust and rely on. We are fortunate to have had them on our side all along, but now more than ever. We get to share new ideas with them and do what we can to help build each other up!
Enrich the Community We Love and Live in
You will often find us out in the community supporting our fellow business owners. We are still doing that! Mostly virtually, and several takeout orders along the way. Share the love by liking us on Facebook and following us on Instagram!
As we continue to fine tune our new normal, we would love to hear what you are doing. What methods have you and your team tried? Let us know in the comments!