As I was brainstorming ideas for blogs to write, I realized that what I do and the people I meet are pretty fascinating. I decided the best way to capitalize on my everyday interactions is to share them with you.
Let me start by telling you about the man behind a perfectly curated salvage company right here in Omaha, John Rapaich at A & R Salvage. Currently, I've been spending a lot of time on the final details of the Little Bohemia project (the first phase anyway). Consequently, I have been on the hunt for some fairly random items. Almost weekly, my searches have led me to John at A & R Salvage, which has quickly become one of my favorite places in Omaha.
I've known John (or about John) and A & R Salvage for years now. Not only has he been a champion for the work we are doing on 13th Street, but he has been an extremely useful resource for all things construction and community. The man knows everyone!

John is a born and raised South Omaha boy – a total tough guy. The best way for me to describe him is similar to that lifelong friend or older brother that always has your back. He is the person you run to when a guy is out of line, knowing he will "handle" it.  He reminds me of the guys I used to date during my "bad boy" phase. The more I think about it, that guy is one in the same (depending if you are related or not).
John's journey is similar to many others. He got into the business, as a young man, working for Virgil Anderson, of Anderson Excavating. Now his business partner, John credits everything he has and knows to Virgil. According to John, Virgil was scrapping before anyone else. "Much of Omaha's history has remained here because of that one single man."

I called John and said I wanted to interview him for a blog that I was writing. His response was, "What? Why? Fine." I would have expected nothing less. So, we sat and chatted this week about all things salvage and his long and interesting career: To give you an idea, here are just a few of the high profile jobs that A & R has been involved with: Medical Arts building, Aksarben, Union Pacific, Omaha Police Station, Rosenblatt and the Witherspoon Mansion. John has seen a thing or two…

Favorite job?
"It was my first job, the Omaha Police Station at 10th & Douglas. There were so many stories in that place. We found old WANTED posters, police files, investigation paperwork, contraband and shanks.  Every time a wall was knocked down, there was something hidden behind it."
Best area of town to salvage?
"Downtown. You have no idea how many tunnels are down there."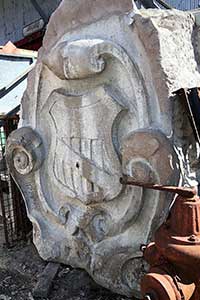 Favorite find?
"Union Pacific Shield. We found it in the stone buried beneath a couple of facades." (They cut it out and took it)
Coolest find?
"A hockey stick signed by all of the Aksarben Knights. Someone had tucked it above the office ceiling to make off with later." (John must have seen the confusion on my face – I had no idea there was once an Aksarben hockey team)
John has so many incredible stories. I only provided you with the "PC" ones here because my mama reads this blog. ; ) I will say this, however. John's stories are ridiculous and fascinating and part of why I absolutely adore hunting for one-of-a-kind, odd things. A bit of my past life follows me around in this one. I am completely at home in antique stores, salvage yards, junk shops or anyplace that requires a good pair of boots and solid negotiation skills. I love sifting through a salvage yard and finding items that can be repurposed in a variety of ways and I especially love showing up to the job site with them. The contractors never fail to look at me like I'm completely nuts when I say, "Yes, that's right, it's a door or a light fixture or a sink" (whatever I've randomly come up with that we needed in the moment).  Then, they roll their eyes at me like a dramatic teenage girl, but I secretly believe they actually enjoy the element of surprise and a break from the norm (or I like to think they do anyway).

I find buying new mundane – it goes against the heart and soul of our redevelopment project. There is always a place for new, this I understand. The details of something old are priceless. The details are where you have all the fun. The details have the character and the stories.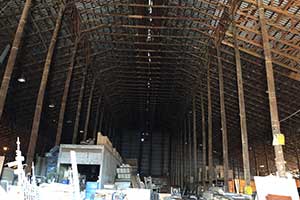 For your next project, pay John a visit at A & R Salvage or his downtown shop, Black Market Furniture (soon to be an online-only Amazon store). When I say they have everything, I truly mean it. Stray away from the box stores and take a chance on something totally unique and original. Imagine the history behind the items. You won't regret it.