Originally a South O girl, everything I needed was within 20 square blocks. The idea of living in Elkhorn never even crossed my mind. Now… I can't imagine my life any other way – Elkhorn is where I call HOME!
Now that I have been living in Elkhorn for a few years, I realized how much I enjoy exploring the area with my family.  Most of my favorite places include food and "spirits", but who's counting?  To many of my friends and family in South Omaha or any other part of town, Elkhorn is unfamiliar territory.  So, to help you all out, here are my Top 10 spots to frequent:
10. Dairy Chef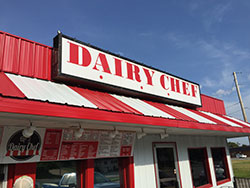 One of Elkhorn's most infamous landmarks, people flock to the locally owned Dairy Chef for their hand-pattied burgers, fresh cut fries and soft serve ice cream. And, every Saturday during the summer months, Dairy Chef expands their menu by throwing a little BBQ into the mix.  Once a month they also have Flix at the Chef – a FREE outdoor movie (and popcorn).  It is the perfect spot to bring your kids – the ice cream cones are HUGE! When I say huge, sometimes a cone comes out a foot tall. It's awesome.
9. Boyd & Charlies BBQ
Speaking of BBQ… Boyd & Charlies is mouthwateringly, AMAZING! I am not one to shy away from a messy meal but I require a fist full of napkins every time I go. The ribs are SOOOO good.  Apparently, the sauce was developed over 35 years ago in Alabama and I would say that it is perfection.  My other faves are the burnt ends and the slaw. Who's hungry?
8. Good Life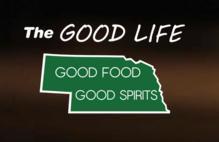 I couldn't have a top 10 list without a good bar or two… The Good Life (the new location) is a super fun sports bar that just opened up on 204th and Maple. The place is hoppin'.  If you are a sports fanatic, The Good Life truly is the place to go. They have over 35 flat screens including 4 80-inchers.  Believe me when I say this, you will NOT miss a single play, touchdown or home-run.  They have traditional and non-traditional pub food – all made from scratch.  It is the good life…
7. Create
This is a place where my daughter Della and I frequent regularly (and not because it's one of my tenants, 'hi' Lisa). Pop in or schedule events for a group, Create is perfect for everyone. Whether you are 2 or 102, you can find a craft to "create."  Paint the latest emoji, a dance bag, a door hanger or a traditional canvas – they have anything and everything.  Let your creative juices flow.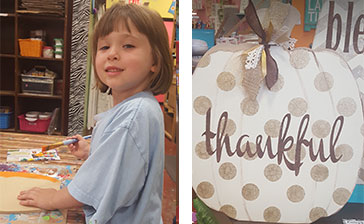 6. The Mark
The Mark is so cool! They have food, bowling, bubble ball, an arcade, open courts, volleyball, laser tag and now a 4D interactive theatre game.  Rain or shine, it is a great place to have a blast.
5. Downtown Elkhorn
I know this isn't really anything specific, but downtown Elkhorn is actually something very special. Just walking around with my husband Joe and our daughter is so pleasant.  The charming buildings are mostly brick, the stores and restaurants are locally owned, and the atmosphere is adorably quaint.  It really gives you a small-town feeling.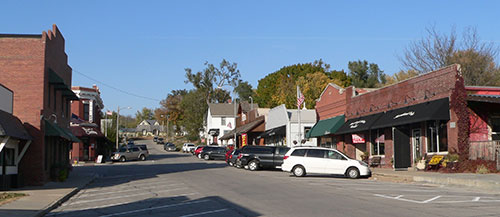 4. Shevy's Bar & Grill
Back to anther bar. Shevy's is a really fun, no nonsense bar and grill.  They have fast food and cold beers. What's not to love?  My favorite is their little outdoor patio.  If the weather is nice, guess where you can find me?
3. Arbor View Elementary
The schools in Elkhorn are, in my opinion, a notch above the rest. I actually moved to Elkhorn for the education system. My daughter attends Arbor View Elementary, which was built just last year.  We couldn't be happier and our daughter is thriving.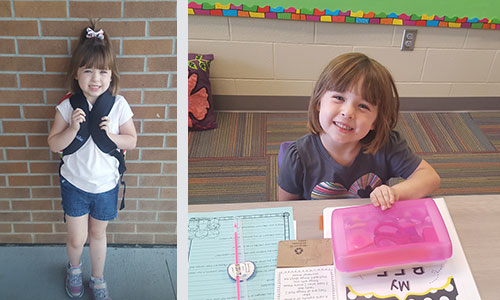 2. Clara's Closet
Clara's Closet is truly one of the most adorable places. Located in downtown Elkhorn, they host dress-up and tea parties, etiquette lessons and more.  Clara's Closet is literally full of costumes, dresses, jewelry, shoes, tiaras and make-up galore.  It is every little girl's dream come true.
1. Bella Vita
With a daughter and now TWO dogs, my husband and I don't get a ton of opportunities to have date night, but when we do, we love to go to Bella Vita. It is a secluded Italian restaurant with scrumptious food and beautiful ambiance. They have amazing specials offered each night of the week: $5 drink/$5 bruschetta, half off a bottle of wine or buy one entrée, get one half off. My mouth is watering. This Italian girl can't resist!
I know that Elkhorn has so much more to offer than these 10 places and I look forward to checking each and every one of them out.  I'm truly thankful for having the opportunity to live in such a vibrant part of town.