My absolute favorite pastime, besides working tirelessly for PJ Morgan Real Estate (wink wink), is expressing my creative flair through decorating. I love fresh flowers on my desk. I love adding a million pillows to a bed, to my husband's dismay.  And I absolutely love accenting a room with just the right candle, picture or figurine.
Last spring, I spent a great portion of my time re-configuring and landscaping my backyard and patio. I had it completely redone with new furniture and a built-in fire pit. Needless to say, it is now my happy place! This spring (whenever it may come), I want to tie it all together with the perfect accessories.

Throughout my life, I have learned that it is extremely beneficial to effectively and efficiently utilize all my resources. Lucky for me, Ann Etienne, owner and curator of Voila!, is a commercial tenant of PJ Morgan Real Estate. I knew she was the perfect person to talk with. Even though I love the idea of decorating every inch of my entire house, I don't necessarily have all the right skills. This is where Anne comes in. She has an incredible knack for bringing out your inner designer. She gets a feel for your taste and helps you tie it all together. She truly is a talent. I sat down with Ann and asked her the ins and outs of floral arrangements, décor and more. I walked in her shop and it was love at first sight. I could have stayed in there for hours to look, touch and feel everything. I have ANOTHER happy place!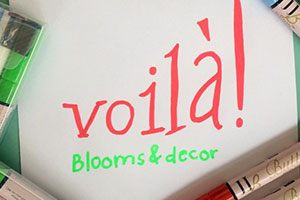 Voila! was established in 2003. They are centrally located on Dodge St. at 49th. Some of you may remember this location as the old Fenwick's Ice Cream Shop. At Voila!, they are anxious to help you find the accessories that make your home a unique place of beauty and comfort. The shop is filled with wonderful items for you to explore. Their designers can help you with your floral, decorating and accessorizing needs and ideas. The shop is stocked with seasonal items, gifts and floral for every occasion, holiday, and season.
Cara: I just purchased a new outdoor table set. What would you recommend as a centerpiece?
Cara: What are some popular pieces for outdoor decor?
Ann: Succulents are perfect to use all summer long. They are easy to care for and look great with indoor/outdoor candles. Rustic metal is extremely popular right now. You can plant flowers in them and keep them outside. Or, you can add toiletries and bring them inside for a fun mixture of elements. Concrete pots are making a huge impact as well. Adding artificial greenery can really brighten a space up. Statues and figurines are always popular for outdoor decorating.

Cara: You have a beautiful case of flowers. Do you do a lot of arrangements?
Ann: Yes! We LOVE our floral department. We deliver arrangements for individuals, parties, events and weddings. Voila! takes pride with the unique look of our arrangements. If we arrange a bouquet for you, you just know it is from us. We love the wild, loose, free flowing arrangements. We also love creating holiday based arrangements.

Cara: Looking around, you sell a little a bit of everything. Can you give me a breakdown?
Ann: As we just discussed, we provide floral arrangements for any occasion. And, we sell just about anything and everything from jewelry, candles, room decor, children's knickknacks, pillows, pictures. Almost every inch of this store is covered with something for the home or garden. It's fun to get your creative juices flowing and figure out how you can finish or accentuate a space. Decorating can be overwhelming. We help clients find their style. It's a wonderful experience to share with someone.


Take it from me… head down to Voila! and just walk around. You will find something (or a few somethings). By the time I left, I walked out of there with a car load of goodies to complete my patio project. Let's just hope the weather will warm up and we can actually enjoy some outdoor goodness. Voila! may be your happy place too!