This is my favorite time of the year. Spring is in the air, the days are getting longer, the temperatures are rising, the NCAA tournament is here, and the real estate market is booming – it's Mar(ch)-ket Madness!
If you don't already know, the NCAA tournament is a 68-team single elimination basketball tournament played each year to determine the National Champion of Men's Division 1 Basketball. The tournament starts in March and runs through April. The "tourney" as it's known, is all-out madness – "March Madness". Teams compete for the ultimate prize in college basketball and each game brings them one step closer to the trophy. As a team progresses, the games become more challenging. Preparation is key; each game brings about a different matchup, different pitfalls, and different challenges.
Did I mention the real estate market is booming? Booming, meaning homes are selling in 24-48 hours, if not faster, and with multiple purchase offers! There simply aren't enough homes on the market to keep pace with demand. A normal supply of listings in Omaha's market is around 5,000-6,000 homes, but as of last month, there were only about 1,800 (that's about 700 fewer than the same time last year). Couple the low inventory with rising interest rates and you have one mad market!
So what can a buyer do when facing this mad market? Prepare. Just like a basketball team in the tourney scouts the opposing team and practices before facing them, a buyer must prepare so that when game time arrives, the buyer wins. In an ultra-competitive market such as this, there are several things buyers can do to prepare prior to looking for homes. With that, I bring you the Final Four of Home Buying Preparation!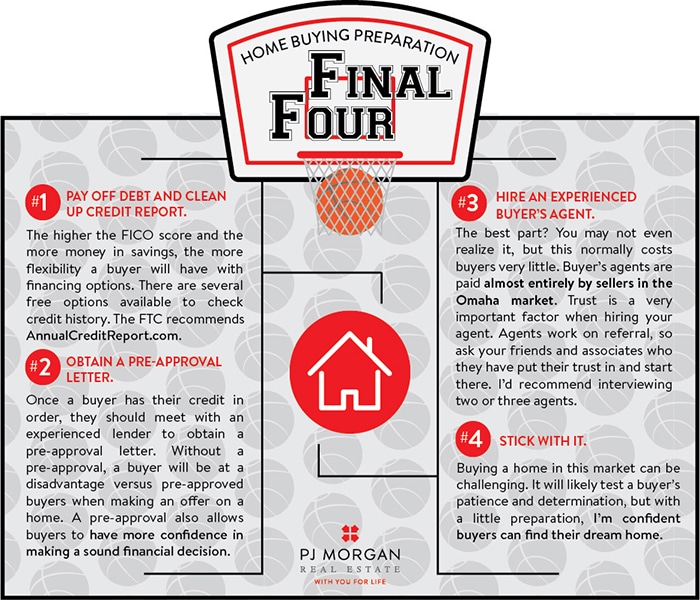 Unlike the NCAA, we won't crown a winner here – all four steps are equally important parts of the home buying process. But going through this workout before tip-off will definitely help prepare you for a winning play.
I'd love to hear about your home buying success stories, underdog victories or crushing defeats. Let me know in the comments below!