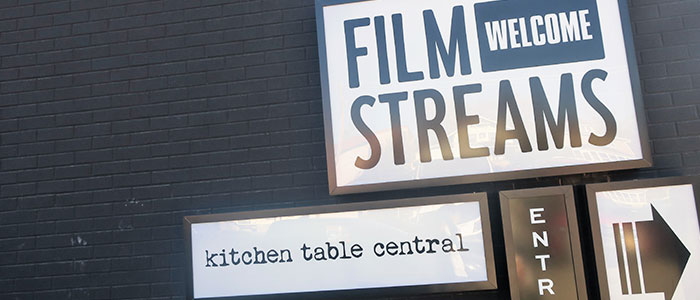 If you've read my blog posts before, you know they usually come with a long story and lots of text.  This time you're in for a treat… less rambling and more photos!
Because we manage neighboring properties, we were given the opportunity to get a sneak peek of the new Film Streams Dundee Theater and the home to Kitchen Table Central. Since we had the good fortune of seeing the progress first hand, we had to share!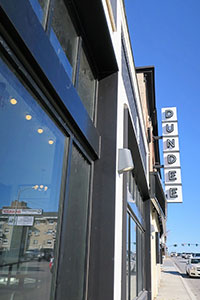 I've noted here before that I grew up in Dundee and have a particular fondness for the neighborhood. It seems like people who have lived in Omaha for a long time always have a story about a particular movie they saw at the Dundee Theater. As a teenager, I fondly remember seeing Pulp Fiction there and then going to Fenwick's, along with a few other Dundee hangouts on the walk home. It was a very fun time – one that still sticks with me to this day. I love the strong presence and identity this theater has for the Dundee neighborhood. I love even more that Rachel Jacobson, the driving force behind Film Streams and this renovation and Colin Duggan, part of the master duo behind Kitchen Table, both grew up in Dundee as well. The stories we could all tell about each other… But I digress, back to the Theater.
Here are some of my favorite highlights from our tour: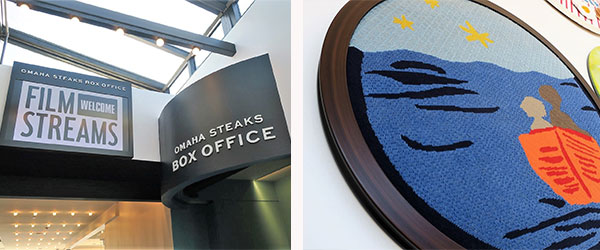 The Entry:
First and foremost, it's safe!  Most of you should recall the old entrance on Dodge was a bit frightening. You certainly took life into your own hands, practically stepping into the oncoming traffic, just to open the door. The new entrance is both stunning and secure.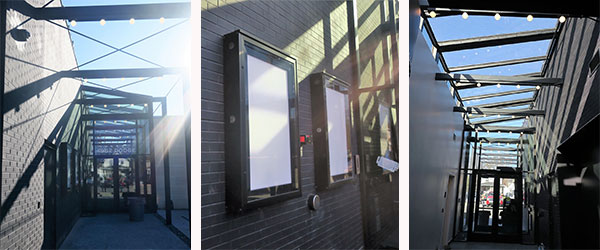 The Colors:
The bold use of color in the theater spaces is fantastic.  The hues are so unexpected but bring a vibrant energy to each theater. I practically found myself in a trance admiring the chairs.  In my opinion, they are pieces of art, in and of themselves.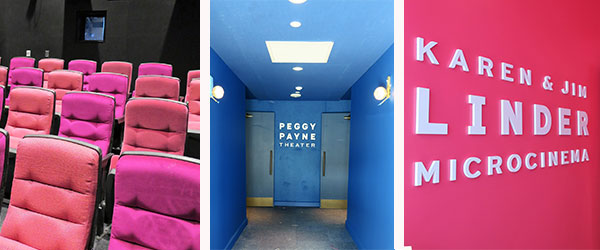 Old and New:
To balance all the new elements, the black and white in the common areas are a nice compliment to some of the historical touches of the building. The lobby space, beautiful moldings and terrazzo floors are all original. The flooring needed repair in some spots, but you can't even tell the difference between the old and the new. It literally and figuratively is like taking a walk down memory lane.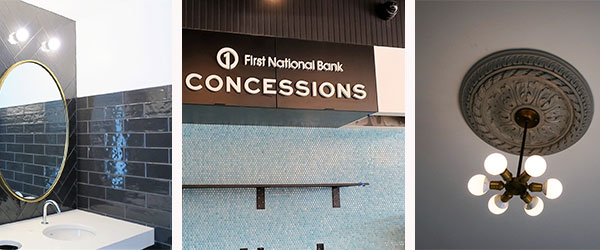 The Dundee Theater is such a great contribution to our community. I'm so anxious to hear stories from people about their favorite movies or events at the theater.  Will it be a story about the former space or the new one?  Maybe both?!