Hey ya'll – I'm Cara Woosley! This is my first time blogging for Life+Style, so buckle up for a dose of reality with a side of sass!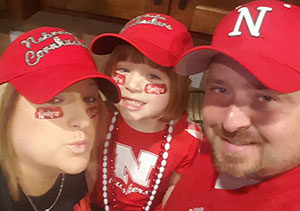 I'm the Director of Residential Property Management and also a REALTOR®, and I've been with PJ Morgan Real Estate since 2008. It has been an amazing ride growing with the company the past nine years, and I like to think I have my hand in a little bit of everything around here. 🙂
For those of you who aren't familiar with real estate, the sales and property management season is officially in full swing! Which for me, often means prepping homes for new owners and tenants. A big part of that prepping often involves dirty carpets. So, when I'm trying to determine whether the carpet needs a thorough cleaning or has to be scrapped entirely, I always call my friend (and one of our Trusted Vendors) Joel Stenger at Sharp Carpet and Air Duct Cleaning. We've been working with Joel for about five years and I love that he always tells it like it is! He's also saved my booty in more than a few emergency situations.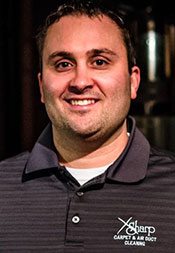 Whether you're a homeowner, tenant or property investor, you probably don't like to think about the "invisible" dirt in your home, but you really should since it can lead to health problems! I know it's gross, but if you're like me, sometimes you get a little joy out of super icky things. So, I've asked Joel for the down and dirty on all things carpet and air duct related!
Me: I'm a clean freak, so I like to think my house is spotless, but I know better. Where is there dust and dirt hiding in my house? I want my family to breathe clean air!
Joel: Calm down, Cara. There are three areas I always recommend cleaning:
Carpeting: We believe carpet cleaning is a home maintenance item. You dust, vacuum and clean your home frequently – carpet is the same way. Ideally, it's cleaned every 9-18 months. And just like holding off on cleaning a grimy shower, the longer you let it go the harder it is to get it clean. Cleaning it more frequently also prolongs its life.
Dryer Vents: Getting your dryer vents cleaned is more of a safety concern. I'm not trying to scare you, but there are 15,000 home fires per year from dryers improperly venting. Checking your dryer vent is yearly maintenance – check outside to make sure it's exhausting properly and if your dryer hose is longer than 10 feet, have a professional company like us come to check it.
Air Ducts: Cleaning your air ducts is needed about every five years. The goal of duct cleaning is to improve indoor air quality and lower dust levels in your home. The average family of four or five produces about 40 pounds of dust every year! A lot of that dust is actually dead skin cells from humans and pets. Clean air definitely helps with allergies and asthma.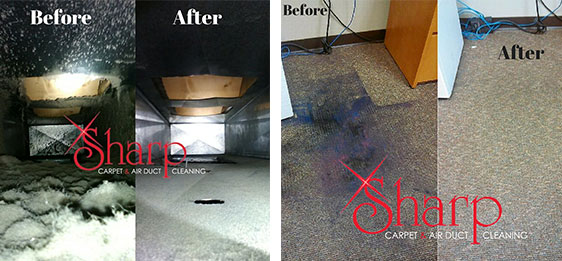 Me: Wow, back up – I definitely don't want my dryer to start a fire! How do I know if the vent needs to be cleaned?
Joel: These are the "key indicators" that it's time to clean it:
Your dryer takes more than one cycle to dry an average load of clothes.
Your dryer gets hotter than normal.
There is the fire hazard element, but an uncleaned dryer vent can also damage your dryer or burn up its heating element. Usually, the heating element will go before there's a fire… but if it doesn't, that's when you'll really run into trouble. Check your exterior vent flaps at least annually to make sure air flow is being exhausted properly.
Me: As a clean freak, I, of course, own a dog that doesn't shed (hi Dexter!). If he did shed though, would my air ducts be getting dirtier faster?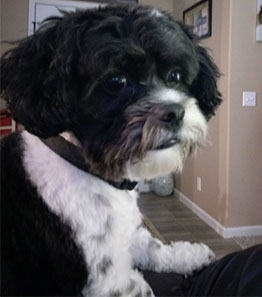 Joel: Yes, pet hair is a major contributor to the build-up we see in air ducts. As far as prevention, of course grooming your pets will help, but you should also vacuum your carpet frequently and sweep hardwood surfaces. I recommend once or twice a week at minimum. Changing your furnace filter regularly also helps – anywhere from quarterly to monthly.
Me: Okay, now I want you to weigh in on a carpet question I get asked by clients all the time: when putting your home on the market, how do you determine whether to clean the carpets or replace them entirely? The Age of a carpet is a big factor. 
Joel: The Age of a carpet is a big factor. Also the soil level and type of stains on carpets – pet stains and odors are very common problems, so we've developed a variety of treatments that can help make your carpet look newer. In some cases, we can do this without pulling up the carpet or removing anything! I'll always tell my clients if they're better off replacing it though.
Me: That's convenient! You know how darling my daughter, Della, is. Well, she's also full of energy… which leads to Kool-Aid spills. Can I salvage my carpet or should I start shopping for new area rugs?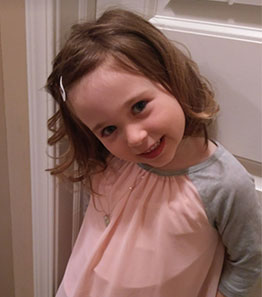 Joel: I get this question a lot! We always tell customers to try to absorb as much of the spill as possible immediately and then call a professional to get it cleaned right away! Wine stains are a common problem and we have a good success rate of removing those, depending on the wine. I always do my very best to get the carpet looking new again, though!
Me: That's a relief because I don't imagine she'll be slowing down anytime soon! Thanks so much for all of the great tips and warnings. I've always thought I had the cleanest house on the block, but that may not be the case now…
Joel: Anytime you have questions, you know you can give me a call! We are so proud to be a locally owned and operated business and we enjoy taking care of the members of our community, especially when they're buying or selling a home. Customer service, communication, flexibility, and doing high quality work are what it's all about!
If you need a dose of Joel's expertise, check out his contact information on our Trusted Vendor page!
Got another grimy question about carpets, ducts, vents or all of the above? Leave it in the comments below!