As the saying goes, if you run from a leaky roof, you'll end up in a flood. Spring is just around the corner and we all know what that means. RAIN!
With the ever-changing elements in the Midwest, what is a key factor to keeping a home protected? The roof! The roof condition of your home is critical and the type of shingles plays a huge role in keeping your home dry year-round. Nobody wants to end up in a flood, especially in their home.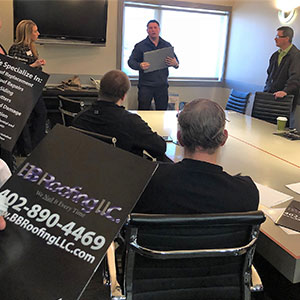 At our monthly Morning Mingle, we were fortunate to have Blaine Brown, BB Roofing LLC, educate us on the importance of shingles and a skilled roofing company. After the presentation, I sat down with Blaine and asked him some key questions about roofs and the roofing process.
Jen: What type of shingle would you recommend for most homes?
BB: We determine the best option based on the type of home and budget. In general, the most cost-effective option is a 30-year, laminate shingle. The brand of shingle really doesn't matter as long as it's installed correctly. BB Roofing almost solely works with the brand CertainTeed. We still use other brands if that is the preference of the homeowner. In our area, IR (Impact-Resistant) or class 4 shingles, are becoming a big thing because of the hail that we experience. Insurance companies will usually offer a discount on premiums by switching to these types of shingles. They do cost a little more. However, after five to ten years, you should be able to make up the difference with the savings on your premiums. I firmly believe, as long as the roof is installed correctly, you should get the full life out of the shingles.

Jen: You mentioned wood shake shingles are becoming a thing of the past, especially since most insurance companies won't insure them any longer. Can you tell us the benefits of the faux shake shingles that you can use instead?
BB: Insurance companies are definitely limiting the coverage for wood shake shingles. In fact, very few will insure​ them at all. Most people go with an asphalt shingle that looks like wood shake, such as Presidential or a composite from DaVinci. Both are great shingles and have several pros, with very few cons. Presidential shingles are an asphalt based product that is extremely popular and available in a few colors. Because it is less expensive than DaVinci, more homeowners choose this option. However, if cost is not an issue, DaVinci is the top choice. DaVinci is a life-time shingle and costs just a little more to put on than a wood shake. Ultimately, it is up to the homeowner. A lifetime product, however, is hard to pass up.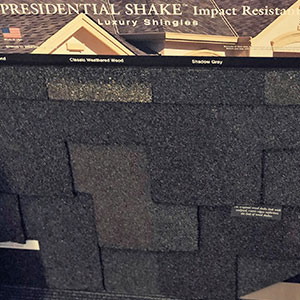 Jen: Most people may not realize there are many different types of shingles. During your presentation, I found out there is quite a variety – from 3 tab, to shake shingle, to solar shingles. In your opinion, which is the best and why?
BB: I would have to say, whichever shingle fits your budget and the type of house you live in. It is fortunate that there are so many options available. There are shingles out there to fit everybody's needs. We try to guide each homeowner, as much as possible, to making the best decision. We provide the pros and cons of every option.
Jen: You mentioned that you were going to Las Vegas in August to gamble… I mean learn more about solar shingles ; ) What exactly are solar shingles?
BB: As of right now we don't know much about solar shingles and how they will hold up in our climate. The theory behind it is you'll be able to use solar shingles like you would use solar panels. I wish I knew more, but I will be able to educate you further in August. I can tell you that they have been doing extensive research and testing for a couple years and it has been hugely successful.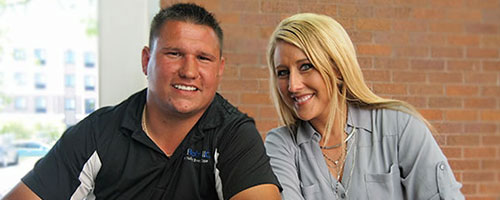 Jen: Needless to say, insurance claims can be daunting! Any tips or tricks on how to handle them?
BB: The best way to handle an insurance claim is letting a professional handle it for you. Find a contractor that specializes in handling insurance claims such as BB Roofing LLC. The terminology and process can be overwhelming for most. Many important items get overlooked, when they should be replaced. When you choose an insurance claim specialist, they will make sure that nothing is overlooked and that you fully understand the process. They should also handle all the paperwork and dealing with the insurance company directly so you don't have to handle that burden.
Jen: Of course, we think that all our Trusted Vendors are amazing, but can you tell us the biggest thing that sets you apart from other roofing companies?
BB: We get this question a lot in interviews. Most contractors say it is the installation and customer service. To me, a successful company should have great installers and customer service, regardless of anything else. I feel the thing that sets us apart from other roofing companies is our turnaround time. We guarantee roof installation within 14 days of signing with us or your roof is FREE. That is what makes us the best!
It was a pleasure to sit down with Blaine and discuss the "ins and outs" of roofing. Don't end up like this guy…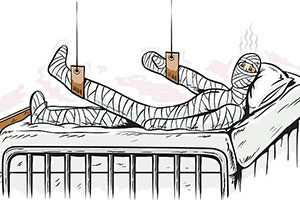 Leave the roofing to the experts. Call Blaine and his team at BB Roofing today!