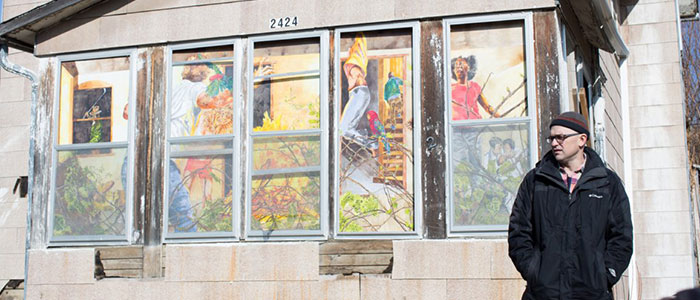 I have known artist Watie White for what seems like a lifetime now. I had the pleasure of leasing him his first studio in Little Bohemia approximately 10 years ago.
If you haven't heard of Watie White, do yourself a favor and Google him now. I will not even attempt to describe his work or style; I would never be able to do him justice and I am totally and completely biased (I know you'll love it too).
About 6 months ago Watie told me about a mural project he was working on. It's not your typical mural (whatever that means). It's not the mural that immediately comes to mind when I say "mural".  And his goal is to do a 100 of them, placed in different areas of town.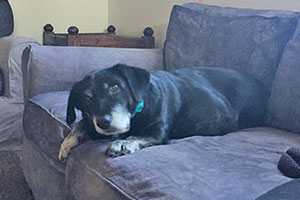 In his cozy studio in Little Bohemia, Watie and I (and his adorable dog, Keaton) recently sat down and chatted about where he currently is with the project.  The idea, the method, the people, the neighborhoods and the response.
The Idea:
It came about during the most recent presidential election. Watie wanted to make a statement – "No straight white dudes". The portraits include a variety of individuals, but with a common thread: all are marginalized in some way. Watie said he felt that we were living in a time when it mattered what you did. He doesn't describe himself as overtly political or radical but felt that he should do something. These murals were his something, and something he could do extremely well.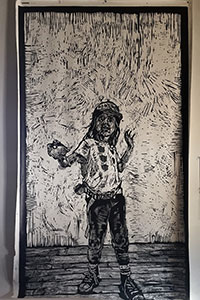 The People:
They are of the young, the old, women, (non-white) men, immigrants, those who may struggle with finding their place in society or have battled with gentrification. Each one is important to their communities and those they serve.
Each subject stopped by his studio and posed, in whatever way they chose. Some brought props, some chose a certain gesture or movement, but whatever it was, they owned it. It gave each of the pieces a certain organic uniqueness and soul.  
Watie said at one point, "They took the hardest part away, these aren't my stories, I am only helping to tell theirs".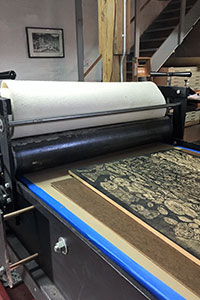 The Method:
He carves each portrait into wood and then transfers them to an acrylic fabric, called PolyTab (or parachute cloth).  The murals are then adhered to the chosen wall.  Think of it like wallpaper. This method allows for a quicker, safer, in-studio process that saves on lift equipment or scaffolding.  A typical mural may last upwards of 20 years, murals on PolyTab have a shorter life span of about 10 years.
Neighborhoods & Public Reaction:
You can currently find 11 murals in Benson and Blackstone. He hopes to get more up in South, North and West Omaha this coming year.
The placement is important in telling the story.  He's extremely thoughtful in where they go. If possible, Watie will always choose to have them placed in the communities where the models work or live. It's a continuation of their story, a way of nodding to their social capital and recognition.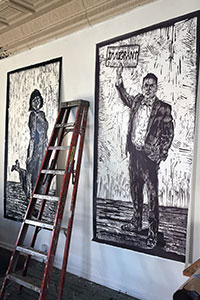 Watie mentioned that for the most part, the public's reaction has been positive. He understands there will always be audiences that won't understand – after all, it's art. There have been and will be complaints. With the complaints he has realized that it isn't his art he is defending but the individual and their story. He is their advocate, an advocate of 11, and soon to be of 100.
For whatever it's worth, I believe Public Art should strive to be captivating, thought provoking and discussion worthy. In my humble opinion, I believe Mr. White has accomplished just that.  Omaha (and Little Bohemia) is lucky to have him.
I can't wait to see what he does in our beloved Little Bohemia. (Hint Hint. Wink wink.)