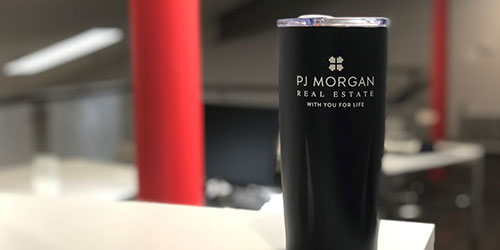 What better way to start off the month of L-O-V-E than with gift ideas?
Okay… these may not be the type of gifts that you give to the one you love, but these are certainly the type of gifts that you give to those you love to work with (or hope to work with). Business swag! These items are a nice touch; a gentle reminder; icing on the cake.
Kayla Cunningham, with JH Willy (one of our amazing Trusted Vendors), kicked off our first Morning Mingle of 2018 talking about goodies for you, your current clients and any potential clients.

I've actually known Kayla for over four years, before we were both married or had kids. Even though things have changed in our personal lives, one thing has never wavered – Kayla's customer service and dedication to JH Willy! What is JH Willy you ask? It's a promotional company where you can get almost anything personalized. What does JH Willy stand for? JH is actually from her father's favorite place, Jackson Hole, Montana. Willy is her father's name. Willy stepped back years ago due to health reasons, and Kayla swiftly took over the reins. She has been the face of the company for over 14 years now.
Now that you know more about the company, let's get to the good stuff – the Morning Mingle and the amazing products Kayla presented. As Kayla always tells us, promotional products are one of the easiest ways to stay in front of your customer on a regular basis. For instance, as I am typing this blog, I have a mouse pad on my desk from one of our Trusted Vendors and a tumbler from PJ Morgan Real Estate. I see and use both every work day. Talk about return on investment!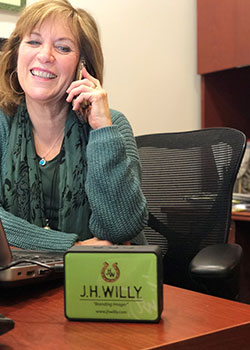 One of my favorite items presented at the Morning Mingle was a portable Bluetooth speaker. It is quite small in size, but packs a big punch. You can print your logo (or whatever you want) on both sides! Nancy Bierman, Sales Manager at PJ Morgan Real Estate, won a FREE one at the Morning Mingle and now jams out in her office.
Another thing I love and will definitely be ordering, (even if it's just for me) is a mobile phone charging bank. Around 3:30 every afternoon, my phone is on its way to Dead Battery City. Since I always forget to bring my charger from home, this would solve so many problems! Side note: I don't know if you noticed there, but several products can be ordered in single or small quantities. That is not the case with most other promotional companies. JH Willy really goes above and beyond with that, among many other things.
From notebooks to playing cards (one of our Trusted Vendors loves these for his poker games) to ribbons and flashlights, Kayla can get you just about anything AND put a logo on it.

So… what do you look for when buying promotional items? You want quality items with longevity. You want products that someone would use regularly, keep on their desk, in their bag or on their person.  Remember, you paid for it; you want it to be seen! Keep in mind that cheaper is not always better. Kayla has multiple vendors she works with to ensure good quality and price. A few extra dollars goes a long way.
Call Kayla – JH Willy at anytime.  Not only will you receive attentive customer service, but she will help you invest in the best promotional products for your company!