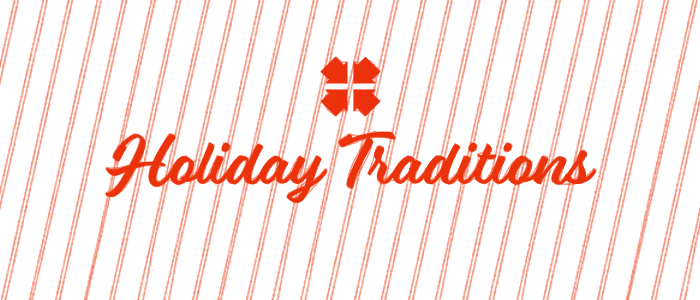 Holiday traditions are what make this time of year so memorable. I love taking time to reflect on the things my grandparents and parents did to make events special: whether it was special food they prepared or games they would play. I also love to think of ways to create new memories and traditions with the people in my life. This week I wanted to share one of my family's traditions and also share the stories of traditions held by members of our PJ Morgan family.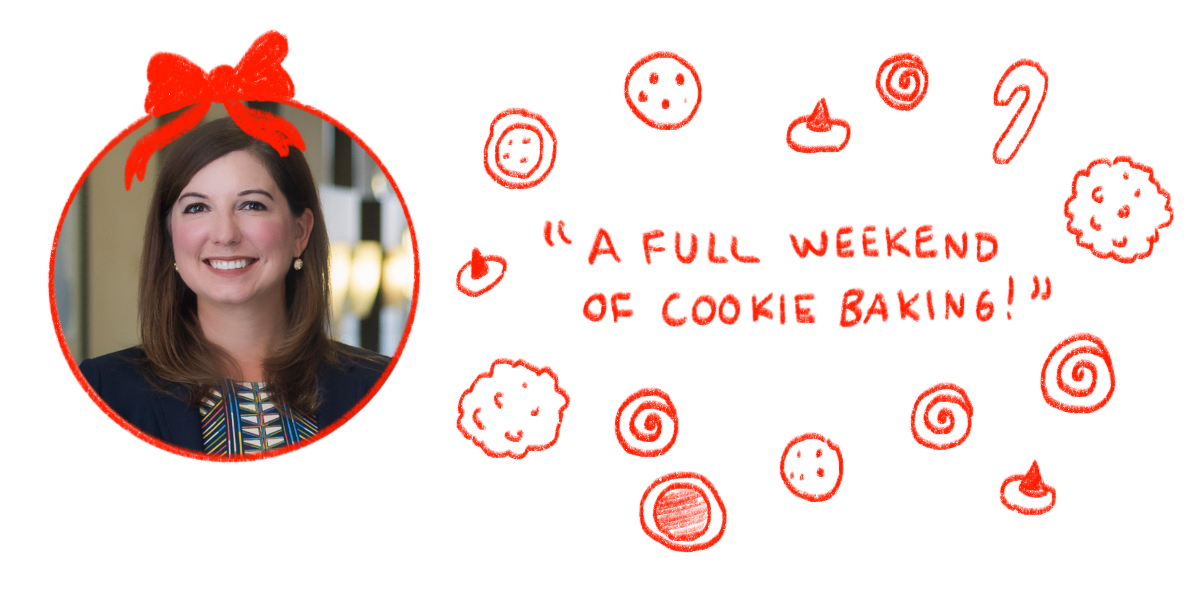 Every year when I was a kid, my parents, siblings, aunts, uncles, and cousins would all go to my grandma's house for a full weekend of cookie making and then some! Chocolate chip, sugar, peanut butter, and oatmeal cookies were made by the dozens! Plus, my Grandma would make the best peanut brittle I have ever had in my life and popcorn balls! We would help here and there, but mostly the adults backed away while the kids played.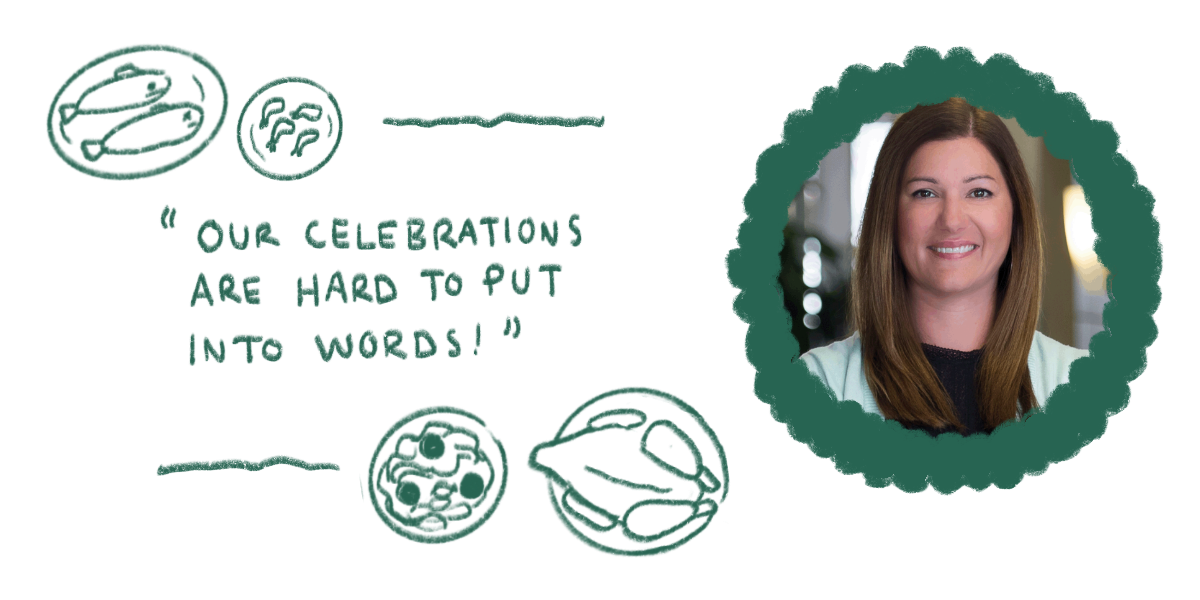 Christine Dougherty- REALTOR
Our celebrations are "hard to put into words." My Mom is Sicilian and Irish and my Dad is Italian (yes, we don't consider Sicilians and Italians to be the same). Because of this, my mom always tries to decide if she will go traditional with a turkey or go something along the line of the "Feast of 7 Fishes" route. She can never decide and ends up making both the turkey and the traditional Italian/Sicilian meals. We know this will happen every year and we do NOT try to stop it.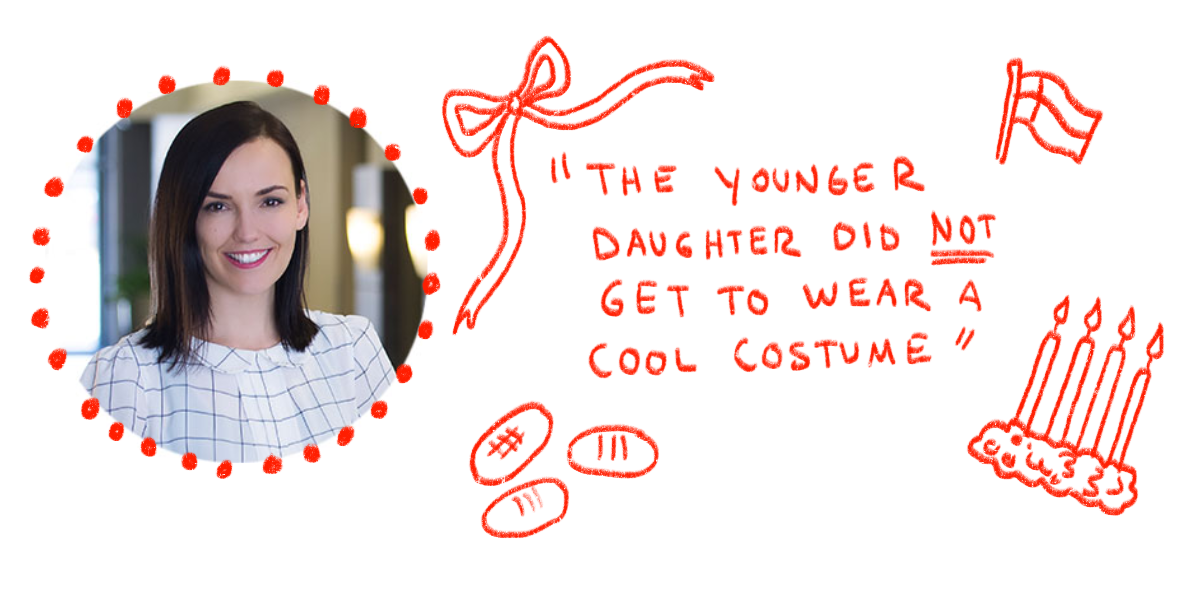 Kelsey Wallerstedt- Marketing
As a child, my Swedish family occasionally celebrated Santa Lucia's day on December 13th. The oldest daughter would wear a long white dress and a wreath with candles on her head. She would bring a tray of pastries out to serve the family, just as St. Lucia had served the Christians hiding in the catacombs of Rome. The thing I remember most is that the younger daughter did not get to wear a cool costume or have battery operated candles on her head. She had to just sit there and eat bread like an idiot! Joking aside, I love that my family worked so hard to preserve the traditions that were passed down from generation to generation. Though I won't eat lutefisk, I always make our traditional Swedish cookies for Christmas!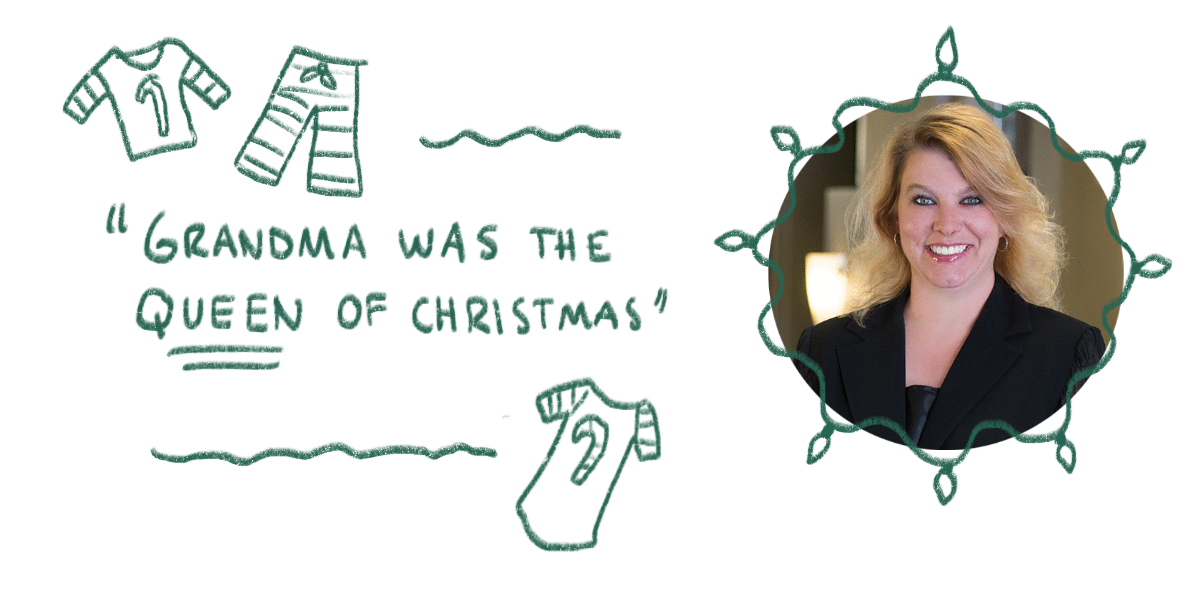 Kathy Betts- REALTOR and Property Manager
My grandma was the queen of Christmas. She always hosted at her house, made cookies galore and prepared more food than we could ever eat. Since her passing four years ago, I've taken up the role of hostess, and I love being able to give MY mother the gift of time spent with her children and grandchildren on Christmas. My mother, my two sisters, my niece and I have also started a new tradition of getting matching pajamas to wear on Christmas Eve. We do this as another way of remembering my grandma, who always made matching pajamas for her children to wear. Having a drink or two is also a new tradition we've started since grandma NEVER would have let that slide!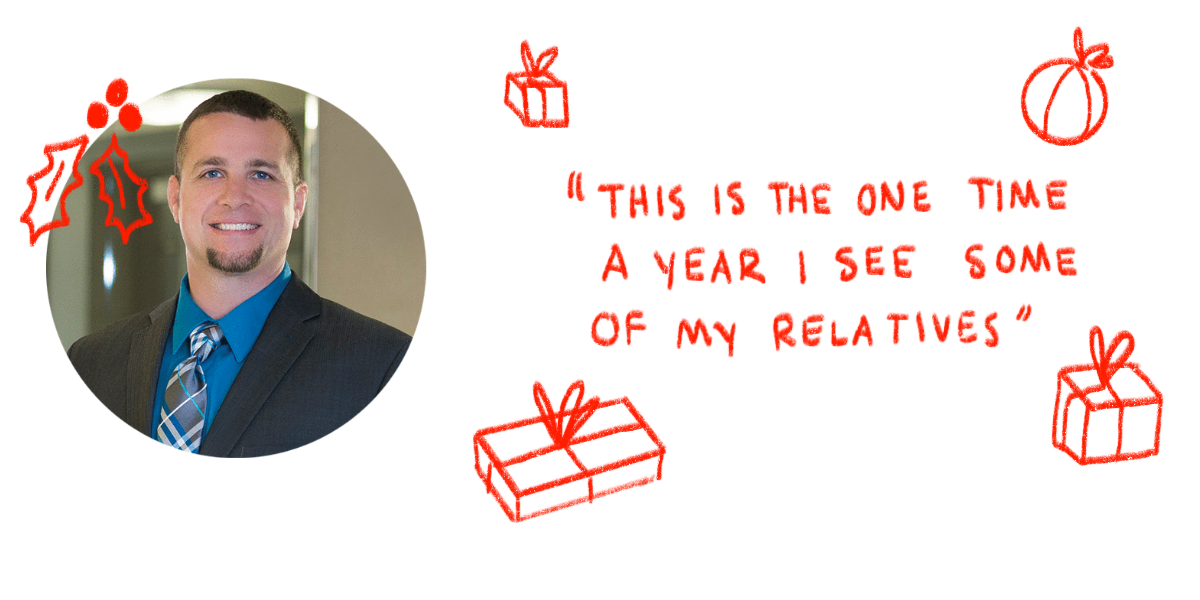 Dan Pusch- REALTOR
Every Christmas Eve my extended family comes together for dinner and a white elephant gift exchange. This is the one time of year that I see some of my relatives but we always seem to pick up right where we left off the year before. The most special part of our tradition for me is when I see my children play, interact and make memories with their cousins as I did when I was a child. I appreciate the Holidays more and more each year for bringing friends and family together.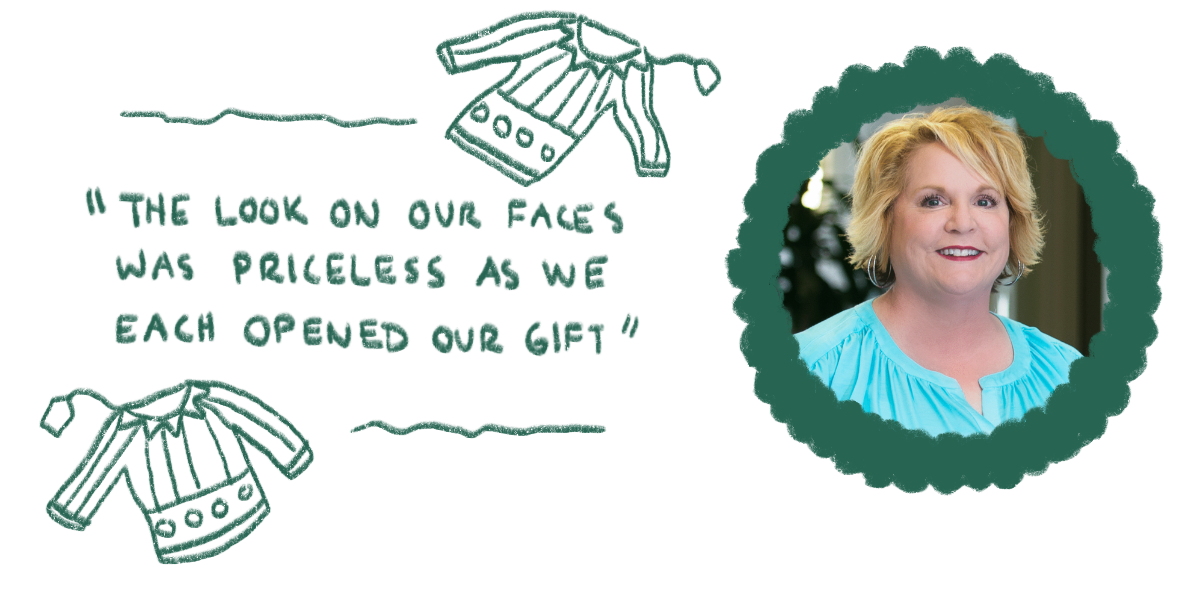 Kathy Kavan- REALTOR and PM Assistant
Christmas time brings back so many fond memories.  One of my family's traditions is having Oyster Stew on Christmas Eve. This is a tradition that both of my parents did with their families before they were married. When my sister-in-law joined the family, she was not as enthusiastic about the Oyster Stew. (So, my mother also makes Chicken Noodle Soup for her and the grandkids.) Just the smell of the Stew reminds you of Christmas and spending time with family.
One year my twin sister and I were living in different cities. I was in Omaha and Kim was living in Lincoln. We always tried so hard to look different even going as far as to have different hair colors. We always thought our taste in clothes was so opposite of each other. That particular year, unknowingly, we bought each other the same sweater. I came home and showed my mom before wrapping it. My mother had already seen what Kim had bought for me. I'm not sure how she kept a straight face as I showed her the sweater. On Christmas morning the look on our faces was priceless as we each opened our gifts. At first, thinking that someone had switched the gifts and then realizing that our taste in clothes was more similar than we had thought.
We always had an artificial tree when I was younger. I even remember the Silver Christmas tree with the color wheel that was so popular in the 1960s. (I know I'm aging myself) One year when I was home from college, I finally talked my parents into buying a real Christmas tree. It was beautiful and I can still remember how good it smelled. On Christmas morning, during my eagerness to pass out the presents. I dropped a heavier package on the bough of the tree and the whole tree tipped over, water and all. I wasn't sure if I should laugh or cry but my family took it well in stride. I figured that would be the last time my parents ever got a real tree. But the following year they did get a real tree. My dad said that he "Kathy proofed" it, and put it in a 5-gallon bucket surrounded by sandbags. It never tipped over again and once you put the tree skirt around it you couldn't even tell. Needless to say, my family still gives me a bad time about this and I am no longer in charge of passing out the presents.
The most important part of Christmas isn't about the tree, the presents or the food. It's about spending time and creating memories with your family.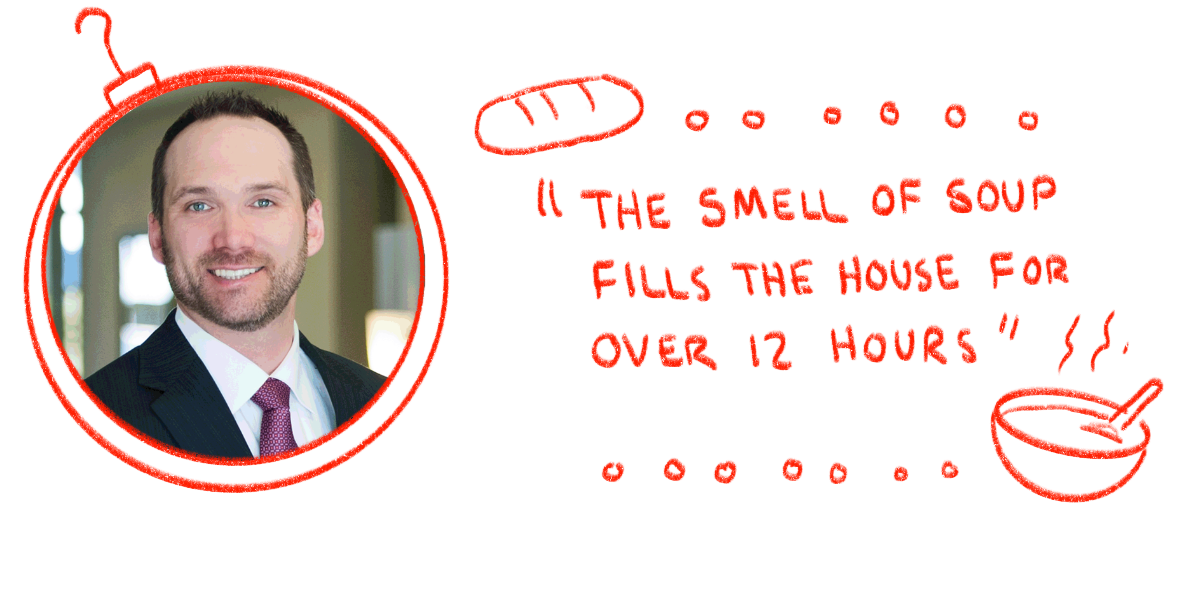 Regi Powell- REALTOR
One of the Christmas traditions that I always think of from my childhood (that we still do today) is making homemade French Onion soup on Christmas Eve.  Everyone in the family always looks forward to it. The key ingredient is the left-over Prime Rib roast bones from the prior year's Christmas dinner that creates the best soup stock.  The smell of the soup fills the house for over 12 hours as it simmers slowly. Then we fill the bowls and place a piece of French bread on top, cover it with Freshly grated mozzarella cheese and bake in the oven to perfection.  The family sits at the dining room table (the only time of the year it's used ha!) and we reminisce of years past and talk about the future. Ok, maybe I was just thinking about what Santa was bringing while the adults discussed the past and future!  I can't wait for this year's soup!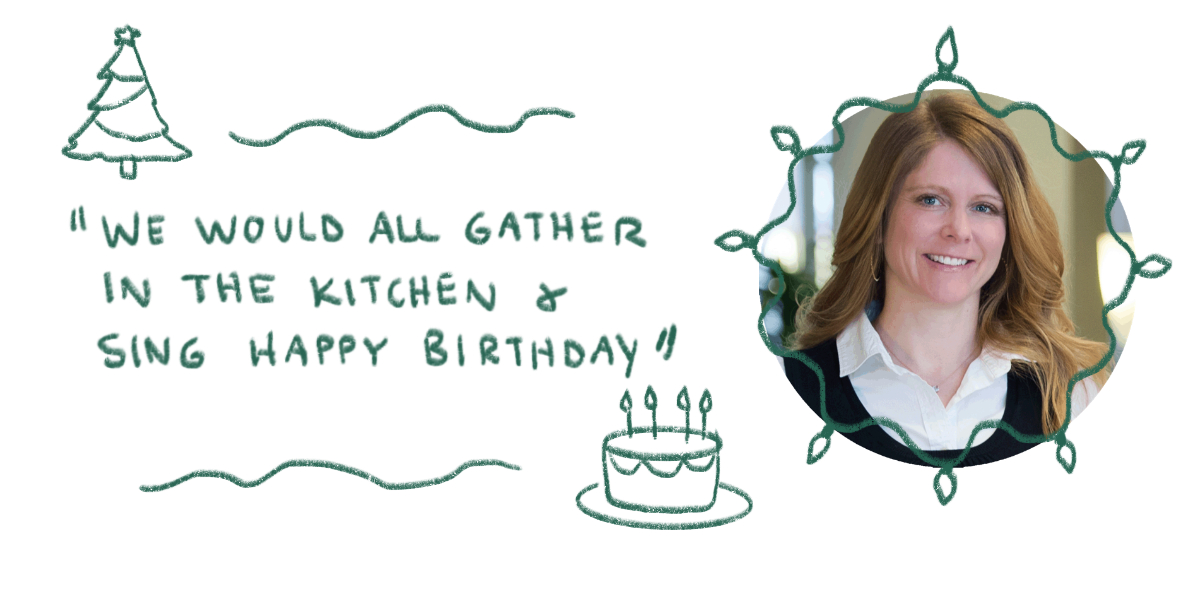 Anne Duggins- REALTOR
One of my favorite childhood Christmas memories was celebrating my Grandma Leona's birthday, which fell on Christmas Eve. She and my grandfather had 6 children and 20 grandchildren- 99% of whom are very ornery. Every year, we would gather in their cozy little home on 220 Forest Blvd, in Hastings, Nebraska. Smells of shellfish and Lebanese dishes filled the air. Uncles torturing the boys until the point of tears was typical. After stuffing ourselves with shrimp, meat pies, and all the grape leaves you could manage, we would all gather in the kitchen and sing "Happy Birthday" and laugh as she tried to blow out the trick candles. Every. Year. It was so awesome and I will forever cherish these memories of tradition and family.
Through all of these stories, one thing is clear: it's not the presents, the decorations or even the delicious food that make this time of year so special. It's getting the chance to love and spend time with the people who mean to most to us. From all of us at PJ Morgan Real Estate, we wish you the merriest Christmas and hope your holiday is filled with happiness and love.
We look forward to working with you in the new year!