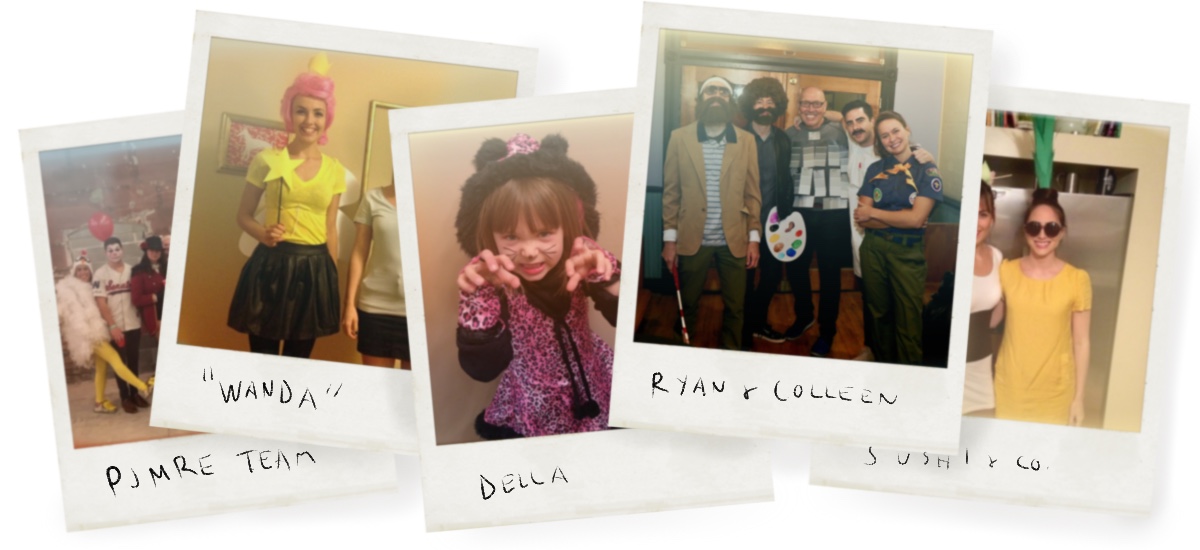 With Halloween coming up in less than a week you might be scrambling to create the perfect costume. You may be browsing Amazon for a polka-dot bow, or sifting through the racks at Goodwill for tweed blazer. Maybe you have no idea what to dress up as! If you need some inspiration, our team at PJ Morgan takes Halloween costumes VERY seriously. So, this week we have decided to feature some of our crowning costume achievements.
The love of Halloween comes from the top down at PJMRE. In 1991 when PJ was the mayor of Omaha there was a huge snowstorm on Halloween. Instead of canceling the holiday (as other cities did), PJ decided to simply postpone Halloween to ensure area kids still got the chance to wear their costumes and earn their candy (a decision much appreciated by his daughter Alyse).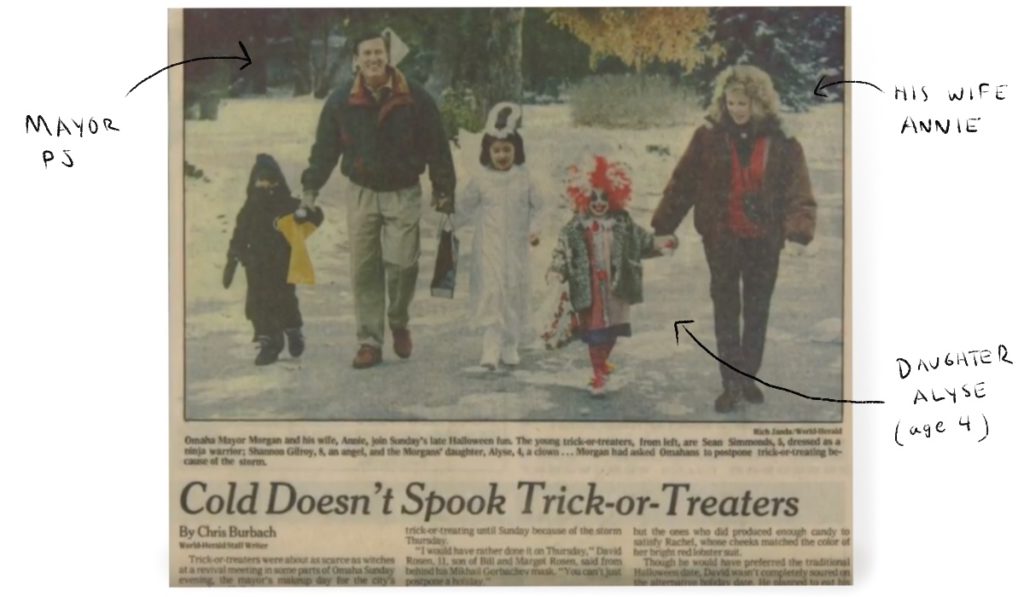 Over the last few years we have thrown work Halloween parties in the developing Little Bohemia neighborhood, which has given the team great opportunities to flex their costume skills. Each year our president, Ryan Ellis, seems to up his game!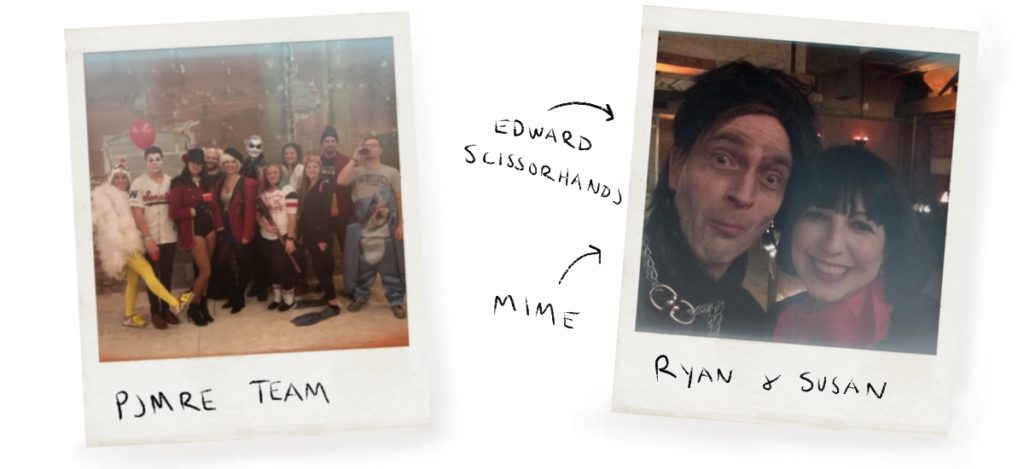 He has gone as Edward Scissorhands, Jack Skellington, The Mad Hatter and Richie Tenenbaum all with an amazing level of detail and accuracy (as you can see). Of his costumes, Ryan says: "Halloween used to scare me. Not literally. We'll sort of literally – it was the idea of dressing up and looking goofy.  The more I've become comfortable with myself and happy in what I do personally and professionally I LOVE the chance to dress up and -GASP- look goofy! Also, for whatever reason Johnny Depp characters have been a recurring source of Halloween inspiration for me.  I need him to make a couple of movies this year so I can't some ideas for next year!"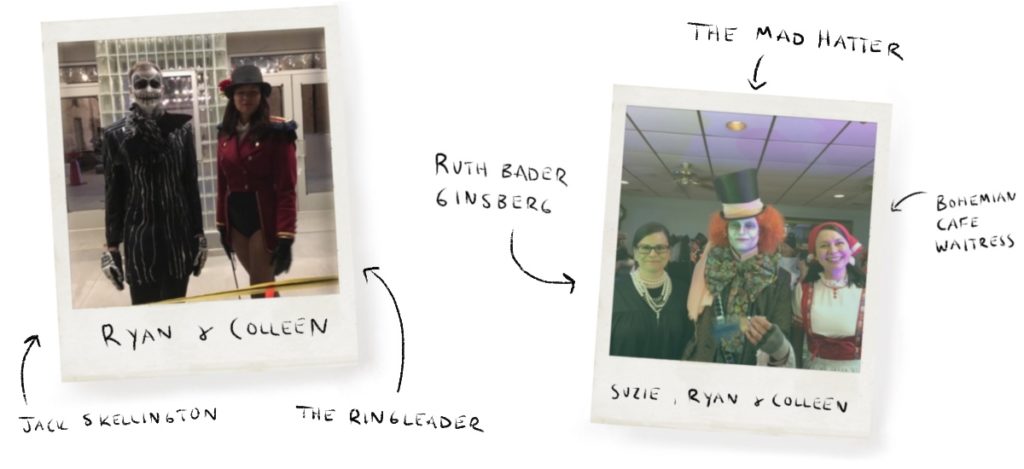 Colleen Mason, one of our commercial leasing agents, stands as another of our Halloween MVP's year to year. According to Colleen, she bases her costumes on either the venue or events in her life that year. For example: when the Halloween party was being held in the Bohemian Café building, the previous owner graciously loaned her a waitress uniform for her costume. The next year she dressed as a ringleader because she had spent the previous 12 months leading the "circus" that was the Little Bohemia neighborhood development.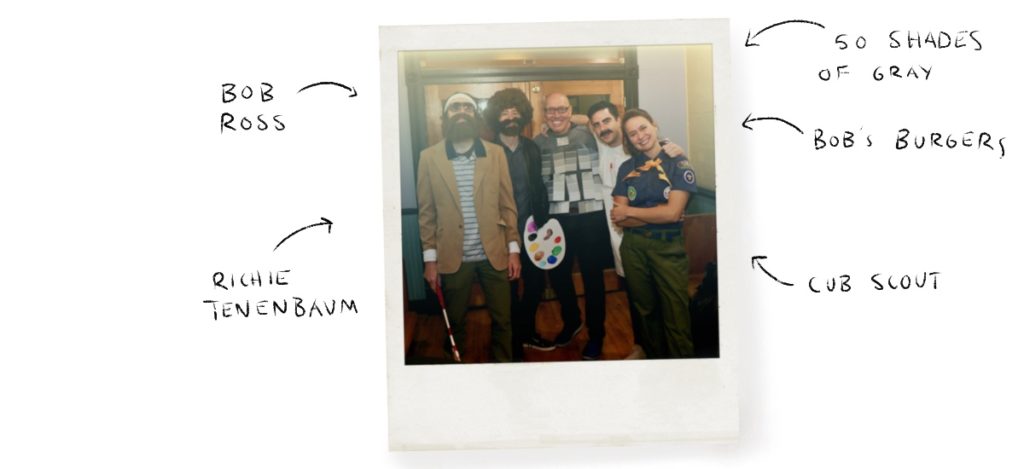 For the Omaha Creative Institute fundraiser this year, she opted to go as a Boy Scout because she was going with a group of all guys (who we must say, also had some very creative costumes!).
I think we would all say we are doing it for the love of Halloween, and that it's not about prizes. But, what can we say, sometimes we win prizes. One of our residential agents, Jen Monjaras and her husband Phil took home 1st place (with a $50 bar tab, thank you very much) for their Dog the Bounty Hunter and Beth costumes. Phil even put a dreamcatcher on his sunglasses. Unfortunately, according to Jen, her long fake nails made using the "facilities" quite difficult. By the end of the night, she was down to two nails.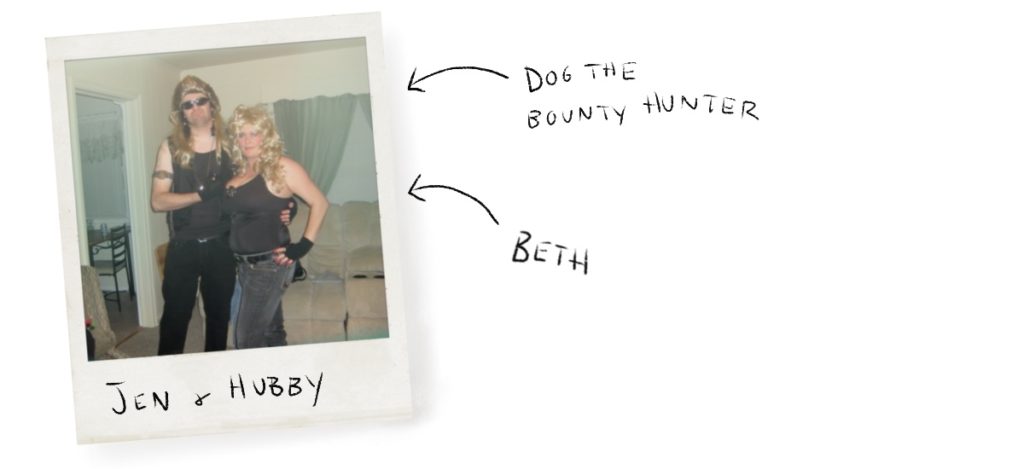 Not all of us reserve costumes just for Halloween. Our Business Development Associate, Chris Riley, has gone to many Comicon Conventions in full costume. He tells about one experience that stuck with him: "I'm a huge Marvel fan and decided to go as Captain America from the movies that year. I bought my costume and one of my best friends made me a shield out of a stainless-steel saucer sled. So here I was wearing this very thick Cap suit in 90+ degree weather while carrying around a decently weighted shield. I was in dire need of sleep and was sweating bullets. So, I darted as fast as I could through the hordes of people towards my hotel room. On my way, I heard a voice yell at me, "Excuse me! Wait!" I turned around and saw this little girl racing towards me, asking me if she could take a picture with me. "Of course!" I said. Then she signals her entire family over of about 6-8 people! The mom tells me that her son and daughter are huge Captain America fans and that they loved my costume. The boy was extremely fascinated by my shield. So, when I asked him if he would hold onto it for me while we took the photo, his eyes widened to about the size of grapefruits! He held it in his hands and you could tell that he just felt like a superhero. We huddled around and took the photo and each family member thanked me profusely. I've never had people thank me to that degree for a simple photo!"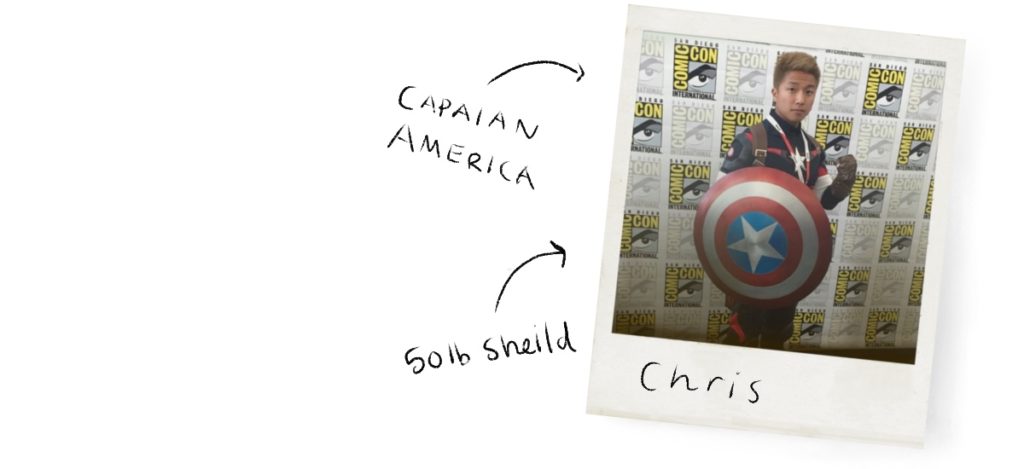 Shockingly, Halloween isn't just fun for adults. Kids apparently enjoy the holiday as well. Some of our PJ Morgan Juniors have had some noteworthy costumes too. Residential agent and Sales Support Associate, Amanda Zahm found a fantastic lamb costume for her daughter Amira. When I asked why she chose a lamb she said "well, we're Lebanese and all the Lebanese food we make is made with lamb… but that's probably not a good reason." However, we are "eating up" how cute she looks. Jen's daughter Camila got attached to her big brother Larsen's old tiger costume (and mom didn't mind getting an extra year out of the costume). Larsen, on the other hand, did NOT care for his scarecrow costume a few years prior, and would only put it on for the photos. Luckily, he had a backup veterinarian costume to wear that year.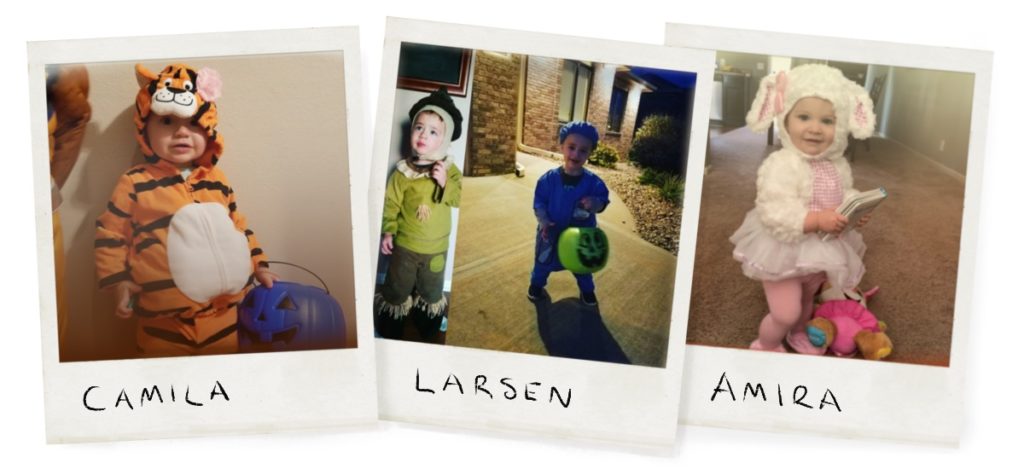 And of course, I have to show off a few of my daughter Della's costumes! She always loves getting to put on her costumes each year. As you can tell, she was really feeling las year's pink leopard number. What can I say, the girl is fierce!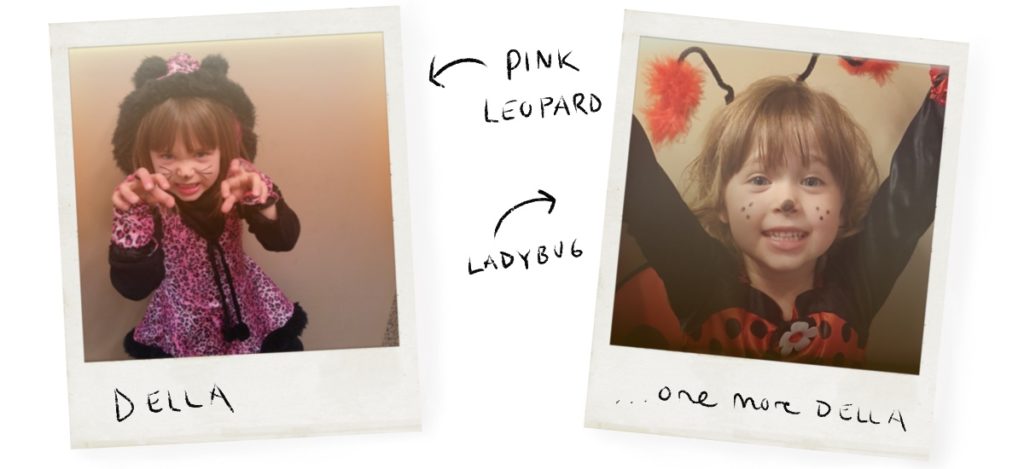 Whether you are dressing up this year for a party, taking your kids trick-or-treating, or just passing out the sweets, the team at PJ Morgan Real Estate wishes you a safe and happy Halloween! And if your house is the scariest thing you've seen this holiday season and you're ready for a move, I can help with that too!