Fall is absolutely my favorite time of year. I love watching the leaves turn color, dressing for the cooler temperatures and the aromatic smell of a wood burning fireplace on a crisp evening. I have even come to adore Halloween!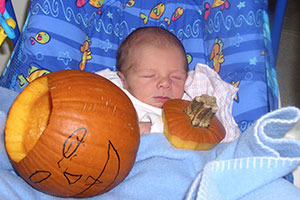 As I settled in to write this blog, I found myself reflecting on the last 11 years of "fall" with my family. My husband and I moved from Washington D.C. to Omaha in August 2005. At the time, we were expecting our first son, Quinton, who is almost 12 now. My husband and I both grew up in small towns in Central Kansas. It was our greatest wish to be able to raise our family in a mid-sized city within the Midwest. When we first found out that my husband's job was transferring him, we were told that we would either be moving to Dallas or Tulsa. Needless to say, we weren't exactly thrilled but we were preparing to take that leap. Just a few weeks before we were scheduled for a "house hunting trip," we learned that we were moving to Omaha!
Long story short… we went from wheat fields, to the Beltway, to cornfields (and some pretty die hard Husker fans)!  It wasn't until Quinton's first Halloween that we experienced the iconic mecca of ALL THINGS FALL in Eastern Nebraska – Vala's Pumpkin Patch.  Vala's has now become a must for our family. Somehow, each year, it gets even better!
When the boys were younger, Halloween was the perfect excuse to dress them up. For the first few years, they went trick-or-treating like pros wearing lion, monkey and pirate costumes. Next came the "character phase,"  Thomas the Train, Bob the Builder and Handy Manny. Heros were the next focus of their costumes, beginning with a firefighter. Then came a seemingly endless array of Superhero/Power Ranger/Transformer outfits. I'm still convinced they liked those because of the puffy muscles!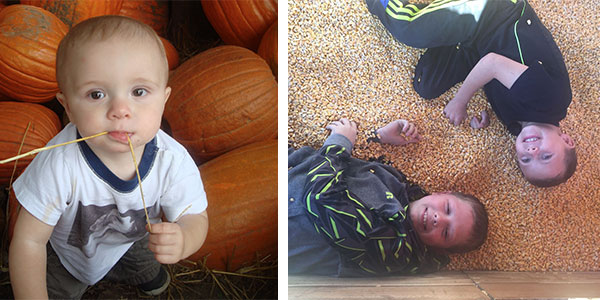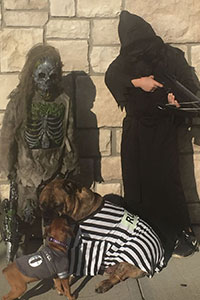 The last couple of years though, have taken a very sinister turn. They love creepy masks, dark costumes and, of course, plastic weaponry. As we shopped this year, I had to work hard to convince Colton that a battery powered, toy chainsaw might be a little too much. He finally accepted the argument that it would be an inconvenient prop to take along while he was trick-or-treating. I'm starting to realize that I need to embrace the creepy ideas they come up with. I'm sure I will be dealing with fake blood and zombie paint in the near future.
Even though my boys don't wear cute Halloween costumes anymore, I will always love this time of year. For me, fall is about enjoying family traditions and embracing all my new adventures. Like the seasons, kids and Halloween costumes, life is ever changing. I love it!