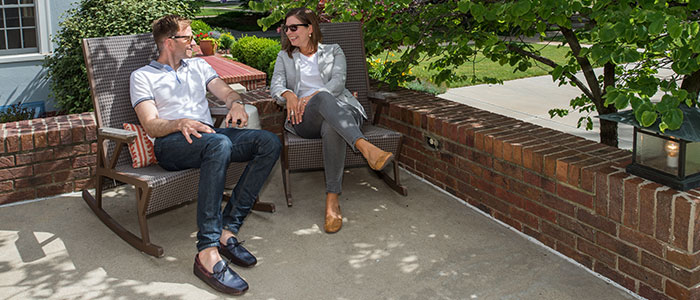 Ryan and I spend a lot of time together, BUT not as much as we wish we could. It's pretty great to be friends with the people you work with.
Often we're so wrapped up in preparing for where we're headed though, that we have to piecemeal our time to actually "talk" to each other. So, when we were setting out to prep for a GORGEOUS listing we worked on together (more about that below), I instigated our own little "Coffee Talk". Of course, for us real estate fanatics, conversation inevitably involves some industry banter, but Ryan and I always manage to get slightly off track… Here's an abridged version of our conversation, minus the cackling and eye rolls. 🙂
What's your favorite part of selling real estate?
Ryan: Meeting new people almost every day! Real estate can be a pretty wild ride, but it's really fun to meet all sorts of people, who tell you about the business they started, or one they dream of getting started! I also love helping my friends find their dream home – it is pretty satisfying to get to see that!
Me: The opportunity that each day holds. Sounds cheesy, but let me explain. I really never know how each day is going to unfold… who's going to call me, what fun project might land on my desk or what amazing house I might get to see. Or better yet, what house will sell!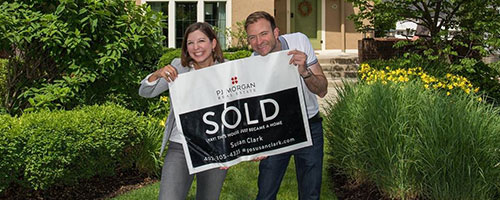 What is a cool project you are working on now?
Ryan: Oh, come on! I think that question parallels asking a parent to pick their favorite child! That being said, I am really thrilled to get to be a part of so many projects downtown right now. I started working on The Mastercraft building in North Downtown several years ago at a time when people said the concept wouldn't work. Yet it has been awesome to see it develop and become a key component of the area (I have worked on over 75 leases there – it's a huge building if you haven't seen it).
In the same light, working on the Rail and Commerce Building, the former ConAgra campus and revitalizing Little Bohemia, and now the Flatiron District, all have been projects that people said, "Boy you must be crazy." Yes… I think I am a little crazy, but I absolutely believe in these projects and it is really pretty damn cool to work with other people that believe in them, too!
What's an amazing house you have sold recently? 
Me: I am fortunate to have the opportunity to help sell so many great homes, but a few weeks back I was able to help sell 114 South 54th Street. The owners, Michael and Laura Alley, completely remodeled this adorable cottage, which means that every room was touched by a brilliant architect! The home includes a rare main floor master suite that is just the right size for modern living, with a scale that respects the original home. The lower level family room is finished better than most main level living spaces! Needless to say, this home sold in one day with multiple offers.
How's the residential market doing right now?
Me: Listing inventory is still down and home prices are still up! No doubt a seller's market! If you are thinking of making a move in the next few years, I recommend that you consider doing it now! Work with an agent to discuss the best strategy for your situation.
How's the commercial market?
Ryan: Well, I remind myself not to just say "busy" because that isn't very descriptive – but it is busy! We are seeing really healthy activity in the office and industrial markets for sure. I keep reading about the retail market being "touchy," but our projects right now focus more on local retailers – and the folks we are meeting with are doing great, have strong local customer bases and have been expanding/looking for additional locations.
What advice do you have for someone considering a career in real estate?
Me: Do your homework! Be sure your expectations are in line. Real estate as a career does offer endless income possibilities, but it takes good preparation and business planning to get there. If your heart is pulling you to consider it, you should!
Ryan: Can I say ditto to what Susan said? 😉 I would add that finding the right mentor is so important. I think anyone can likely meet their goals eventually, but they really need the right support system to help them get there. I've been working at this for almost two decades (WHAT?) and still rely on my colleagues/friends for support.
Where is your favorite place to be?
Ryan: I love to be out and about with my friends and family. Going out to dinner, drinks on a patio, enjoying time outside at a pool, Jazz on the Green or the Taco Ride! Did I mention going out to eat? 🙂 I really like that. Lately, I'm digging on lunch at the Dandelion Pop-Up.
Me: My home! It is what drives me to work so hard to find the right home for everyone that I have the privilege to help! It really is my happy place and I want everyone to feel the same way about their home. It's not just a house, it's a home!
What's your favorite ice cream flavor?
Ryan: Mint chip.
Me: Chocolate chip cookie dough! Zero hesitation!
Which day is your favorite day of the week?
Me: Fri-Yay! I love the mix of the day. Work hard all day long to wrap up the week, and then enjoy the evening with friends a little later than I can during the week.
Ryan: Taco Tuesday.
Where is the best customer service you've received lately?
Ryan: Archetype Coffee. I'm amazed how the team there knows folks by name and their drink orders so well! It is rare when I go in and they aren't busy, but when that happens I love to let the owner, Isaiah, make me his drink of choice. It is fun to try something new, but see him recognize the flavors I like.
Me: CertaPro Painters! Excellent communication the whole time and quality work from start to finish. They provide top notch customer service!
Have a question you'd love to ask us!? Leave it for us in the comments below!