Hey, sports fans! The wind and leaves on the course didn't stop us from having a great time golfing last week.
It did, however, make locating the balls we hit quite challenging. Nonetheless, when you combine golf, great people, an adult beverage (or two), raffle prizes and an amazing charity, there isn't too much to complain about! Coming off of maternity leave, I certainly enjoyed a little adult time. Ahhh, the simple pleasures in life.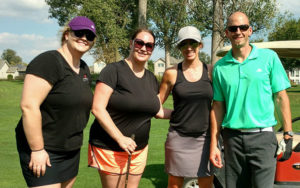 In order to give back to the community, PJ Morgan Real Estate decided to host our first charity golf event – Golf for Goodfellows! Goodfellows was started by The Omaha World-Herald in 1910. Their initial efforts were to match 750 needy children with families for Christmas. Today, Goodfellows offers assistance to the Omaha community in several capacities: Year-round emergency funds available to families with one-time urgent needs, holiday meals provided to about 1,200 families (over 4,000 people), and funds for clothing, shoes, and coats for thousands of underprivileged children. The World-Herald pays all administration costs so every dollar donated to Goodfellows goes directly to those in need.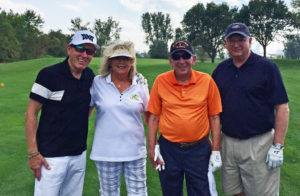 On September 21st, the foursomes emerged onto Shoreline Golf Course not only to support Goodfellows, but to participate in some friendly competition. With the light breeze and hot sun, it was the perfect day to swing the sticks, drinks some beers and trash talk the competition (a few of my specialties). Even though nobody won our HOLE-IN-ONE prize (a 2017 Escalade donated by Huber Cadillac), everyone had a fantastic day full of bogeys, birdies and lot of laughs.
Thanks to the players, sponsors and donors for all of their support!
"For attractive lips, speak words of kindness.
For lovely eyes, seek out the good in people.
For a slim figure, share your food with the hungry.
For beautiful hair, let a child run his fingers through it once a day.
For poise, walk with the knowledge you'll never walk alone.
We leave you a tradition with a future.
The tender loving care of human beings will never become obsolete.
People even more than things have to be restored, renewed, revived, reclaimed and redeemed and redeemed and redeemed.
Never throw out anybody.
Remember, if you ever need a helping hand, you'll find one at the end of your arm. As you grow older, you will discover that you have two hands: one for helping yourself, the other for helping others.
Your "good old days" are still ahead of you, may you have many of them."
― Sam Levenson, In One Era & Out the Other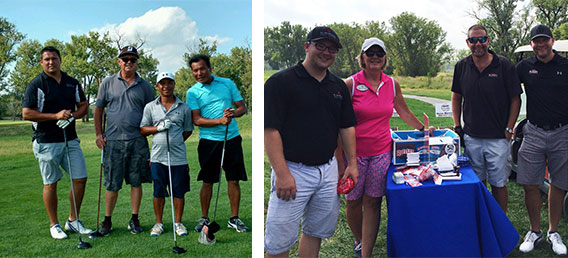 Special Thanks to:
2-10 Home Buyers Warranty
B Douglas Construction Solutions
Barrett's Barleycorn
BB Roofing LLC
Bill Moeschler
Blackstone Meatball
Bug Z Termite & Pest Inspection
CertaPro Painters of Omaha
Cedar
Enterprise Bank
Excel Window Solutions/ScreenMobile
Finance 1, LLC
Grace Home Cleaning
Great Western Bank
Holiday Lounge
Interlude Lounge 
Jams
JH Willy
Metro Credit Union
Nebraska Title Co.
Omaha Paper Co.
Omaha World-Herald
Pauli's Lounge 
Printco Graphics
R.L. Craft Co.
ServiceOne
Smoothie King
SureHome Inspection Services
The Bull & The Bear