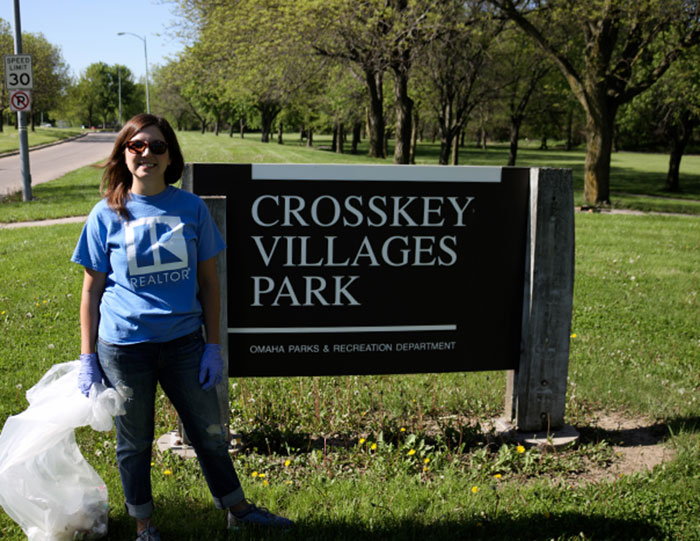 I love this time of year (and not just because it's spring in real estate). 🙂
Almost every day, we wake up to blue skies and beautiful weather, so I'm always looking for ways to enjoy the outdoors before it gets cold again. I love spending time at the lake or riding my bike, but I feel even closer to Mother Nature when I'm giving back to her. Which is why I'm so grateful to be involved in an industry and a company who also see the value in this.
Every year, the Omaha Area Board of REALTORS® hosts an annual picnic – burgers, hot dogs and a chance to hang out with my fellow Realtors. For years, the picnic was held at the OABR office and parking lot, but as membership grew, the space started feeling too small.
OABR members are always looking for new ways to give back to the community that we love and work in. Last year, the idea was presented to adopt a park… which was perfect! A way to give back AND a place to hold our now-overflowing picnic! We Realtors love to multi task!
We eventually decided to adopt Crosskey Villages Park near 115th and Blondo Streets (and a 5-minute drive from the board office). As a current OABR director and Social Events committee member, I was on the team tasked with completing the park adoption. We worked with the City of Omaha to help gather contractors for the job, and updated playground equipment, built a pavilion and are working on replacing and adding some benches. The effort was very rewarding and we enjoyed holding our annual picnic there last year. It was about 89 degrees that day, so the pavilion was much appreciated!
The OABR Social Events committee also completes an annual park clean up. This year we decided it was best to take our efforts to our adopted park! Our small, but mighty crew came out on a beautiful Saturday morning in May and picked up all the trash and debris. A few of us may have rewarded ourselves with a trip down the playground slide…
Good deeds are contagious, and the rest of the PJ Morgan Real Estate team decided they wanted to get involved, too, so we planted a tree there a few weeks ago!
Spending all this time at the park has made me feel like a kid again. We seem to live most of our lives at the office and in our cars these days, and it's easy to forget how freeing and therapeutic nature can be. So I challenge each of you to commit to two things this summer: 1) go outside and PLAY, and 2) do one or two small things to show your appreciation for the beauty around you.