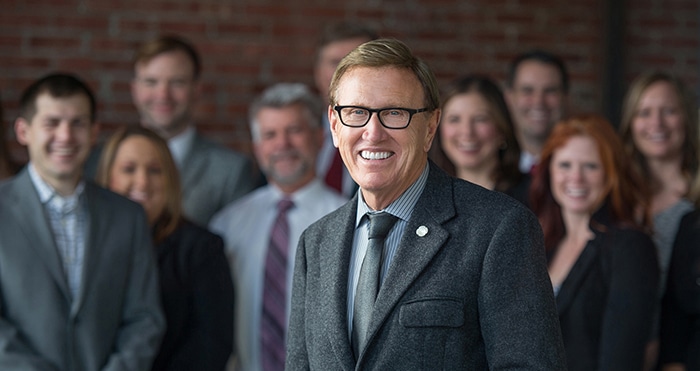 From time to time, you'll hear me get sentimental. This might turn into one of those times.
Also, I quoted Elvis for the title of this blog because P.J. loves Elvis. The full quote is, "Values are like fingerprints. Nobody's are the same, but you leave them all over everything you do." Old Elvis knew a thing or two…
When I started working for PJ Morgan Real Estate a mere 17 years ago, I was so excited to be working at a real estate company, and was ready to do anything and everything. I LOVED every second of it, until I didn't love EVERY second of it, but I still loved my job. The reality of real estate sunk in when dealing with a front desk phone that never stopped ringing, wading through snow drifts during showings to get to a door that wouldn't open, dropping keys underneath the seat in my car and having to explain to the owner that I couldn't get them out, and so on. But these were just nuisances. At the end of the day, I kept coming back for more, because I really did love this place that P.J. worked so hard to create.
What I loved was how I had another family at work. When I moved to a new apartment, my co-workers brought me a new tool set, pots and pans, and some discarded furniture. All things I desperately needed. I worked with some great people who really cared about me.
Fast forward to year 13 for me at PJ Morgan Real Estate. We had grown and changed a lot. Some of those people I cared about so much were retiring or taking new paths in their careers. At the same time, I started to see some new opportunities for us to grow and wanted to pursue those paths, but was wisely reminded by a mentor not to lose what I loved about the place. Not to forget its culture and core values.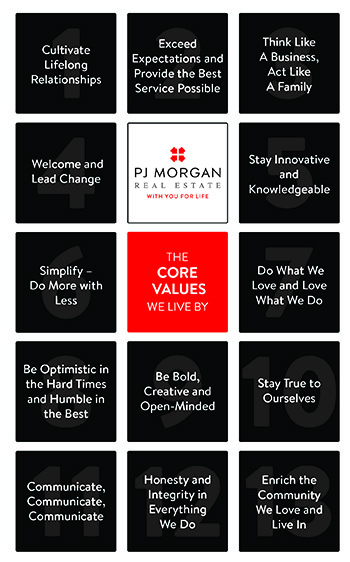 Well the last four years have brought about a lot of change, new faces and growth. In 2016, I took a pause and prompted our Leadership Team to think about our value system – who were we, how have we changed, what do we love most about the opportunities P.J. created for us, and what does that mean for current and future members of our team. Long story short – we took this time to identify 13 Core Values that we live by.
The next thing we did was ask ourselves, "How the heck are we going to remember 13 values!? Really?" And then the ah-ha moment came! We would spend the next 13 months celebrating our values and culture, a different value each month.
We rolled this idea out to our team during a kick-off party at the Thompson Center at UNO. We embarked on our 13-month journey with the Core Value "Welcome and Lead Change." True to our nature, we had food and music (candy, Journey and Justin Timberlake). But we also talked about what we would see in the coming 13 months and launched a new idea ("CHANGE") called the "Bright Idea Democracy." We found this idea online, but of course made it our own. Our "Bright Idea Democracy" system encourages anyone on our team to post a change or idea they would like to see implemented in the company. The person posting the idea has to give some thought to the pros/cons and the costs associated with it. After the idea is publicly posted, the idea originator has to garner some support and then our leadership team reviews it. Some ideas we have implemented have been: changing our supply order system, updating a few accounting processes, getting a toaster oven for bagels, and the newest idea up for review is trading in some paid time at work for volunteer hours. We'll keep you posted on this one! 🙂
Our next "change" on our Core Value mission, was to get our team on board with owning the ideas and values. So, we started a volunteer committee that appropriately took on the name of "The Culture Club."
Hannah Porto and Eric Juszyk agreed to be the fearless co-chairs of this new committee. Every month they work with a small group of people to organize events aligned with the value of the month. I have to say – they are doing a pretty amazing job and make me so proud (yuck yuck yuck – I told you it would get sentimental).
In March, our Core Value was to "Be Bold, Creative and Open-Minded." We really put ourselves to the test with that and ended up doing this:
This month our Core Value is "Stay Innovative and Knowledgeable." There are some surprises planned, but I understand we have a tech-themed happy hour to learn about smart homes and buildings.
We have had some other pretty great activities: a Family Feud challenge during "Think Like a Business, Act Like a Family" month, our first annual Ugly Sweater contest for December's "Stay True to Ourselves" value, and in November during "Enrich the Community We Love and Live In," we held our annual Chili Cook-Off and the winner, Al Wise, chose our 2017 charity, Goodfellows. Our Culture Club has embraced Goodfellows and incorporated some creative means for fundraising and giving into our events (more details on that in another blog).
We still have six months of Core Values and culture to explore – and it isn't always easy. We are all busy and working crazy hours because of the fast-paced real estate market right now. It takes time to stop and organize lunch and learns, happy hours and crazy roller skating events. But it really is all worth it. I have to think that if we didn't slow down to do these things, we would get lost in all the craziness around us, and forget to take time to appreciate who we are and why we love (almost) every second of being together as a team. I suspect I wouldn't have ever seen any of my colleagues competing to win "Ugliest Sweater" or to be the better backward roller-skater.
I am excited for what the future holds for our group. There are some new projects on the horizon, new challenges and, without a doubt, some new faces to come. With all that change, I know we won't be perfect, but we will certainly keep trying to remember what P.J. created and why we love it so much.
Share what makes your company more than a workplace in the comments below! We are always looking for new bright ideas! 🙂