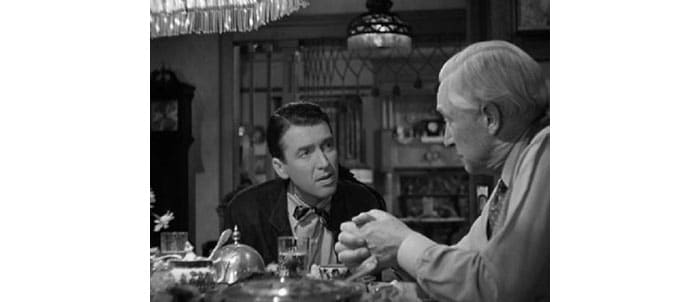 So you've finally decided to leave the world of renting and buy your first house – how exciting!
Owning a home can be incredibly rewarding (freedom!), and, in many cases, mean a lower monthly payment than your rent. Plus, there's something a little magical about living within four walls that are all your own…
It is so fulfilling for me to imagine all the wonderful memories my clients will make in their new homes. There's a scene in It's A Wonderful Life that I love, because it reminds why I do what I do.
George Bailey: "Oh, now Pop, I couldn't. I couldn't face being cooped up for the rest of my life in a shabby little office… Oh, I'm sorry Pop, I didn't mean that, but this business of nickels and dimes and spending all your life trying to figure out how to save three cents on a length of pipe… I'd go crazy. I want to do something big and something important."
Pa Bailey: "You know, George, I feel that in a small way we are doing something important. Satisfying a fundamental urge. It's deep in the race for a man to want his own roof and walls and fireplace, and we're helping him get those things in our shabby little office."
Buying a home might be the biggest purchase of your life, though, so it's important to set your emotions aside for awhile and do some homework before you even start your house hunt. Having a trusted real estate agent by your side is also key – we're here to guide you through the process and help avoid any surprises along the way.
I've heard just about every question imaginable from first-time homebuyers, so I put together a "guide" to help prepare you to take the plunge. I promise it's not as scary as you think it may be. 🙂
Get Real About Real Estate
Time to get real – buying your first home is about more than just closet size and stainless steel appliances. You will need to ask yourself a few important questions:
What type of home will best suit my lifestyle?
Are you an avid gardener? A condo may not be right for you. Don't want to climb stairs? Rule out split-levels. Thinking about starting a family? Search for homes in your favorite school districts. And, of course, location, location, location. Consider your commute time, where you like to shop and dine, and what part of town you enjoy the most.
What features are "musts" for my new home?
Buying a home is a serious purchase – there's no return policy. Make a list of the assets that are most important to you. Is there a dining room for your great-grandmother's antique dining set? When will the furnace or the roof need to be replaced? How many bathrooms are essential for a family of five? Make sure you've covered the "needs" before the "wants."
Now that you know what you need, it's time to talk numbers.
How much mortgage do I qualify for?
Get your finances prepared before you start looking for a house. Talk to a few different lenders to find out how much and what kind of loans you qualify for. Get pre-approved, so you know how much they think you can afford – lenders look at factors like the amount of debt you carry, your monthly income and how long you have been at your job. You'll also want to know your credit score, as it effects your mortgage's interest rate.
How much home can I actually afford?
There's much more to the cost of a home than the purchase price. You should also consider the home's total cost and what you can afford to pay monthly. Take into account property taxes, homeowners insurance, mortgage insurance, closing costs and any improvements you will need to make on the house.
The amount of your down payment comes into play here, too. Some lenders only require 3% down these days, but they typically range from 5-20% of the purchase price. If you don't already have the funds, set a goal and save up for a few months.
I highly recommend you use an agent to help you through the buying process, especially when buying your first home, and finding an agent you trust is essential.
How do I choose an agent?
Interview two or three real estate agents to find one who is a good fit for you. Ask your friends, family and co-workers for recommendations and start there. You will rely on your agent to be the expert on properties available in your market, completing paperwork, securing financing and negotiating the best deal possible, so look for someone you'd feel comfortable asking tons of questions – that's what we're here for! It's also important to pick someone you actually like. You'll be spending a lot of time with your agent, so choose someone you can have a laugh with!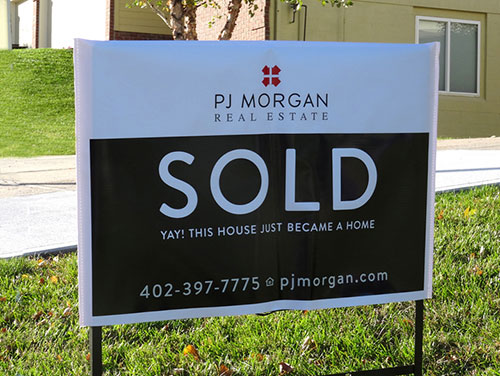 Getting to "Sold"
You've done your due diligence, so it's time to make this dream a reality! Your agent will be at your side to help you keep your sanity.
How do I make an offer on a house?
Your agent should know the market well, which means they will know how much houses in your neighborhood are selling for. They will help form an offer based on the value of the home and any conditions you ask for (like asking the seller to pay your closing costs). Then your agent will present the offer to the seller's agent, and wait for the seller to either accept the offer or issue a counter-offer. If you choose to counter the counter-offer, your agent will negotiate those terms on your behalf.
Spring is the busiest season in real estate, and this year the market is moving VERY fast, so decisions need to be made quickly if you want your offer to be accepted. Be prepared to offer over asking price if needed. Many people assume that paying more than asking price means you are paying too much. It doesn't if the house is priced well. If the seller has multiple offers on the table, make sure yours is the most competitive of the group.
What happens once my offer has been accepted?
Once an agreement is reached between you and the seller, you are in the escrow process. This means you will write a check for an earnest deposit (a good-faith deposit), which will be held until closing. The seller will take the house off the market, with the expectation that you're going to buy it (pending any serious issues from the home inspection). The escrow process is taking about 45 days right now.
What is a home inspection?
You wouldn't buy a car without kicking the tires, would you? The same goes for a house. Your agent can help you choose a home inspector to examine the house for any serious problems (bad roof, clogged sewer lines, etc.) that the seller did not disclose. If the inspection comes back with any problems, your agent will negotiate to have the seller make repairs or adjust the price accordingly.
Do I need homeowners insurance?
That's up to you, but I usually recommend it. Homeowners insurance protects you against any damages that may occur to the house and your possessions inside it. It also gives you liability coverage against any accidents that may happen in the home or on the property.
What is the "closing process"?
The closing process is when you sign all the final paperwork for the purchase. This involves both mortgage documents and documents related to transferring ownership of the house. Once that's done, you'll receive the title to the property and…the keys to your new home!
As I mentioned before, it is the most satisfying experience to hand over keys to first-time homebuyers. Knowing the joy their new home will bring them is what motivates me to work hard for my clients and continuously earn their trust. It's what I love most about my job.
I hope that those of you out there who were fearful of becoming homeowners are now excited at the idea. Yes, it's a big commitment, but it's an investment in your future that I don't think you'll regret!
Have you been thinking of buying your first home? Do you have questions about the process? We have answers, so feel free to get in touch with me or any one of our fantastic agents!