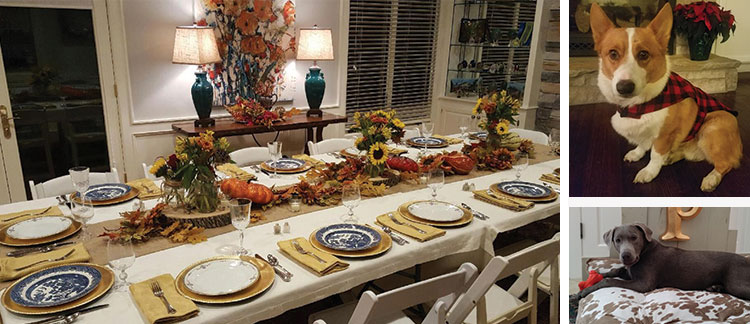 In my post-Thanksgiving week coma, I've been reminiscing about my wonderfully delicious holiday. I gobbled up a ton of food and helped create a truly stunning table setting (if I do say so myself).
On Thanksgiving Day, while the rest of my family was sharing what they are thankful for, I was eyeballing my second slice of pumpkin pie and contemplating changing into some leggings with a bit more stretch. And then it was my turn to share.
I have a lot to be thankful for – an amazing husband and family, great friends, my utterly-perfect-most-handsome-dogs-ever (see above for photographic evidence) and a truly rewarding job with P.J. Morgan Real Estate. One of the great things about P.J. Morgan Real Estate (and just one of the reasons I am so thankful for my job) is our commitment to enriching the community we love and live in. Heck, it's even one of our company core values!
Omaha is an incredibly caring community and has so many wonderful organizations worthy of support that it's hard to decide where to give back. So, every year, our annual Chili Cook-Off winner accepts the honor of choosing the next year's charity. In my years before working at P.J. Morgan Real Estate, I would volunteer with my sorority around the holidays and maybe deliver cookies to my neighbors, but had not yet worked on something of this scale. It has been amazing to see how much we can do in just one year!
Omaha is an incredibly caring community and has so many wonderful organizations worthy of support…
This past year, our chosen organization was Youth Emergency Services (YES). YES provides resources such as food, shelter, clothing and support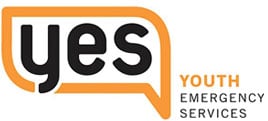 services to the more than 300 homeless youth living in Omaha. You might remember reading about them in this past blog post. Our year of giving has included multiple donation drives (everything from body wash to backpacks), and most recently, providing 25 pizzas and drinks (and apples and carrots 🙂 ) to feed the YES kids. This was in coordination with their meal donation program, which serves over 600 kids a month! You can find more about the program here.
This month, we are holding a holiday donation drive to collect gifts for the kids, such as coloring books, headphones, blankets and baby items. If you'd like to join us in donating, you can drop items off at our office by Wednesday, December 15th.  YES also welcomes gift cards to Target (heaven knows I'm there three times a week!), Walmart, Subway, Burger King and McDonald's. (Check out their full wish list here.)
We are honored to have worked with YES this year and urge you all to get involved with this fantastic organization as they are in constant need of volunteers, mentors and donations.
Please visit yesomaha.org for additional information.