My husband and I moved into our house in 2012. It's a beautiful, classic farmhouse built in 1917 that sits on six acres.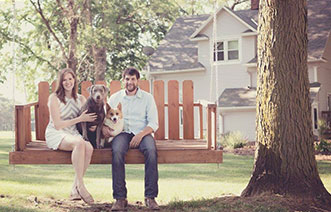 The house is the perfect size for my husband Jason, our dogs Clancy and Platte, and me. BUT when we invite a few friends over, we hit max capacity real quick!
Last year my husband and I started dreaming of revamping our barn to serve as added space for entertaining. The barn was already oozing with character (like where they hold the dance in Footloose) and, more importantly, had ample space.
A couple of weeks ago we finished the renovations and now we're able to comfortably entertain any number of people we want (within reason?). An added bonus is that we don't have to leave the house in shambles after a night of shenanigans. We both agree that it is the perfect addition to our home.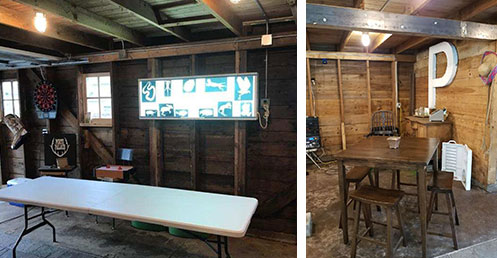 A "party barn" doesn't just happen overnight though! Like with most renovations, before we could get to the fun part of the project we had to add in some must-have features first. That meant digging out a septic system so we could have a sink, bathroom and floor drains (for easy cleanup.)  We also had to add electrical wiring to the barn so we could have lighting throughout. We removed a few posts to open up the space and added a steel beam for extra support. We also busted out a concrete pig feeder that was in the middle of the floor and replaced it with pavers. I guess the pig feeder really separates this renovation from any other we've done. ?
The above renovations were a pretty large investment, so we wanted to be more budget conscious with our décor. Fortunately, I have been collecting fun, rustic décor for the last five years so this was the easy part! A few of my favorite decorative elements are: the x-ray reader (yes, an actual light box used to read x-rays), our rustic chandelier and, most importantly, the bar! We were also able to stick to our renovation budget by building the bar from barn wood and metal we already had! This gave the space some instant character and added to the cool, casual atmosphere of our new gathering spot.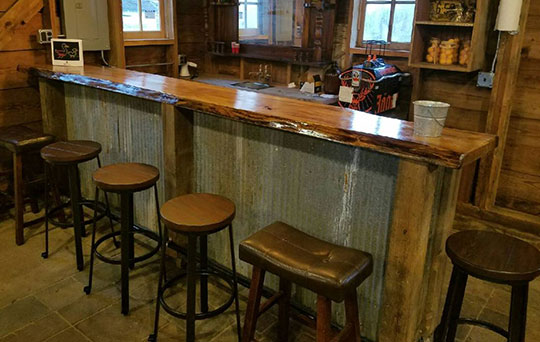 And what kind of party barn would it be without some games and entertainment? We added a dart board, beer darts, bags and Polish horseshoes to make sure our new barn is still filled with some horseplay!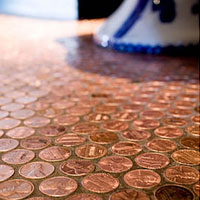 We're not done yet though! The next step is a penny floor in the barn bathroom to add to the playful, rustic vibe.
As I mentioned, our home was built in 1917. Aside from just needing more entertaining space, another reason for our barn renovation is to get it ready for our Centennial Party this fall! Stay tuned for more on that in a future blog post, it's sure to be a rowdy shindig!
Have you just finished a renovation that you are loving?  Tell me your favorite renovation tips in the comments below!
Penny floor photo courtesy of Decoist.com