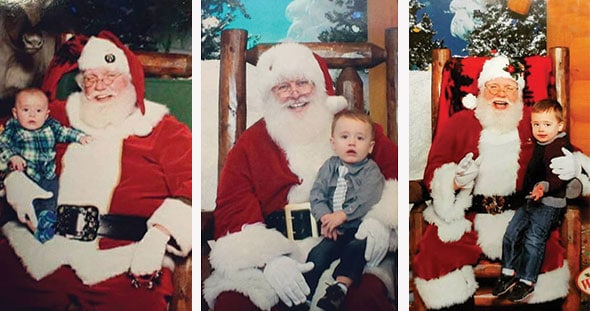 Christmastime is not only magical in the North Pole, but in the Monjaras family as well! Since it's "technically okay" to start decorating for Christmas the Friday after Thanksgiving, that day has become one of three major yearly events for my husband, Phil.
The other two are Major League Baseball's opening day and the first Nebraska football game. I'm not sure where the day he and I met and the day our son was born rank, but this isn't a blog about love, so I'll give him a break. 🙂
Our family started this year's Christmas festivities with a bang – driving around to our favorite houses that put on great light shows… and we weren't disappointed! So many people really go all out and we appreciate it! Between my husband telling our two-year-old son, Larsen, to "look here" and "look there" and Larsen's shrieks of "LIGHTS! LIGHTS!" I started to reach for an ibuprofen but decided not to be a Scrooge… this time. I do enjoy the lights, but in all seriousness, we go look at them at least three times a week during the season, if not more. And that doesn't include the trips to Target or a hardware store where we have to head straight to the Christmas trees so Larsen can look at all the lights.
One of our favorite areas to drive through is "Candy Cane Lane" (132nd and Larimore Street). We actually got out of our car and walked the block and a half to see eight-plus houses who had taken the time to showcase their Christmas spirit. It's a MUST-SEE! 

If you spot decorations you like when you're out looking at lights, I'd definitely recommend going over to Brite Ideas Decorating (156th & Blondo Streets) where Christmas lights are abundant! I had to drag my husband and son out of there due to all of the sparkle in that place – Larsen calls them fireworks. 🙂 There was also a train and truck that he absolutely loved (and made for pretty good photo ops, too)!

Mulhall's at 120th and West Maple Road is especially beautiful at Christmastime with all the trees and decorations and, of course, the reindeer! Be sure to head over here before December 17th, because that's when Santa and his reindeer fly out of town.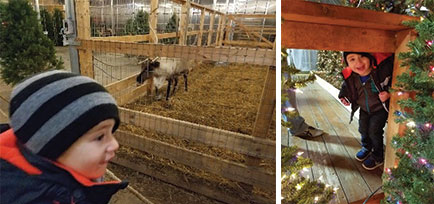 Midtown Crossing held a new Holiday Lights Spectacular this year, with the lights set to music! For three weeks, they partner with three non-profits to raise money and awareness. The best part is that through December 18th each week, children from the featured organizations are able to "flip the switch" to start the light show! My pictures don't quite do it justice, but you can see from Larsen's expressions that it was totally worth a little cold air. The light show is free and runs from Thursday through Sunday, untill January 1st.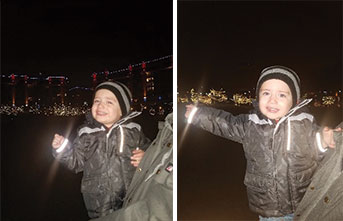 We weren't able to go to the actual Tree Lighting Ceremony at Union Station in the Durham Museum, but we were still able to view the gigantic tree in all its glory! There is also an ethnic tree exhibit showing how different cultures celebrate the holiday, and, of course, the trains!!! Museum members get in for free. For non-members, it is $11 for adults, $8 for seniors, $7 for kids ages 3 through 12, and no charge for children under 2. You can catch the trees, trains, and Santa until December 20th.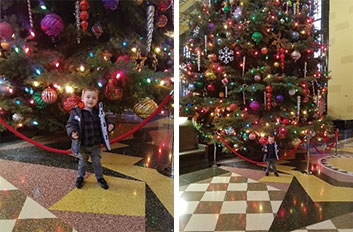 This year, Lauritzen Gardens stepped up its poinsettia game and brought us the Holiday Poinsettia Show Aglow. Everything was beautiful, from the lights to the magnificent poinsettia tree to the train that was whirring by at every turn. Yes, I said train… again! The show runs through January 4th, so you have plenty of time check this off your list. Adults are $10, children ages 6 through 12 are $5, and there is no charge for children under 6 or garden members.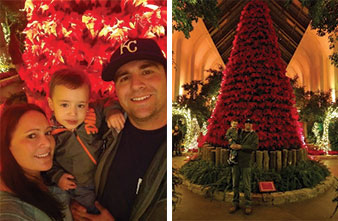 We were out of town for Thanksgiving, so we weren't able to have cookies with Santa at the Omahas Children's Museum, we went this week and… wow! This was the first time we have been to the museum and we will definitely be back. Larsen especially enjoyed the Charlie Campbell Science & Technology Center – he had a blast playing with the "super gravitron" that launched a massive amount of balls and sent all the kids in a flurry, each one trying to pick the most up. The CAT bulldozer was also a favorite, and Santa and Elsa were hits, too. They are also offering Santa's Magic Shows. You can see Santa at the museum up until December 23rd. Adults and kids are $12, seniors are $11, and there is no charge for members or kids under 2 years old.

Obviously, there are a ton of places to get your picture taken with Santa, but our family has chosen Bass Pro Shops for the past three years (as seen in the main image) and it's FREE! When you get there, pull a time slot so you can go shop while you wait – no standing in line! As a mom with a toddler, I definitely appreciate that. You can get your pic anytime before December 24th. If you go Monday through Thursday between 5 and 8 p.m. you also get a free frame for your picture!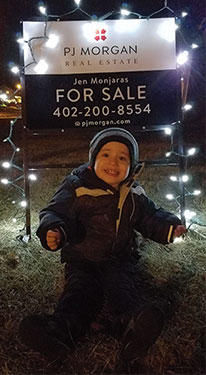 Omaha is a great city, with a lot to do during the holidays, so make sure to take advantage of it! Whether it's making new traditions or cherishing old ones, I hope you have a magical time celebrating the season! Happy holidays from the Monjarases and all of us at P.J. Morgan Real Estate!
Did I miss any of your favorite holiday highlights? Share them with me so we can check them out!