As you may now know, either through word of mouth or from my mom (thanks, Mom!), I am a real estate agent. What you might not know, is that I'm also a property manager, which is a fancy name for someone who oversees the leasing and daily operations of a rental property, on behalf of the property's owner.
If you've only ever rented an apartment, the concept of renting a home is exciting! No more shared walls, plus a yard all to yourself make for an adventure! And, as Chip and Joanna Gaines from HGTV's Fixer Upper have taught me, most home adventures have their share of pitfalls and potential gray areas. Have no fear, though! I, Hannah Porto, am here to assist you on this journey! Whether you're a first-time renter or new to renting a house, I will be the Chip (handyman) to your "Jojo" (designer) and share some helpful tips for navigating the responsibilities of renting a house.
Keeping Up with Curb Appeal
Normally you don't rent just a house. You also get a yard and a driveway. If you love entertaining outside or enjoying nature, this is a great benefit over an apartment. But, with extra space also comes extra upkeep. Seasonal maintenance, as well as weekly maintenance, is normally needed and can be time consuming, so make sure to consider that when viewing properties. Ask yourself, "Do I want to give my kids a larger area to play and my pets room to run, or do I simply want a backyard area perfect for grilling?" It is important for both individuals in the tenant/owner relationship to determine who is responsible for the upkeep of the lawn and snow removal before a lease is signed. In most properties that I manage, the individual renting the property is often the one responsible for outdoor maintenance. I have also seen other scenarios where it's done by a third party, hired by the owner.
Gut-It-Out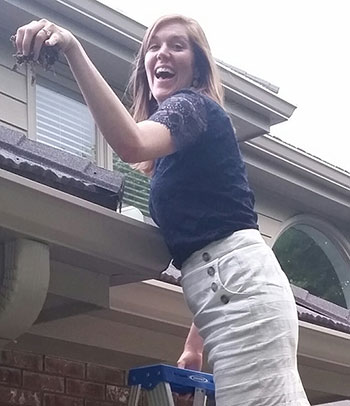 What might have been a teenage chore (or punishment), cleaning gutters helps your house flow smoothly behind the scenes. Cleaning out gutters helps prevent water from pooling at the base of the home, which can weaken the foundation and make it more susceptible to mold growth. When cleaning gutters, make sure to ask a friend to hold and monitor the ladder, wear gloves (you never know what you'll find up there), and have the appropriate disposal containers nearby. Typically, it is recommended that gutters be cleaned twice a year. So the main question – who is responsible? This normally falls to the property owner. Additionally, the owner assists in preparing and winterizing sprinklers to avoid liability of frozen pipes or a broken femur.
Linty Business
I don't want to sound like a parent, but make sure to clean out the lint trap in your dryer! This is the easiest way to prevent the dryer from catching on fire, which is motivation enough for me. The responsibilities of the washer and dryer vary and can be purely situational. With some properties, you might be required to buy your own units, while other properties will provide them. So if as a renter, you find that a provided machine has broken, make sure you know if you're responsible for replacing the machine or any repair costs. This is another item that should be discussed when signing a lease.
Unglamorous But Important Information
I can think of much more glamorous items to buy than furnace filters, but they're inevitable – you need to replace your home's furnace filters consistently (at least every three months). In most cases, this is the tenant's responsibility. And although tenants must typically replace the filters, the owner is usually responsible for keeping the furnace/air conditioner operational and functional.
Is Your Refrigerator Running?
When it comes to kitchen appliances, the owner holds the responsibility – if the oven stops working, the owner has to fix it. Upkeep and general cleanliness do fall under the responsibility of the tenant, though, so make sure to take care of them as if they were your own.
Hopefully, this information (which is just the tip of the iceberg in home maintenance) helps clear up some unanswered questions in the wild world of renting a house. If you have any other questions about tenant responsibilities or need help finding a new rental property to call home, don't be afraid to ask me! Or, if you just want to binge-watch a few episodes of Fixer Upper on Netflix, I'm down for that, too. 🙂