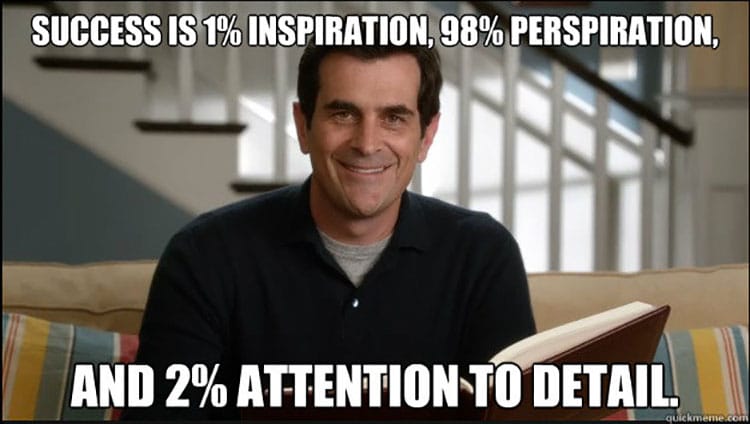 My favorite television real estate agent, Phil Dunphy, says that success consists of 98% perspiration. These are wise words considering today's weather and real estate market – both are hot, hot, hot!
You don't have to sweat profusely to find success in real estate, though. How, you ask? By utilizing a REALTOR®!
I meet a lot of people who don't understand the value that using an industry expert can provide. Selling a house is easy, right? If you were able to sell your car on Craigslist, you must be able to sell anything to anyone!
Houses are a bit more complicated, though. And a Realtor can literally and figuratively take the sweat out of it. So crank up the A/C, cue some Modern Family on Netflix and "soak" in just a few of the advantages of having a Realtor at your side when selling your home. 
Relationships
Relationships are key in just about every industry. At P.J. Morgan Real Estate, I'm lucky to have my "work" family. Everyone is quick to help or offer advice and we meet often to share tips and information. I have my own tribe of mentors, peers, teachers and brainstormers. We also have way too much fun to call it "work."
I'm also lucky to have my "WCR" family. My involvement with the Women's Council of REALTORS® allows me to frequently network with other industry pros – lenders, insurance agents, inspectors… you name it. Because of these relationships, when a client is looking for homeowners insurance, I can confidently recommend trustworthy insurance agents. And the next time I need an inspection done ASAP, I know I have three people in my Rolodex (okay, my phone) that I can turn to.
Education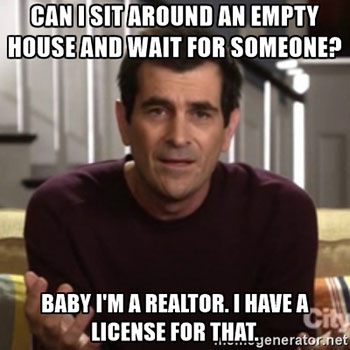 Realtors are required to participate in continuing education courses on an ongoing basis and to uphold a strict code of ethics, governed by the NATIONAL ASSOCIATION OF REALTORS®. We seriously do get into trouble if we misbehave! And while we pride ourselves on being industry experts, the world of real estate is ever-changing. The NATIONAL ASSOCIATION OF REALTORS® is THE place to go to keep up with those changes. They're what People Magazine is to celebrity gossip.
Advertising
Of course a seller has a lot of insight into what makes their home amazing, like how the upstairs closet fits exactly 73 pairs of shoes. But only a real estate agent can get that information out to the most people in the least amount of time. We have access to 100's of websites, specialized marketing teams, real estate photographers and large social media followings. And we tailor all of that advertising specifically to YOUR HOME.
Lingo
As Realtors, we have read the various documents involved in selling a house more times that I'd like to admit. No, we aren't lawyers, but we can guide you through the legalese (lingo) so you know exactly what you're signing. We can also use cool acronyms, like DOM, when speaking about the biz. (That's "days on market" for you rookies.)
Teamwork
You don't need to sweat the small stuff if you have a Realtor on your team! As the seller, you're already carrying the emotional and financial impact of the process on your shoulders. So tap me in and let me wrestle everything behind the scenes, like negotiations, paperwork, emails, texts, phone calls… sounds fun, right?!
Outlook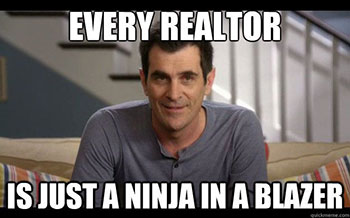 A Realtor knows the market. We have insight into trends across the country, city and even your own neighborhood. At a click of the button, I can tell you what the family down the street's house sold for, how many bedrooms it has and what kind of countertops are in the kitchen. Armed with that kind of information, we can guide you on how to price your house to SELL, which is the key to selling it as quickly as possible and for the most amount of money. It will also save you the stress of living like an extreme clean freak if your house sits on the market longer than expected.
Relax…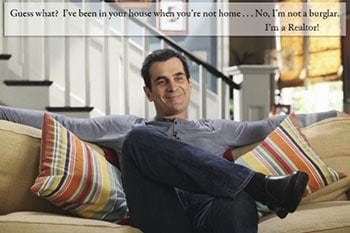 'Cause your Realtor is doing the work for you! We will dot all the "I's," cross all the "T's" and when that's done, hand over the keys! If that doesn't make you want to put your feet up, I don't know what will.
Real estate is a tricky business and Realtors do so much more than what I've talked about here. I know I'm biased, but I truly believe that having an expert by your side will make your life easier – by selling your home faster, for the best value, in the least amount of time and with very little stress. One could say that Realtors help you "Slip'N Slide" through the process.
Let me know if you haven't had enough of my summer puns or if you are on the fence about using a Realtor. I'd love to share my real estate knowledge with you!
Here's one more of my Phil Dunphy favorites. 🙂