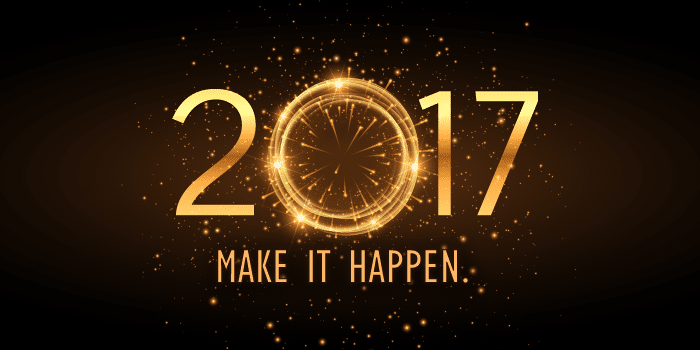 As I'm sure you've noticed, "making 2017 my best year yet" is a hot topic on social media right now.
We're all talking about what vacations we want to take, what career heights we want to reach and how many new Instagram followers we want to gain … We all have ideas on how we can make this year our best year, because it's fun to dream about the future. How do you make it all happen, though? How do you tackle a goal as lofty as "making 2017 my best year yet"?
The other day, I was on Facebook (for educational purposes, of course) and I got wrapped up in one of those posts that has rotating words and you take a screenshot in order to reveal what you will "attract" in 2017. So I did it. g
BAM!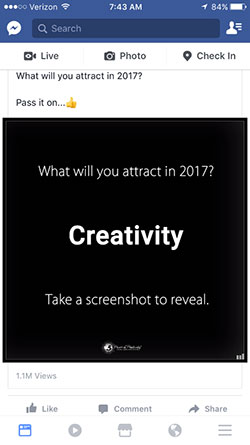 Just like that, easy enough, it is declared that I will attract "creativity" in the New Year. Now if you know me, you know how amusing this is. Creativity is a weakness of mine, but I don't let it get me down. I surround myself with some of the most creative people I know. Their strength in this area keeps my weakness from being a problem. I guess Facebook knows me after all – I will be attracting more creative friends and colleagues this year. Lucky me!
This leads me to my first piece of advice on getting the most out of your year:
#1: Surround yourself with people you want to be like!
Entrepreneur Jim Rohn says, "You are the average of the five people you spend the most time with." This is very powerful if you think about who each of those people are.
Get rid of the negative people. You don't have time for that! This may sound harsh to some, but remember that success is hard work and requires FOCUS. Lots and lots of focus, so it's important to cut out the fat.
"Every day, in every way, I'm getting better and better."                                                                       – Émile Coué
#2: Stop thinking you will achieve success overnight!
Overnight success is a myth! I see people who believe this get in trouble all the time. Really, the small things that add up over time bring about true success.
Every year I re-read The Compound Effect by Darren Hardy. The first time I read this book, I felt relief! Relief knowing that if I stay focused and keep working hard every day, it will pay off. Relief knowing that there is no big magic success trick that I don't know about.
#3: Embrace focus!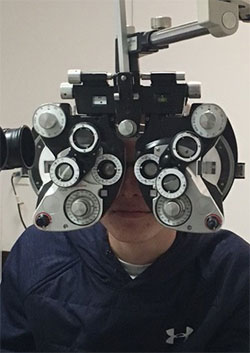 I recently completed StrengthsFinder 2.0 and learned that my number one strength is FOCUS! My first thought was "how boring"! Then I decided to embrace it. Focus can be cool, right?! (See #1)
We are all dealt a hand in life and it's up to us to figure out our strengths and build our successes. You won't be good at everything; stop trying to be! Focus on your strengths and you will be amazed the difference it will make. Decide today what your big goal for 2017 will be, and then break it down into smaller action goals that will lead you to the big one. It's much easier to focus on smaller tasks that lead to bigger ones than to tackle the big one right away. I like to make a "theme" for each year and then I'm even more motivated to make it happen!
#4: Stop with the excuses!
Think about it – what if you did not make any excuses all year long and just got everything done? How would you feel? I would feel successful and accomplished. Most frequently used excuse: I don't have the time. Really?! Take a long hard look at how you're spending your time. Could you cut back on watching TV? Or looking at Facebook? Could you listen to a book instead of reading it? Could you get up an hour earlier? You have all the time you need to do what you really want to do.
#5: Make your health non-negotiable! 
I found time to get healthier in 2016. Yay, me. 🙂 Not just physically, but mentally, too. My gym time is built into my schedule as an appointment that I keep, just like any other appointment. I need to feel good to have a productive day and going to the gym makes me feel good. It recharges my focus.
During my morning car ride into the office, I listen to something motivational and uplifting. Something that puts me in the space to make my day the best it can be. Some days I lose that battle, but not often.
I am not at my goal health just yet, but in 2017, I plan to continue the work, physically and mentally, keeping it a focus and knowing it will compound into success over time.
You may not reach all the goals you set for yourself this year, but that's okay! I guarantee you won't regret the time and effort you put toward achieving them.
What dreams are in store for your 2017? Are you considering making a career change? Maybe it's time to buy that dream home you always wanted? Or is this the year you'll reach your goal weight? Whatever it is, I hope my tips will help you make it happen in 2017! #bestyearyet