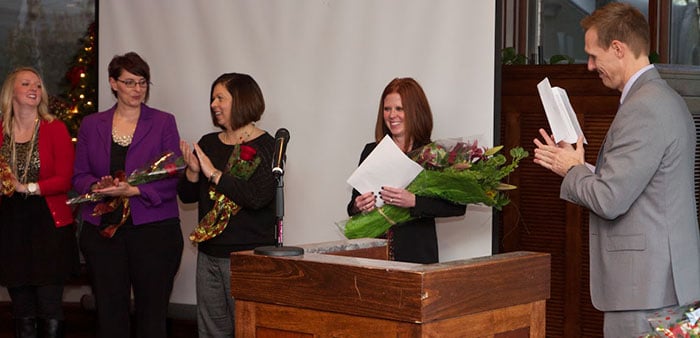 Realtor Crystal Archer is back on Life + Style with her series, "Did I Sign Up for This?". This week, the busy mom and agent shares some of the tools that have helped her build a burgeoning career.
I obtained my real estate license almost five years ago. At the time, my husband and I had only lived in Omaha for five years. During those years, I stayed home with our two young sons. Collectively, when we made a list of people we knew, we came up with a whopping 35. Not necessarily the ideal situation for starting a career that you hope to build off of referrals…
Nevertheless, I entered this real estate adventure with a not-so-blind sense of optimism that it would be a great, long lasting career for me. Five years later, I still agree! The things I have learned along the way not only apply to the real estate industry, but any professional industry. Whether you're a doctor or a teacher, investing in your career is an investment in yourself. Today, I'd like to give credit to a few of the career investments that I've made, with hopes that you, too, will invest in them!
Networking
One of my first networking opportunities was a luncheon with the Omaha Women's Council of REALTORS®.  It was a group of female REALTORS®, mortgage lenders, home inspectors, insurance agents and designers, all seeking to learn and lead in their industry and community. I'm pretty sure there have been few times in my life I've seen so many vibrant personalities in one room. As their President stood at the podium and spoke throughout the luncheon, I thought to myself that there was no way I could ever do anything like that. There were probably 75 people there, and this former stay-at-home mom was impressed. So I went back and joined the group.
One of the most amazing advantages about being involved in the Women's Council of REALTORS® (WCR) has been the ever-present opportunity to network with individuals in the real estate industry. Talking with other local REALTORS® on a regular basis has given me a unique perspective of the Omaha market that I can share with my clients.
Not only has the WCR been an excellent networking opportunity, it has also been a great way to get involved with the community. We have the chance to raise money for charities throughout the Omaha area. This year we'll work with a variety of organizations, including Habitat for Humanity, Food Bank for the Heartland and Project Wee Care. Working with these professional and passionate people reminds me how fortunate we are to live in Omaha.
Knowledge
I am a big believer that knowledge is power. Being in real estate means what's "in" on Monday might be what's "out" on Tuesday. The market is constantly changing. Rules and regulations are being updated and if you don't stay in the loop, chances are you'll quickly be out of it. My involvement in industry organizations, like the WCR and the Omaha Area Board of REALTORS®, has been vital to my success.
I also recently "graduated" from a Peak Producers® training program! A group of us agents here at P.J. Morgan embarked on this class 16 weeks ago, to learn new ways to run our businesses effectively and improve the level of service we offer to our clients. It was great to be in an environment fostering growth and knowledge, and to collaborate with my teammates. Not only did we learn a lot from the program, we learned a lot from each other, too!
Having a strong network of strategic partners to rely on has also meant the world to my business. I may not always know the answer when it comes to insurance, home inspections, home warranties or radon. But, I happen to know a handful of people who will know, and they will always call me back. It's much like having an invisible team available to my clients.
Confidence
After my first year with the WCR, I was asked to be the local Education Chair. This role entailed finding passionate, industry-related speakers to present at our monthly luncheons and (eek!) introducing them before they spoke. Needless to say, this crash course in public speaking taught me that I can confidently speak in front of any number of people. And, gratefully, I survived the year without completely embarrassing myself!
The opportunity to start out as Education Chair gave me the self-assurance I needed to accept additional leadership roles. In 2014, I served as Secretary of the WCR and, in 2015, as President Elect. I attended national conferences where I learned valuable information about the economy and other real estate markets. Sharing that knowledge with my mentees and my colleagues at P.J. Morgan Real Estate has been incredibly rewarding.
Also, may I just say, I have a ton of confidence in Omaha! Omaha is a great place to be – we have such a healthy economy and our real estate market is experiencing outstanding results!
And guess what? This year I am serving as the President of the WCR, and last month I stood before more than 100 people that attended our monthly luncheon! I truly never believed that I could stand up there confidently and have everything go well. The truth is that I was terrified, but I'm not sure anybody even realized that. Not too bad for someone whose greatest resource used to be a mere 35 people!
Networking, knowledge and confidence have been key to my success in real estate. What tactics have you tried in your industry? Please share them with me – I'm always looking to grow!