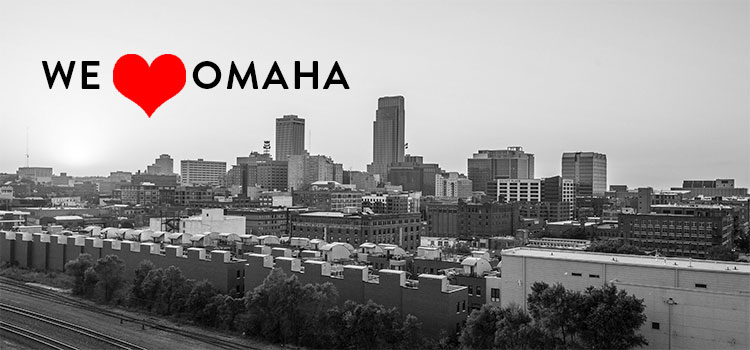 It's no secret that I love the Omaha area. From the food and local shops, to the wide variety of events, it's a great time to live in such a vibrant city!
Today I'm sharing just a few (of many) of my favorite places with you. WARNING: The following will most likely make you very hungry and cause a shopping-induced coma.
Cupcake Omaha – Dundee & Downtown
Cupcake Omaha's assortment of cupcakes and other heavenly pastries never fail to give a sense of celebration to any day. Whether it's your birthday or just a day that ends in "Y", you can always count on their edible creations to delight your taste buds. This local Omaha business is run by Chris Janicek, a long time Omaha cakemaker. He takes pride in everything he does, so I highly recommend you pop on in and try the lemon raspberry cupcake! And, well, one of everything else, too.
We'll Smoke U BBQ – Gretna
Let's just say that if the most Southern girl you know (Laci McCallum), says this is the best barbecue in town, you know it's the best barbecue in town. We'll Smoke U BBQ has everything ranging from sandwiches, platters and, literally, meat by the pound. It also has a relaxed family atmosphere, making it the perfect dinner spot for adults AND kids!
Archetype Coffee – Blackstone District
Archetype, located in the Blackstone District, offers a fantastic assortment of locally crafted roasts, delicious pastries and, on Sundays, their notorious biscuit sandwiches – talk about yum! Colleen Mason loves that the staff have top-notch barista skills (and personalities). If you go, she recommends the apple almond tea – you can't go wrong with it!
Fia & Belle Homewares– Fremont
Fia & Belle is owned and operated by a mother-daughter team offering a mix of vintage finds, as well as handmade items from local and national makers. Hannah Porto insists they are better than any shop in Omaha. Their vintage collection includes a mix of home décor, chairs and anything else you can dream up!
Et-cet-era – 120th & Pacific
Et-cet-era offers women's apparel, décor, gifts and a bit of everything else. Ann Kinder loves the quality and uniqueness found in all their items. During the holidays, her desk is decked out in seasonal finds all from Et-cet-era. There's really something for everyone here – adorable baby clothes, seasonal décor, accessories… the list goes on!

Downtown Omaha Massage – Old Market
A good massage is a great way to treat yourself, and the Downtown Omaha Massage staff are the best in the business. Their great service and dedication to their clients are what keeps Susan Clark (and everyone else) coming back time after time.
Hutch – Midtown Crossing
Hutch is a locally owned furniture store that offers midcentury modern furniture, vintage finds and locally crafted items (they support over 40 local makers). The owners, Brandon and Nick, are incredibly passionate about what they do. Their dedication to offering the best quality product is obvious in everything they touch! This past summer they hosted "Hutch Fest", an outdoor event that brought together one hundred-plus vendors of handmade goods and vintage finds. Let's hope there's a repeat in 2017!
CREATE – Elkhorn
CREATE offers a hands-on opportunity for individuals, groups or even parties to come together and craft it up! You simply pick the project you wish to create and then make it the way you want. The talented staff at CREATE will guide you through the creation and then they handle the clean-up! This is a perfect place to go on a lazy Saturday to catch up with a friend while making something adorable. You're likely to find Cara Woosley here, so if you do be sure to say 'hi'!
Winestyles – 74th & Pacific
Winestyles off 74th and Pacific Streets has a special place in Susan Clark's heart! The owner, Bob Bolden, and the rest of the staff are the friendliest and most warm-hearted people in town. Plus, they know wine. You could say the wine and the conversation will both "lift your spirits" #pun.
Farm to Market Home – Bellevue
Farm to Market Home offers an assortment of décor, candles, items for your kitchen, living room, skin… you get the picture! Hannah Porto loves all her Farm to Market finds. She thinks the uniqueness of the products helps to make them statement pieces in her home!
Jacobo's – South Omaha
This South Omaha grocer is famous for offering some of the tastiest, hard to find authentic Mexican groceries! Ryan Ellis agrees that this old-school style grocery store is always worth the wait. From tamales to salsa and everything in between – you better get in line early so you don't miss out!
The Warehouse – Bennington
A restaurant that offers drinks, dinner and an opportunity to discuss high school sports is my family's go-to. I love that all four of us can enjoy a good meal and then go watch a great game afterward. It's a bonus that it is conveniently located close to home!
Shirley's Diner – Millard
If you want to do breakfast, brunch or lunch right, you'll go to Shirley's Diner in Millard. This family run, neighborhood landmark serves some of the tastiest meals you can imagine. They are known for their delicious homemade comfort food, such as chicken fried steak and their "Shirley" burger. Yum!
Mangia Italiana – Northwest Omaha
Craving food that is rooted in Omaha's authentic (and delicious) Little Italy? Come on over to Mangia for pizza, pasta and all things carbs! The Italian/Sicilian cuisine is sure to have you coming back for more. Oh, carbs, how we love you. 🙂
Werner Park – Papillion
Home to the Omaha Storm Chasers, this baseball park boosts fun for the whole family. Catch a game, eat a hot dog (or two) and participate in the one of many theme nights. As a mom of two boys, Werner Park is a no brainer!
Omaha has has so many great places and spaces, it's impossible to list them all! Is there a place you love? Share it with us in the comments below and happy exploring!