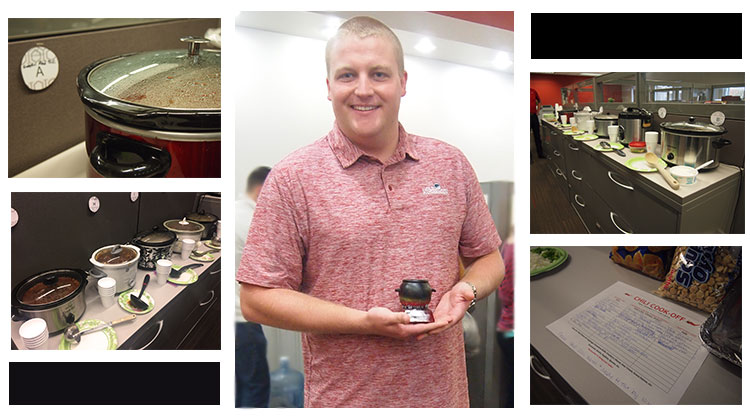 We all like to think that our own recipes are the best recipes, especially when it comes to a dish as fundamental as chili. This past November, my Grandma Rose agreed to lend me her chili recipe for PJ Morgan Real Estate's 3rd Annual Chili Cook-Off.
And it turns out that her chili recipe actually IS the best chili recipe! It is the epitome of traditional chili – the type we all grew up eating, but is hard to find at a restaurant. No exotic flavors, no extravagant toppings – just chili. The recipe is pretty easy to make, and its simplicity, I think, is part of why it WON the 2016 Cook-Off! Grandma was pretty excited to hear that. 🙂
Much like my grandma's chili recipe, great knowledge comes with great responsibility. Being crowned the PJ Morgan Real Estate 3rd Annual Chili Cook-Off champion, means more than earning bragging rights and the traveling trophy. The winner also has the honor of choosing the company's annual charity partner. When I found this out, I immediately knew who I would choose.


As a little kid, I remember often hearing my Pop Pop (a.k.a. Grandpa Bert) talk about his work with Goodfellows. He was a huge supporter, especially during the holidays, when he'd encourage the employees at his company, Wise-Mac Inc., to donate, by offering to match every contribution they made. He wanted them to experience the same gratification he did in helping out the community he loves.
I'm sure you've heard of Goodfellows through the Omaha World Herald, but most people don't really know that much about them. It started in the 1890's, as a way to help local farmers in times of bad harvest. Over time, it has evolved into a program dedicated to serving many areas of our community – providing holiday meals to over 1,000 families, emergency funds to families with one-time urgent needs, and clothes, shoes and coats for needy children. Every cent donated to Goodfellows goes directly to these services, as the World Herald covers the organizations administrative costs.
Looking at the big picture, I'm just happy to be able to give back to a community that's given me and my family so much. After all, the strength of the Omaha community is what enables PJ Morgan Real Estate and all other local businesses to continue to thrive and grow. If you are interested in volunteering, donating or learning more, visit their website to get started. I highly recommend it (just like my Grandma Rose's chili)!
Stay tuned to hear more about how our team plans to give back to Goodfellows this year!