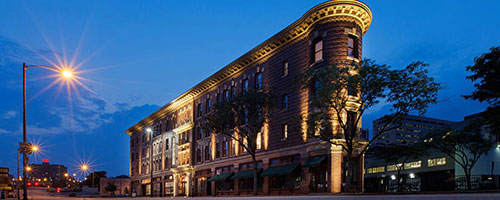 I had the opportunity to live in San Francisco, Calif. for a couple of years in a previous professional life. There are a lot of things to love about that city, but one of my favorites was wandering around the different neighborhoods, taking in all the unique offerings they had – culture, food, beer, landmarks, more beer, etc.
Being intimately familiar with what a city plan like that has to offer, it excites me to no end to see the revitalization going on around Omaha.
The first ones to the party, areas like Benson and Blackstone, continue to grow and grow-up in front of our eyes. At the same time, we get to watch the exciting things in an area like Little Bohemia develop from its infancy stage.
BUT WAIT, THERE'S MORE! There's another exciting piece of Omaha being repurposed and it's been under your nose the whole time.
We all recognize one of the coolest buildings in Omaha – the Flatiron Building – by both its name and presence. What if I told you that the Flatiron is just the start? What if I told you that the Flatiron Building is actually serving as the catapult to the neighboring blocks that will one day become the Flatiron District?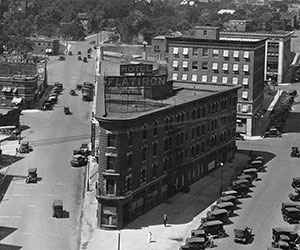 That's right – PJ Morgan Real Estate has been lucky enough to be a part of a team bringing new life to the area of 18th & Jackson streets.
It's early in the process, yes, but that doesn't mean we can't be super excited. We've been fortunate enough to have tons of interest from the community, bakeries, yoga studios, and ice cream parlors.
You may have also noticed other events taking place in the neighborhood, such as Los Angeles-based artist Mike Nesbit's "Flood" installation in the Standard Oil Building in August of this year.
The other properties within this district – the Dakota Title Building and the Friedan Building – along with the Standard Oil Building, give this area a feel and appearance unlike anything else in Omaha.
The goal? Maintain these awesome buildings, include green space and pocket parks where space allows, and ultimately end up with over 500 apartment units within the district, plus a variety of retail, restaurant, and bar space to bring people from all over town to this historic area.
There is a dramatic need for services in the downtown area, so this is where you come in. What are your thoughts? What services are missing from downtown? The best part of including all of you in the beginning stages of this process is that you can have a direct impact on what this area looks like when it comes out the other end of the tunnel.

So, again, I ask you, "What do you want?" We'd love to have your input on what you would like to see in Downtown Omaha. Shoot me an e-mail. Leave a comment. Share this with your friends and family and random people you went to high school with, and see what they think!
Omaha is better when we're all involved. We are so excited to bring new life to the Flatiron District and are slightly more excited to have you be a part of it.