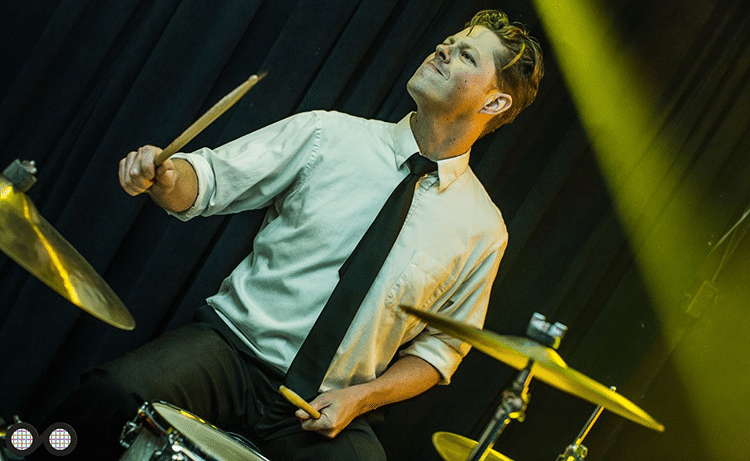 For as long as I can remember, I have yearned to be onstage. Music was always playing at our home, and I was always singing along.
My parents bought my two older brothers and me a drum set when I was five years old. The three of us frequently fought over who got to play next.
Throughout my schooling, I participated in band, jazz band, chorus, show choir and musicals. While attending Nebraska Wesleyan University, I decided to get my degree in vocal performance. Of course, I questioned what my career path would be. Opera singer? Broadway performer? Waiter?
I also had a dream of becoming a rock star. When I sit behind a drum set, I am home. For as long as I can remember, I would close my eyes and see the stage, the lights, the adoring crowds. I knew I had to pursue this dream at some point. I also knew I needed a college education.
No, I did not just take music classes in school. Wesleyan has rigorous core classes I was required to take: business, physics, psychology, history, religion, literature, etc. These were not easy classes. The level of instruction was top-notch. And, although informative, none of these classes had near the impact that singing in Wesleyan's choir did. NWU has one of the top concert choirs in the nation. Singing in this choir taught me more life lessons and career skills than any other class I attended.
The director of NWU's Concert Choir is Dr. William A. Wyman. To me, and countless others, he is known as "Doc". Doc is committed to excellence and never lets his students settle for less than their best. His focus and fortitude is addictive.
To this day, when something major is on the line, I center myself by thinking back to performing in that choir. The practice of intense focus, the preparation before a concert, the ability to quiet the mind… all of this instantly puts me at ease and allows me to be my best self.
Upon graduating college, I decided to chase my rock 'n' roll dream and joined a rock band. If my parents agonized over my decision, they never showed it. For this, I am eternally grateful.
I spent the bulk of my 20s in the band Musico. We recorded three albums and toured throughout the U.S. We ran our band like a business and many hard lessons were learned. Ultimately, the lifestyle ceased to make sense. Along the way, I became a father of two young sons. The band Journey was right. "They say that the road ain't no place to start a family."
While in the band, my day jobs were in apartment management. It was enough exposure to the industry to know that real estate was of interest. One evening, a friend said, "Mark, I think you would make a great real estate agent." I made a decision right there and then to become a REALTOR®.
Of course, I have questioned if a degree in business or real estate would have served me better. But as I have grown older and gained the perspective that only time can give, I would not change a thing. Being a musician has taught me so much… even to be a better Realtor.
Music has taught me to listen. I mean really listen. When you are performing in an ensemble… whether it be a rock band, a jazz trio, or a concert choir, listening will make or break the performance. Listening is paramount when working with my buyers and sellers.
Listening is paramount when working with my buyers and sellers.
Music has taught me to be supportive. Of course, everybody loves a well-played solo. The real magic, however, happens when the group makes a conscious effort to make everyone else sound better. As a Realtor, my focus is not on my wants and needs, but on my clients' goals.
As a Realtor, my focus is not on my wants and needs, but on my clients' goals.
Music has taught me that less is more. The notes you don't play are as important as the notes you do play. Discerning what is important is paramount when negotiating contracts.
Discerning what is important is paramount when negotiating contracts.
Music has taught me to be creative, to persevere, and to have a strong work ethic. The list is long and continues to grow.
I still sing. I still play drums. I need to do it. If I find myself without an upcoming gig, I get anxious. Luckily, Omaha has provided me with ample opportunities to perform. I am incredibly fortunate to have met and performed with so many excellent musicians, many of whom have become lifelong friends. My life as a musician continues to shape me, push me and inform me. For that, I am exceedingly grateful.
I'd love to hear about what continues to shape you! Whether it's pottery, poetry or papier-mâché, I encourage you to share your passion in the comments below!
Main image courtesy of House of Loom.