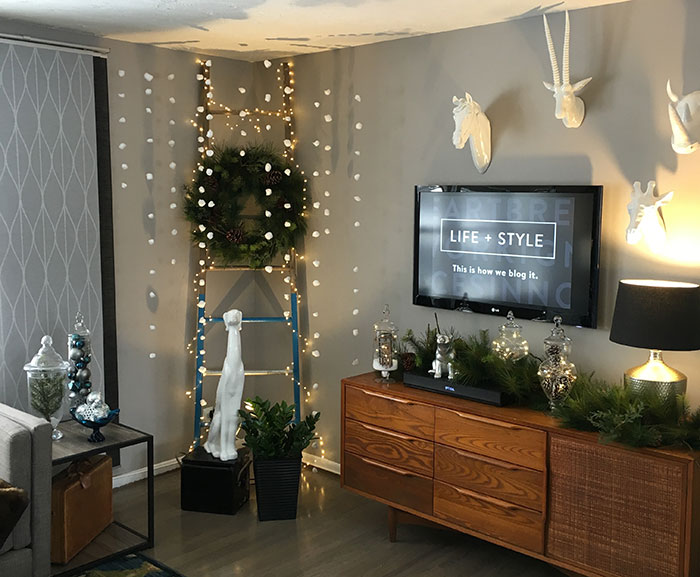 With visions of sugar plums, Christmas cookies and wrapping paper still dancing in our heads, how can we even begin to take down the holiday décor?!
Good news – you don't have to! Here are some festive ideas for turning your space into a cozy winter wonderland.
Tree Transition
A sprinkling of twinkling lights in your home will help combat those winter blues! As you're packing up your tree, grab a string of lights and some neutral bulbs and ornaments. Here, I've paired a few giant pinecones with a nest of warm LED lights to create the look of a cozy bed of snow.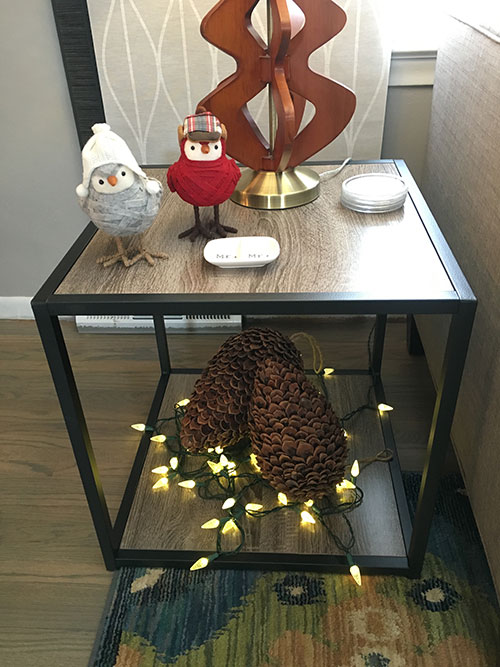 Next, try putting those neutral bulbs and ornaments in apothecary jars! I used silver and blue tones to keep with the winter theme. You could also use white and gold, or even clear. Then place a small faux tree and some fake snow in another jar. I grouped both jars with four small disco balls and a snowflake ornament in an antique candy dish. PRETTY!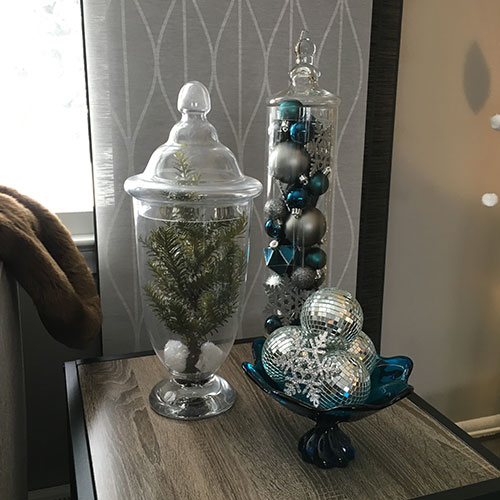 Forever-green
As, I was taking my garlands off the railings and my wreaths off the doors, I said to myself, "There's no reason these can't still be used throughout winter!" Evergreen is as "winter" as it gets! So, I left my wreaths up where I had them for the holidays. I then placed a section of garland on my TV credenza. Accompanying the garland, are three apothecary jars and a really cute polar bear figurine. (Polar bears are winter-ish, right???)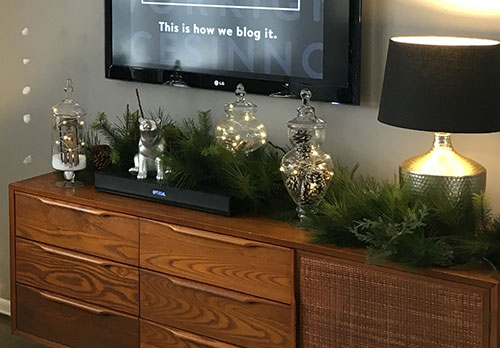 To create the look, in jar #1 (far left), I placed a small sled ornament, a handful or two of fake snow and some fairy lights. If you aren't already familiar with fairy lights, they're the best thing that has EVER happened to holiday décor lighting! They're simply tiny LED lights strung along copper wiring. You can buy them as battery-powered OR plug in, which makes them super simple to use in a jar or centerpiece!
In jar #2, I swirled another short strand of fairy lights. I think it looks like blowing snow! In jar #3, fairy lights wrap a batch of sparkly frosted pinecones.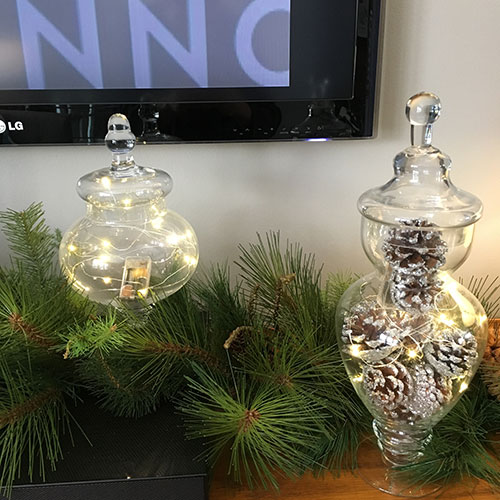 Snowflake Artistry
Hmmm… how else can I bring more winter into my home? BINGO! I have empty antique frames hanging on a wall just begging for some winter magic!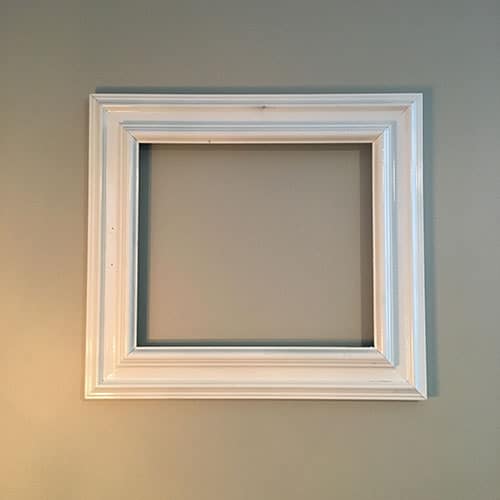 Going through my ornament box, I found a bunch of white snowflakes. They match my white frames, so they're a perfect combo! If you want to change it up, you could use all different color flakes or even put a modern twist on it and spray paint them in fun, neon colors! I chose to leave them white with some sparkles so when the lights hit them, they shimmer slightly.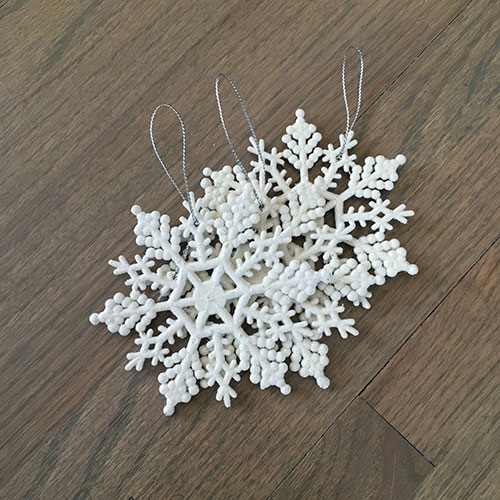 After I cut the strings/hangers off the snowflakes, I used clear tape, cut into thin strips, to attach the ornaments to the wall. I think they turned out great!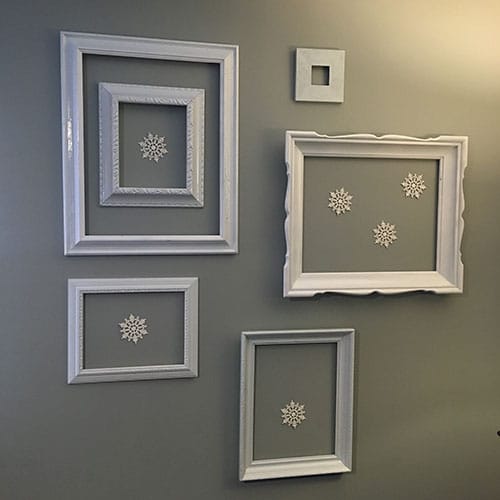 Let It Snow
Finally, a project that I have wanted to do for a long time… Let It Snow! First, I found some cotton balls. They don't have to be fancy or expensive (dollar store!), they just need to be fluffy and bright white!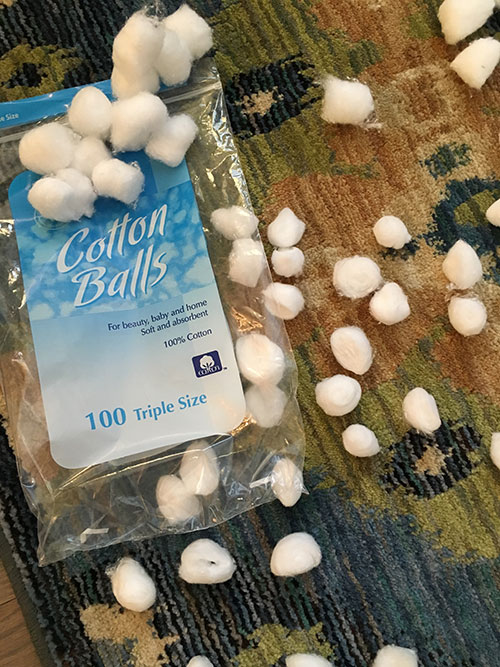 Next, I cut the cotton balls in half or thirds, to make a variety of sizes.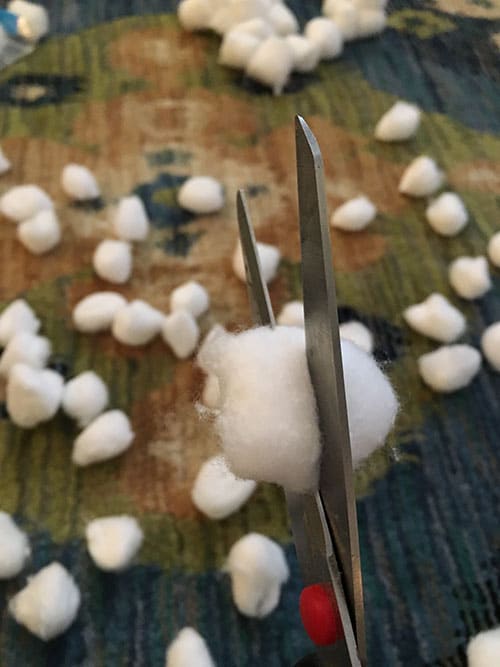 Then, I thread a sewing needle with a thin gage fishing line and started stringing on the cotton balls. Be sure to tie a loop at one end of the line – you'll use that to hang the finished string. Tie a knot after you thread each cotton ball along the line (so they don't slide) at different intervals.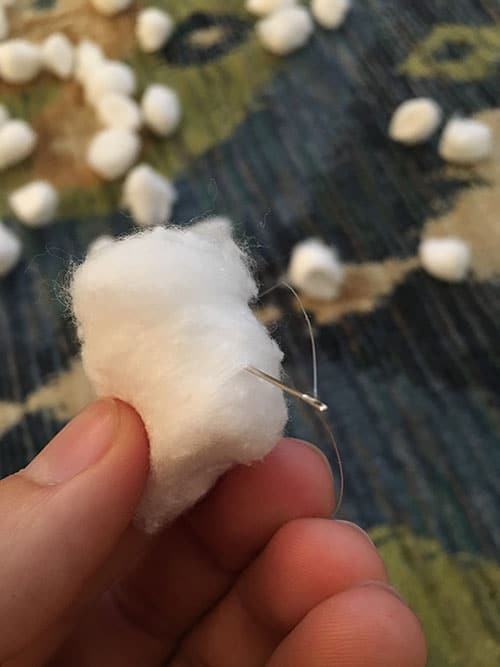 Time to make it snow! I used these clear Command clips to hang the strings from the ceiling. Since my ceiling is white, the hooks seem to disappear! It'll look like it's magically snowing in your home! I also added an up-light under the "falling snow" to help highlight it.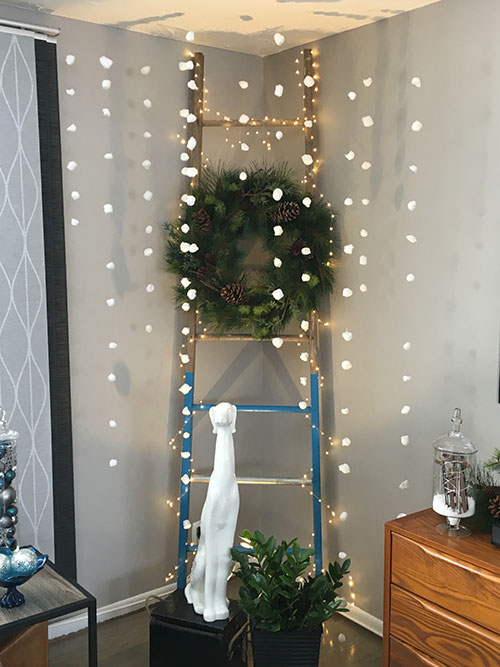 My small dose of winter wonderland is perfect! Now I can enjoy the look and feel of winter, while staying nice and cozy inside. No parka required!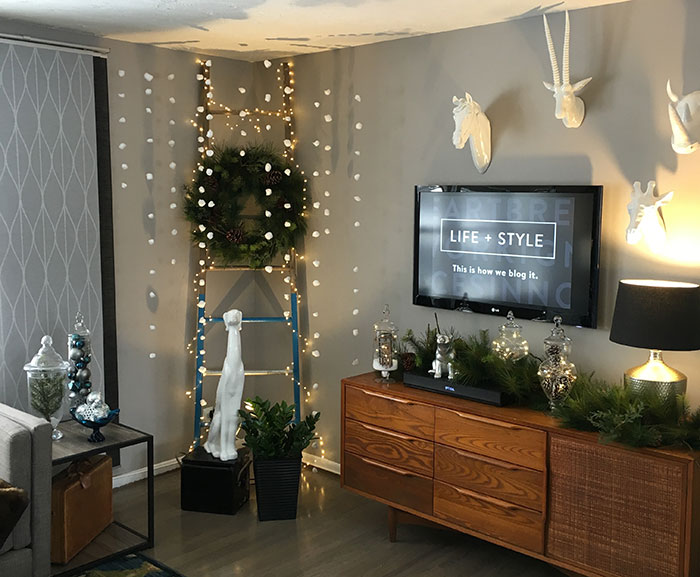 Happy winter-ing!
Do you have design tricks for beating the winter blues? Let me know! And for more décor amor, follow me on Facebook.
This post was originally published on January 15th, 2016.