As the newest team member of PJ Morgan Real Estate, you may think my viewpoint would be quite different than the one Ryan shared in the blog last week.
However, as I finish my second week here, I can honestly say that I feel I've already been accepted by the PJ Morgan family, and am living in the phase that Ryan described as "loving every second of it." I met PJ for the first time this week; watching him zoom around the office and interact with everyone is like experiencing a real estate interpretive dance performance. It's easy to see how much mutual respect there is and how much everyone enjoys working with PJ. His spirit brings a lighthearted energy and "go get 'em" attitude to the office – plus he's winked at me a few times (tell me that wouldn't charm you?!). You can tell PJ gets things done and is tirelessly striving for excellence – from his employees, for his clients, and from himself. I also love love love the fact that PJ's birthday was last week and there have been cupcakes, donuts and cake floating around here in celebration. These people definitely understand me and the demands of my sweet tooth.
But in all seriousness, the Core Values Ryan wrote about seem to be inherent in my new office environment. And yes, 13 is a long list of core values, but that truly is what you get when you try to articulate the intangible awesomeness of what the PJ Morgan family, brand, and business encompass! One of the reasons I'm so excited (and honored) to be part of this work family, is because of what I've been tasked to do – lead PJ Morgan Real Estate's new Trusted Vendor Program.
Over the past 20 plus years we've been in business, our agents and property managers have relied heavily on other industries in Omaha to deliver the very best to our tenants, homeowners and business owners. The burst pipe, the broken window, the spider problem that pops up unexpectedly – our team must turn to other local experts who can help get our clients out of these sticky (or moldy or wet or "heck no, I don't deal with spiders") situations. We have forged relationships with new businesses and strengthened bonds with veteran businesses (some who we've worked with since day one). The common thread that ties all of these relationships together is a foundation of trust.
The common thread that ties all of these relationships together is a foundation of trust.
"Trust" is not a descriptor you assign willy nilly to a business or person without having a history of reliable and positive experiences with them. To say you "trust" someone, you probably also have to experience that special connection – you know, when you feel strangely understood and like you've met a friend from a previous life who is totally in your corner (or is that just me?). The day that I have a horrible spider infestation descend upon my basement, it would kinda be nice to have the exterminator comfort me and reassure me that everything is taken care of, will be okay, and that my life will not turn into a scene from Arachnophobia. No, it's not in their job description to be cool about me shrieking and crying, but it would turn a somewhat traumatizing, crummy scenario into one where I ended up meeting someone who became my "save the day" hero.
Maybe that's a strange example, but that is essentially our hope – on a way larger scale. We want our Trusted Vendor Program to encompass all aspects of the word "trust." Not only do we want the businesses in our Trusted Vendor Program to deliver exceptional service in their industry, we also want to work with just darn good people! They are members of our community, your neighbors, who happen to own businesses. At the end of the day, we all just want to help each other out and make our community a better place (that's not just me, right?). From this very simple idea, our Trusted Vendor Program was born.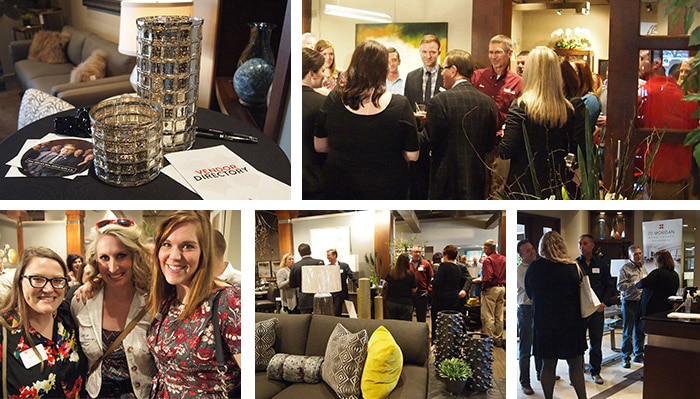 We currently have 40 businesses who are part of the program, which just launched in February (see photos above of the kick-off party shenanigans). While we hope to hit 100 businesses in our Trusted Vendor Program, our goal is not quantity but quality. All of our Trusted Vendors are vetted by our leadership team and sponsored by a PJ Morgan Real Estate team member. And it would be ridiculous (and very uncool) if I just waltzed in and took credit for the enormous amount of legwork our amazing team of residential and commercial agents, property managers, and leaders have put into finding you the very best in the area (hence the part about me being honored that they trusted me with this new baby). So finish reading this post, check your surroundings for spiders (I've made myself paranoid just writing about them), and then visit the Trusted Vendor page of our website, where you'll find a rolodex of local resources who we turn to in our times of need, and hope you will, too!
Our new Trusted Vendor Program is just another way we can show you how much we really care, about you and our community. After all, we have to have some tricks up our sleeves to uphold our commitment to truly be with you for life!